Download these 4 fall borders free printable papers for your autumn stationery or to add cute frames to your printed assignments and newsletters this fall! With modern line art autumn leaves, these printable decorative borders for fall are ready to print!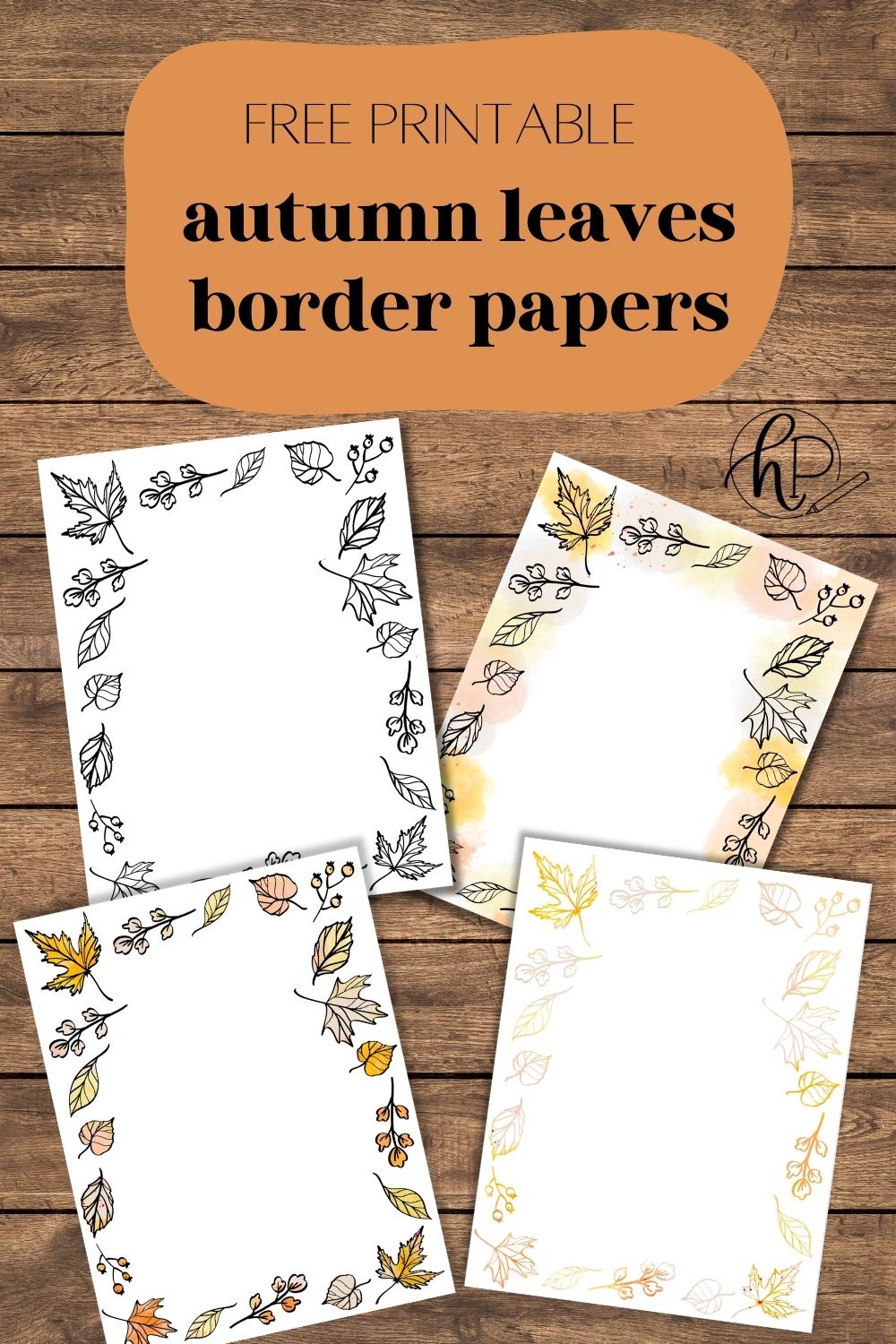 Last year over on my sister site I made a fall bucket list printable that had this black and white fall leaves border and I've been itching to make it into a printable in it's own right so now that I have a whole blog dedicated to just that- free printables! – I'm excited to be sharing four free printable papers with autumn leaves borders for you to use!
All four of them use the same illustrated autumn leaves from my line art fall SVG bundle. You can get the line art maple leaf for free in this DIY fall sign blog post.
The four versions of this printable fall leaf borders are:
A black and white line art fall border paper
A fall colors watercolor line art fall border paper
A line art fall border paper with watercolor fill (like it's been colored in!)
A line art autumn leaves border paper with watercolor wash and splatter
Was I going to stop at just the two versions? Yes… but why make two when you can make four?! 😉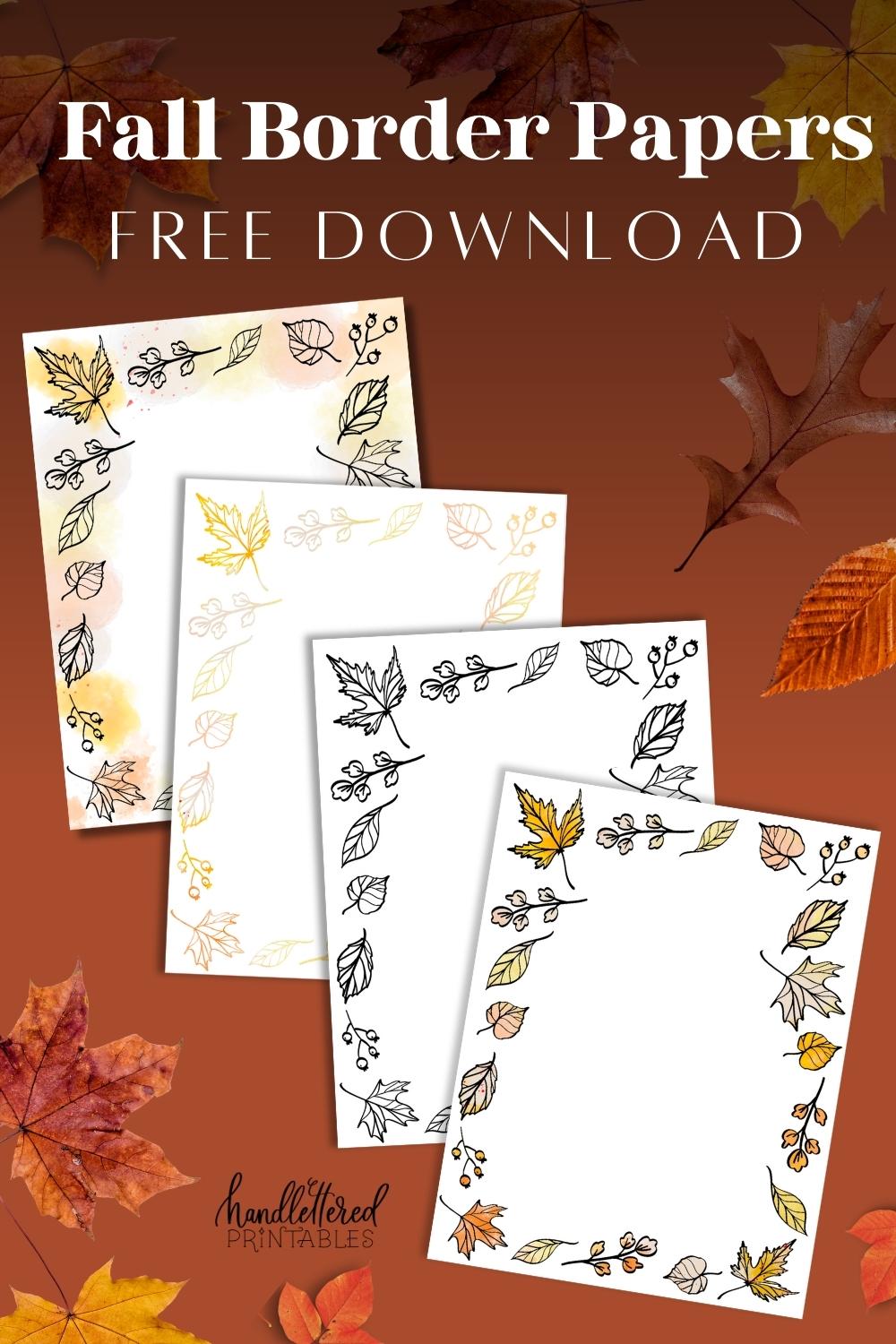 I love these printable border papers for fall because they're so darn versatile. Printable fall stationery snail mail? You betcha! Colorful borders for homemade greeting cards? Print it half size!
Looking to dress up newsletters and notices on teacher boards? Heck yes! Honestly these are so pretty they'd even be great for a details sheet to bundle in with fall wedding invitations… you know, registry or hotel block information.
If you've been using clipart borders from Microsoft Word but are looking for full page borders that are less border clip art and more elegant borders, this is totally for you!
Since these have a white background, they can be used for pretty much anything you're printing. Just print them on blank paper first, then throw them back in the printer to print your newsletter, vocal music, personal projects, church coffee bar autumn warm beverages menu… I mean, I'm just listing things that could possibly benefit from a decorative border now, but I'm sure you get the idea 😉
You could also print this large and cut out the fall foliage like clip art to use in fall bulletin board borders! These free printable page boarders could be used for any kind of scrapbooking if you want to get creative. I'm really excited to see how you use these printable frames!
This collection of free printable borders is part of a collaboration that I'm doing with some of my favourite printable designer friends, so you can scroll to the bottom and find even more Free Fall Printables from some very talented ladies!
You'll see in that list that I'm also sharing a free printable fall bucket list using these same autumn leaves from this set of free fall borders over on my sister site!
But first… let's get you these printables autumn border papers!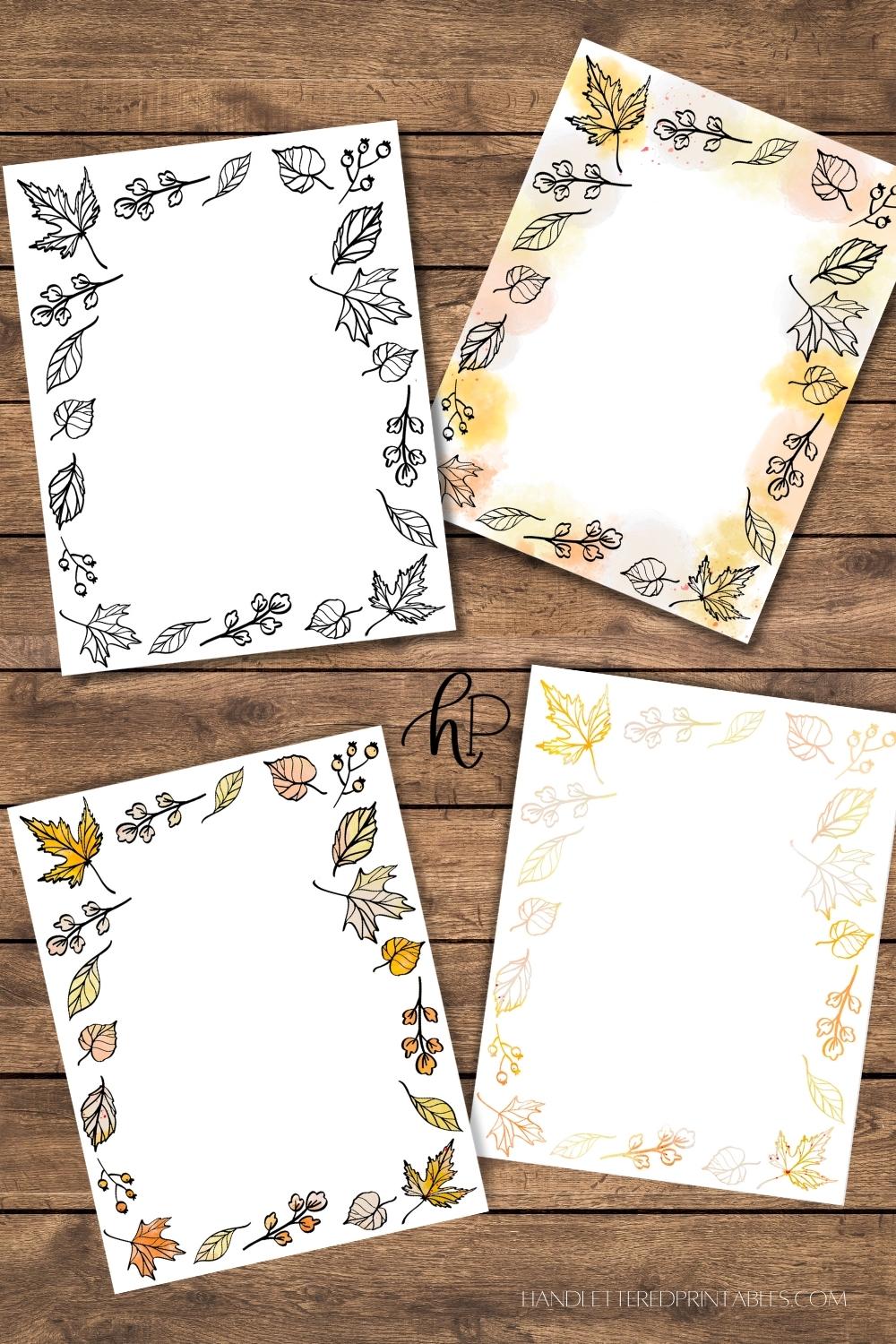 How to download the free printable fall borders set
To download this fall borders free download is so simple. To get these directly delivered to your inbox, just enter your email address in the box below and I'll send you a confirmation email. Clicking the button in the email will open the PDF file up directly.
These 4 free printable page borders are in one PDF format document on separate pages. Some browsers will automatically start the digital download and in others you will need to right click and select 'save'. It should save to your download folder to make them easy to find for printing.
As always, free printables are for personal use only (print for you and all your friends, your classroom or your fall fundraiser coffee bar, but don't sell them, offer them as a download or modify them). Questions about commercial use? Just ask and we can work out terms of use 🙂
What's the best way to print free printable page borders
You can print free printable page borders any way you like, but I have a couple suggestions to make the most of them! While every free printable is different, these ones are simple 8.5×11″ PDF documents which makes them incredibly easy to print at home or at your local print shop. They will print just like a document, without special settings like a photo.
While you can print these free fall border art prints on regular letter size paper (this printable is actually very well suited for that!), I find printing on card stock looks nicer and allows you to keep your printables in better condition as you use them (it doesn't crinkle nearly as easy).
This also lets you color with more pigmented markers without bleeding through to the surface below.
Depending what you're planning to use them for… laminate to help them last even longer!
You can see all of my tips for downloading and printing free printables like these ones in this detailed post.
---
Honestly these were so fun to make, I'm itching to make some more! I'm thinking maybe halloween borders or holiday decorative borders. Which would you like to see? Drop a comment and I'll do my best to bump it to the top of my list!
If you do download and use these… you know I would love to see them in action! Tag me @handletteredprintables or shoot me an email [email protected]!
More free fall printables you might love:
Today I'm partnering with some amazing printable designers to share even more free free autumn printables for you to use as we head into the fall season! Click the links below to be taken to their site and all those freebies!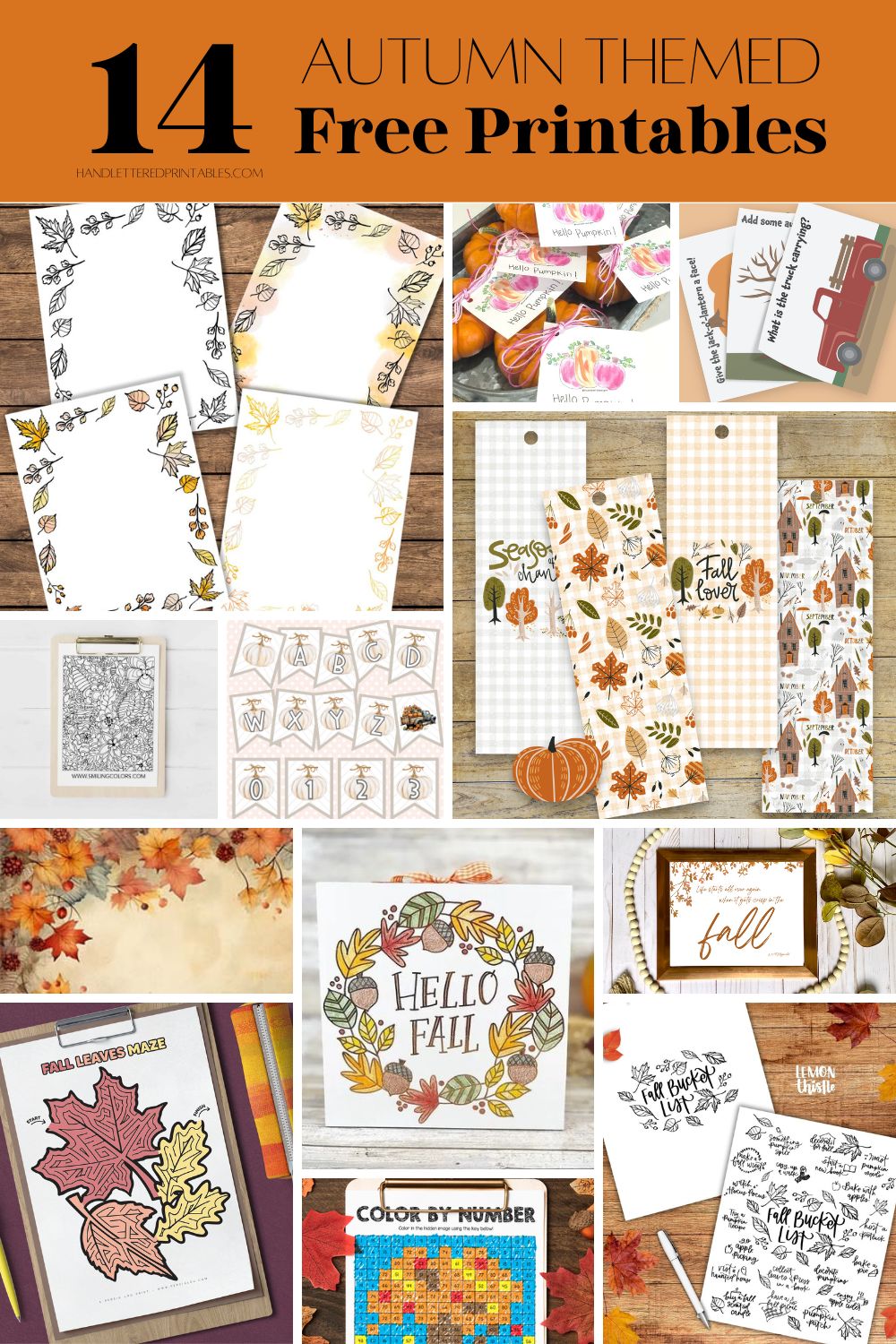 Like it? Pin it for Later!
Don't have time to print these free printable borders for fall off today? Pin this so you can come back to it! Plus, pinning or sharing on FB helps this post reach more people which helps me be able to keep sharing with you. Thank you!