A collection of Thanksgiving Printables including these four 'I am thankful for…' free printable activity sheets! Perfect for thanksgiving season in the classroom or at your thanksgiving table to practice gratitude.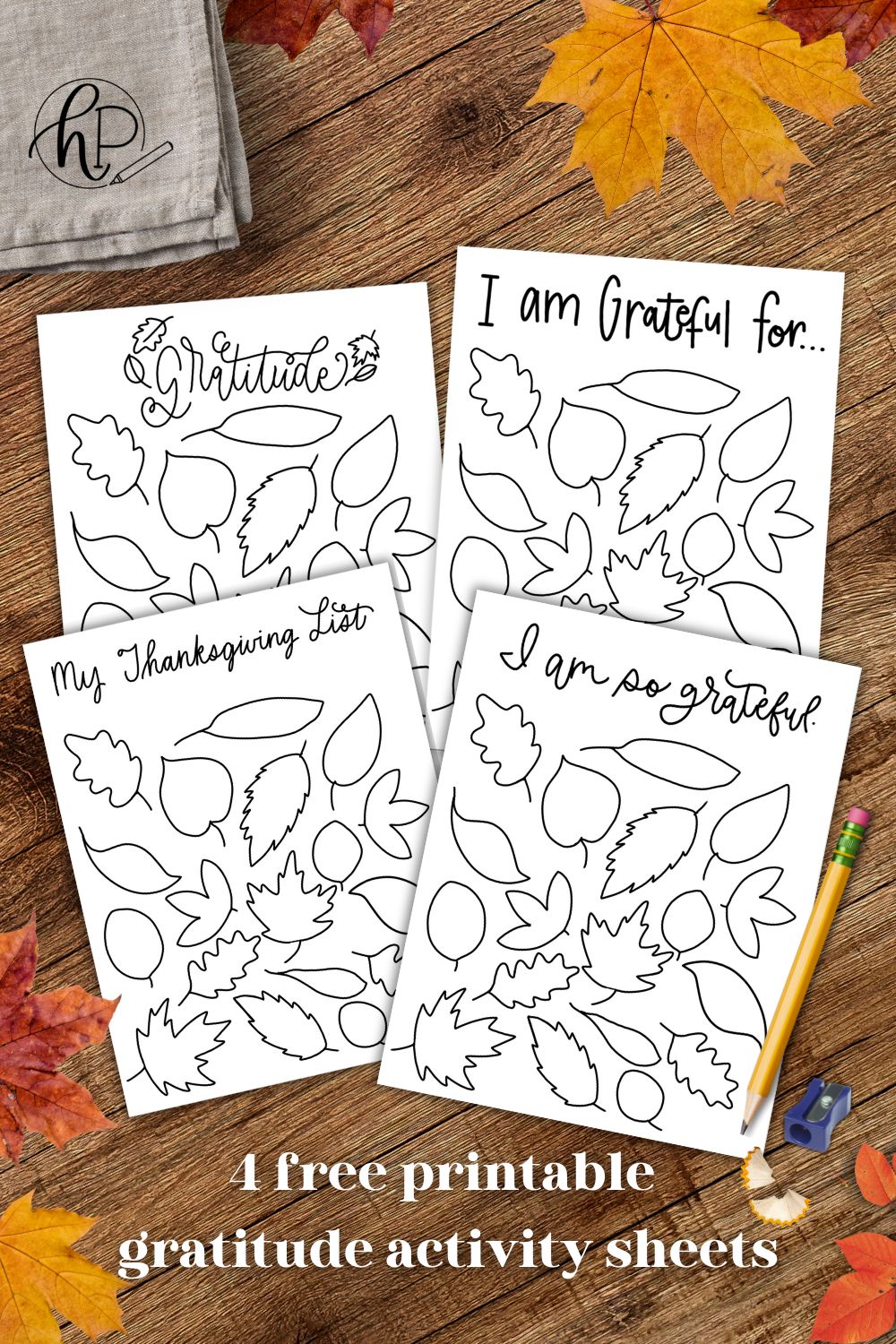 This set of free Thanksgiving gratitude printables are a great way to get kids to express gratitude and are a fun alternative to thanksgiving coloring pages.
Thanksgiving is a great time of year to focus on cultivating an attitude of gratitude in kids of all ages but also in ourselves. A few years back, I started writing down 5 things I'm grateful for on a daily basis in a gratitude journal of sorts and it helps me focus on all the good in life, it's really changed my mindset over time. I often invite my kids to write a little list of things they're grateful for, but writing a regular ol' list isn't as much fun for younger kids.
This set of gratitude activity sheets are a great reminder for older children to take note of what they are thankful for in their life. There's four designs that you can choose from- a simple hand printed 'I am grateful for…', a hand written 'my thanksgiving list', a hand lettered 'gratitude' and a hand lettered 'I'm so grateful' option.
An aside… this year one of my grade 5s started learning cursive at school and I'm so grateful for that (ha!). I know that it's no longer curriculum, so it's such a pleasant surprise for me as someone who loves hand lettering so much! I know that many kids can't read cursive so I wanted to make sure that there's a printed option as well so there's one for the entire family.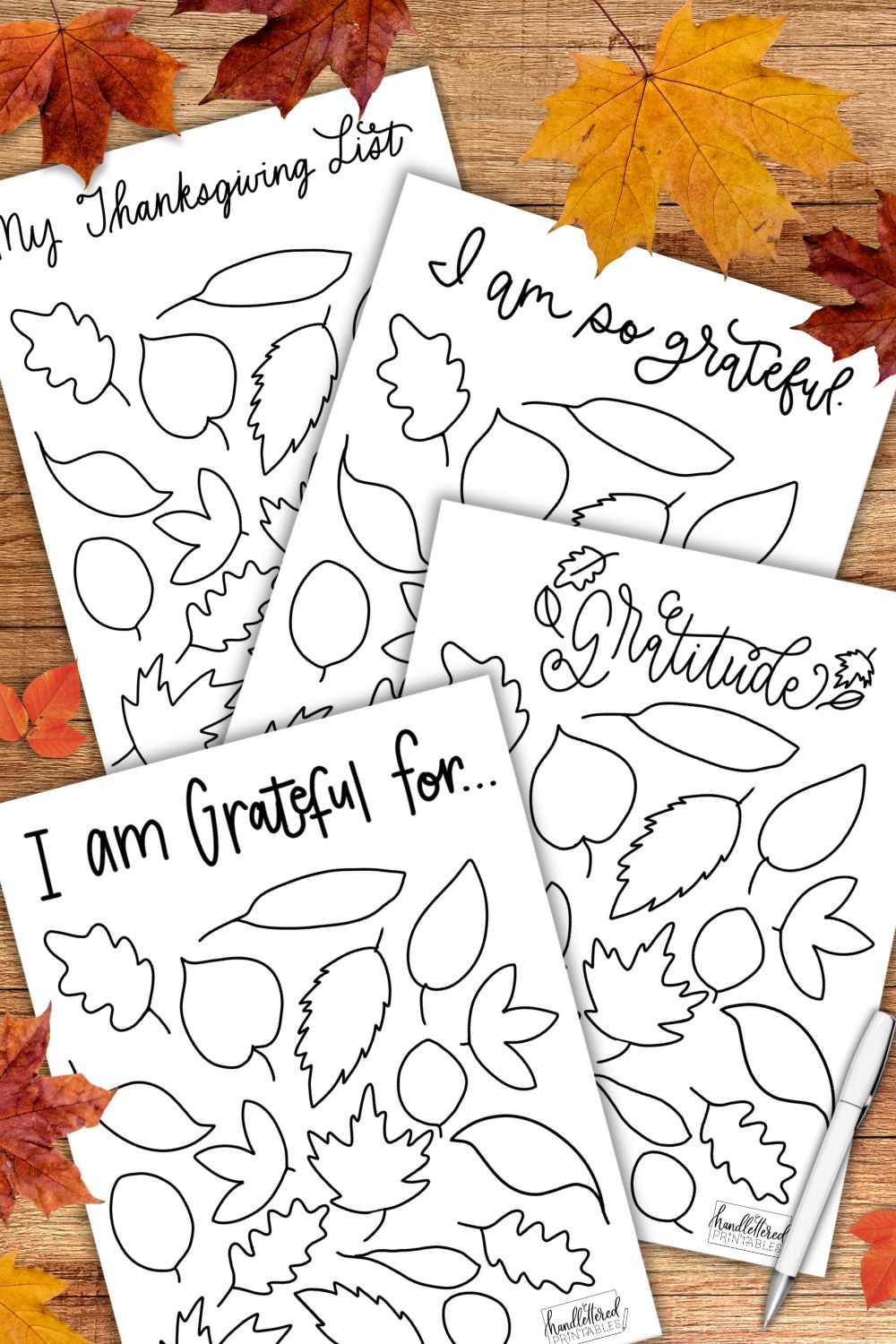 When our kids were really small, I used to take the kids out for a thanksgiving walk and we'd send thankful cards as a creative way to practice gratitude for younger children. At our family thanksgiving dinner, my sister-in-law used to make a thankful tree for the kids to add what they're grateful for.
This is another great option to help kids practice a heart of gratitude whether at home on Thanksgiving Day at the dinner table or for classroom use if you're a teacher. Pair this with a cute thanksgiving craft and it would make such a great thanksgiving gift for parents! As a parent… who would love to get that 😉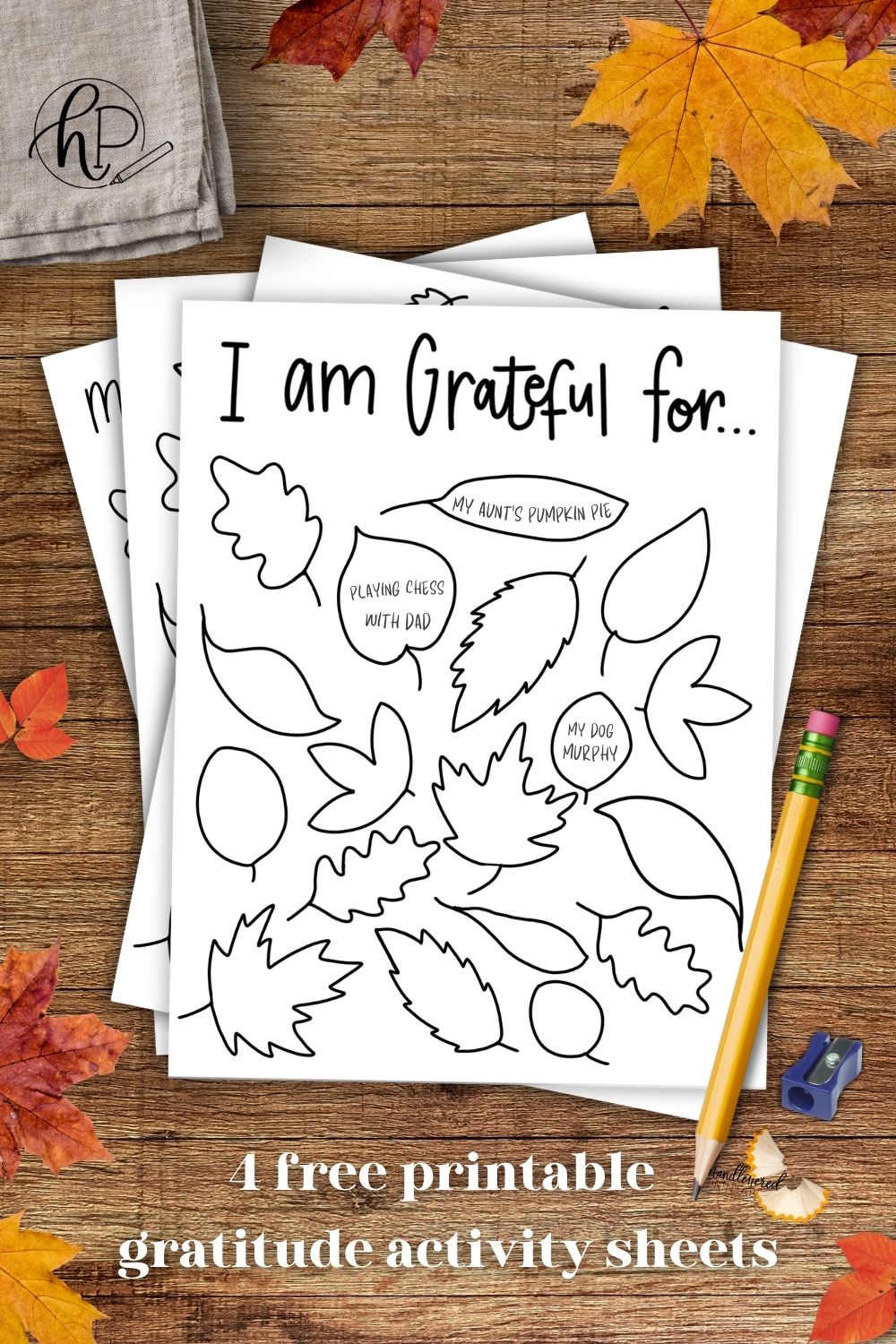 This thankful activity printable is part of a collaboration that I'm doing with some of my favourite printable designer friends, so you can scroll to the bottom and find even more fun free thanksgiving printables from some very talented ladies!
But first… let's get you these 'thankful for…' printable thanksgiving activity sheets.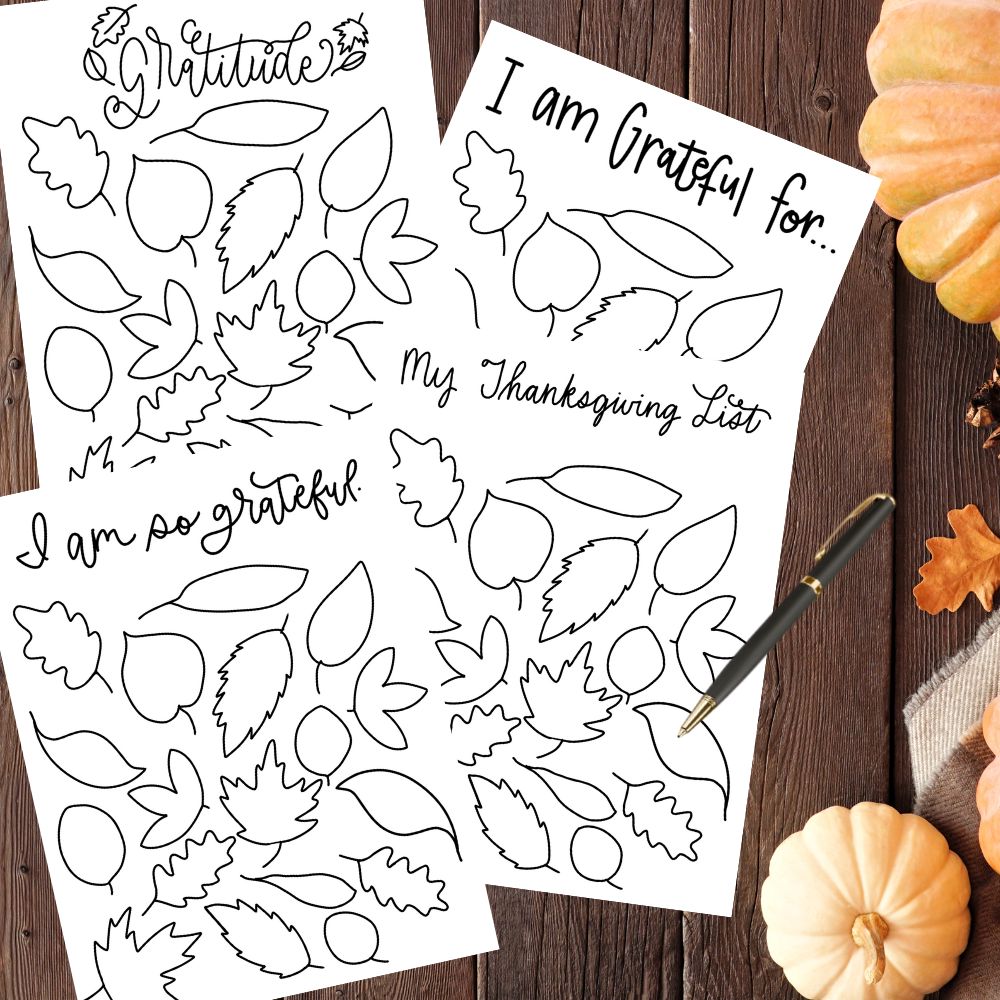 This printable is part of a collaboration that I'm doing with some of my favourite printable designer friends, so you can scroll to the bottom and find even more thanksgiving printables from some very talented ladies!
But first… let's get you these printables gratitude activity sheets.
How to download the free printable gratitude worksheets
To download the thankful list worksheet pack is so simple. To get these directly delivered to your inbox, just enter your email address in the box below and I'll send you a confirmation email. Clicking the button in the email will open the PDF file up directly.
These 4 designs are in one PDF format document on separate pages. Some browsers will automatically start a download and in others you will need to right click and select 'save'. It should save to your download folder to make them easy to find for printing.
As always, free printables are for personal use only (print for you and all your friends, your classroom or as teachers gifts, but don't sell them, offer them as a download or modify them). Questions? Just ask 🙂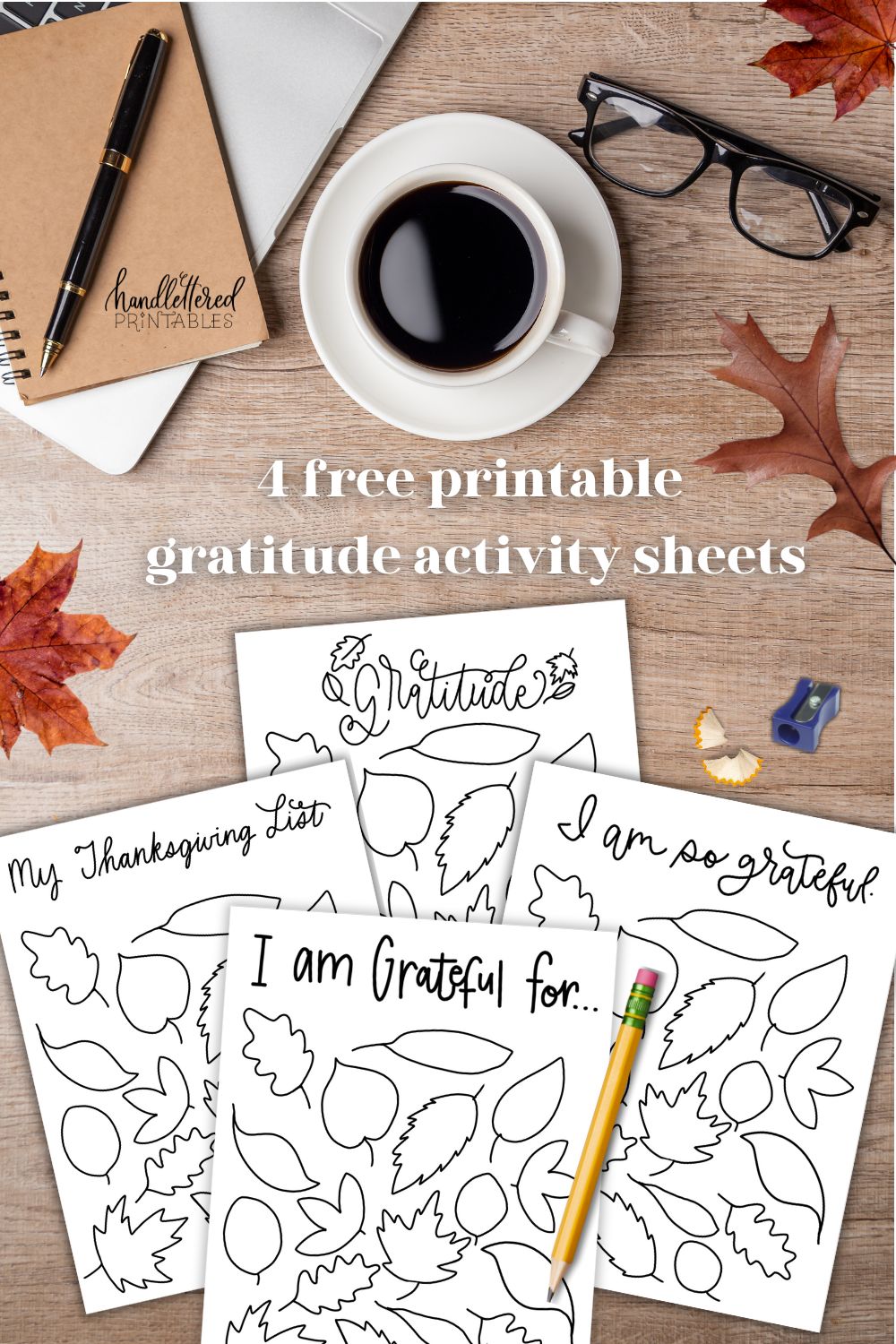 What's the best way to print free printables
You can print this thankful worksheet pack of printables any way you like, but I have a couple suggestions to make the most of them! While every free printable is different, these ones are simple 8.5×11″ PDF documents which makes them incredibly easy to print at home or at your local print shop. They will print just like a document, without special settings like a photo.
While you can print these on regular paper (this printable is actually very well suited for that!), I find printing on cardstock looks nicer and allows you to keep your printables in better condition as you use them (it doesn't crinkle nearly as easy). This also lets you color with more pigmented markers without bleeding through to the surface below. This is really only important if you're wanting to gift these or keep them. If you're just looking for a fun activity for older kids at Thanksgiving, you can just use regular copy paper and skip the extra cost.
You can see all of my tips for downloading and printing free printables like these ones in this detailed post.
---
If you do download and use these… you know I would love to see them in action! Tag me @handletteredprintables or shoot me an email [email protected]!
More free Thanksgiving printables
Today I'm partnering with some amazing printable designers to share even more free thanksgiving printables for you to use! Click the links below to be taken to their site and all those freebies! Happy Thanksgiving!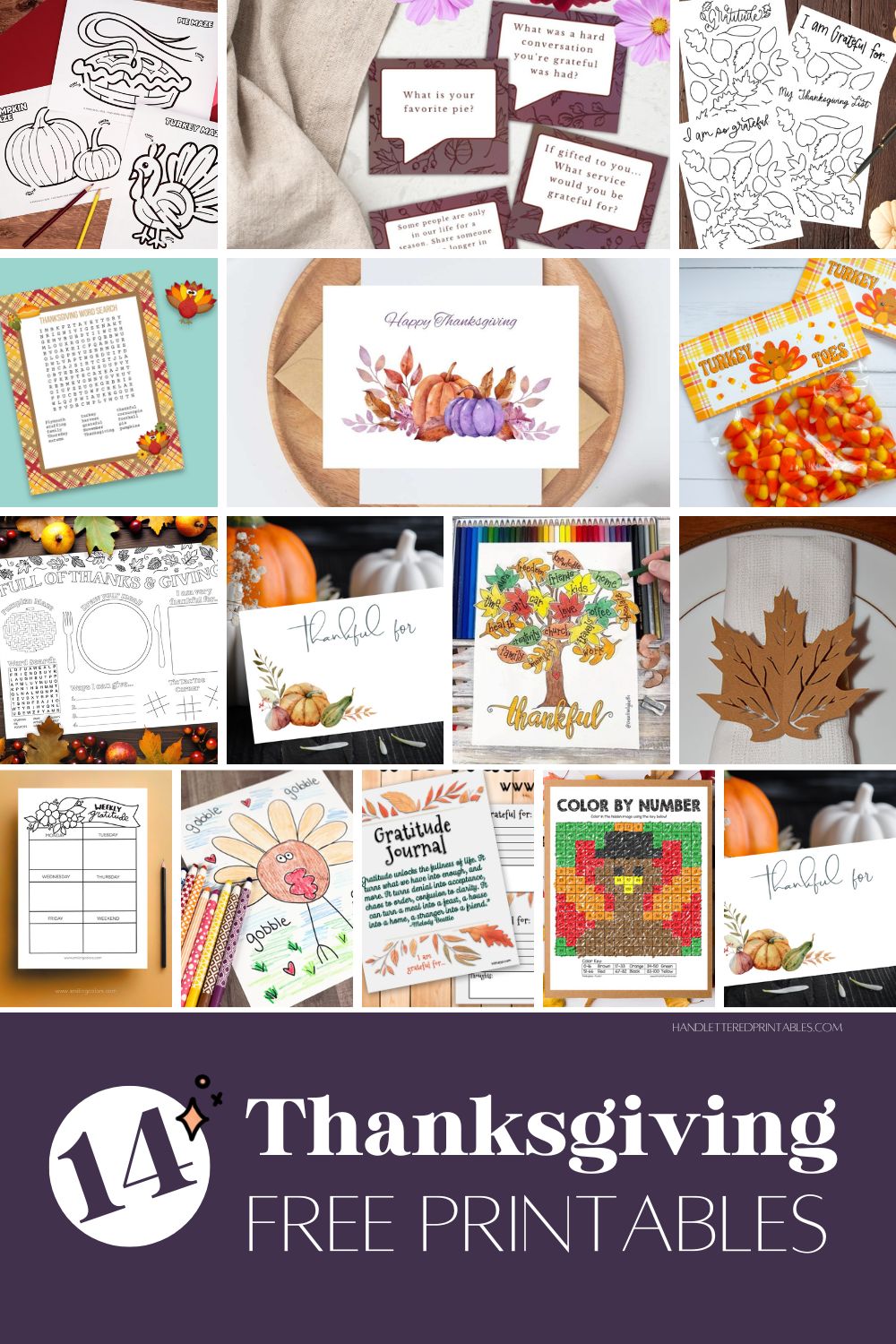 Thankful For: Activity Pages from Hand Lettered Printables (you're here!)
Like it? Pin it for Later!
Don't have time to print these thankful printables off today? Pin this so you can come back to it! Plus, pinning or sharing on FB helps this post reach more people which helps me be able to keep sharing with you. Thank you!