As your kids are headed back to school, it's time to crack those books back open! These free printable back to school bookmarks are fun to color and customize for kids' home reading. 5 Options with quotes about reading and a modern hand lettered design.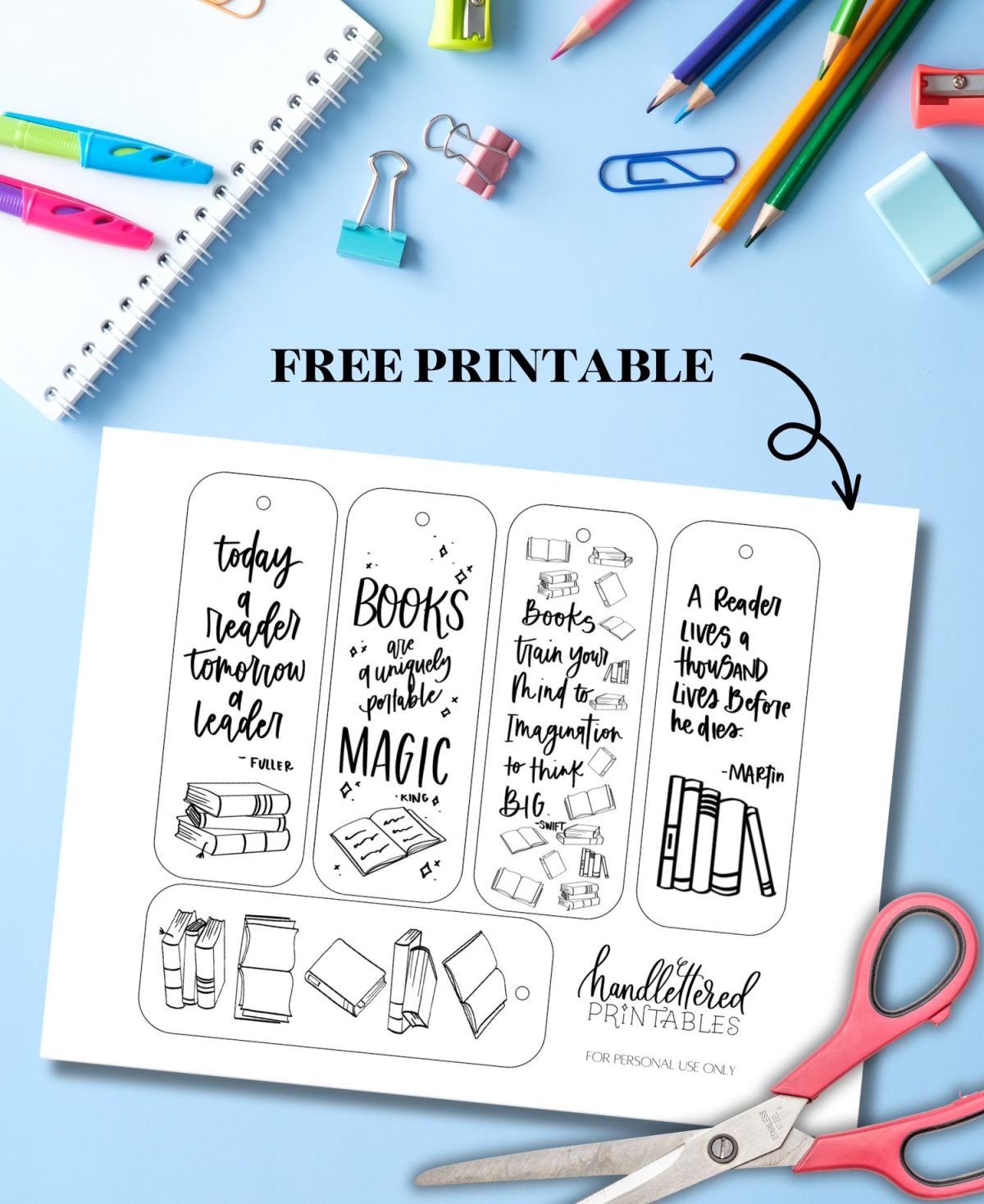 Today we're sharing this set of free printable back to school bookmarks for home reading or… well, any kind of reading. Not only are they modern with hand lettered quotes and illustrated books, they are perfect for coloring in thanks to the black and white design.
I created 5 different bookmarks to choose from in this printable. All 5 free printable book marks will print on one page… four with quotes about reading and one with just some playful illustrations of books to color in. If you recognize those illustrations, good eye!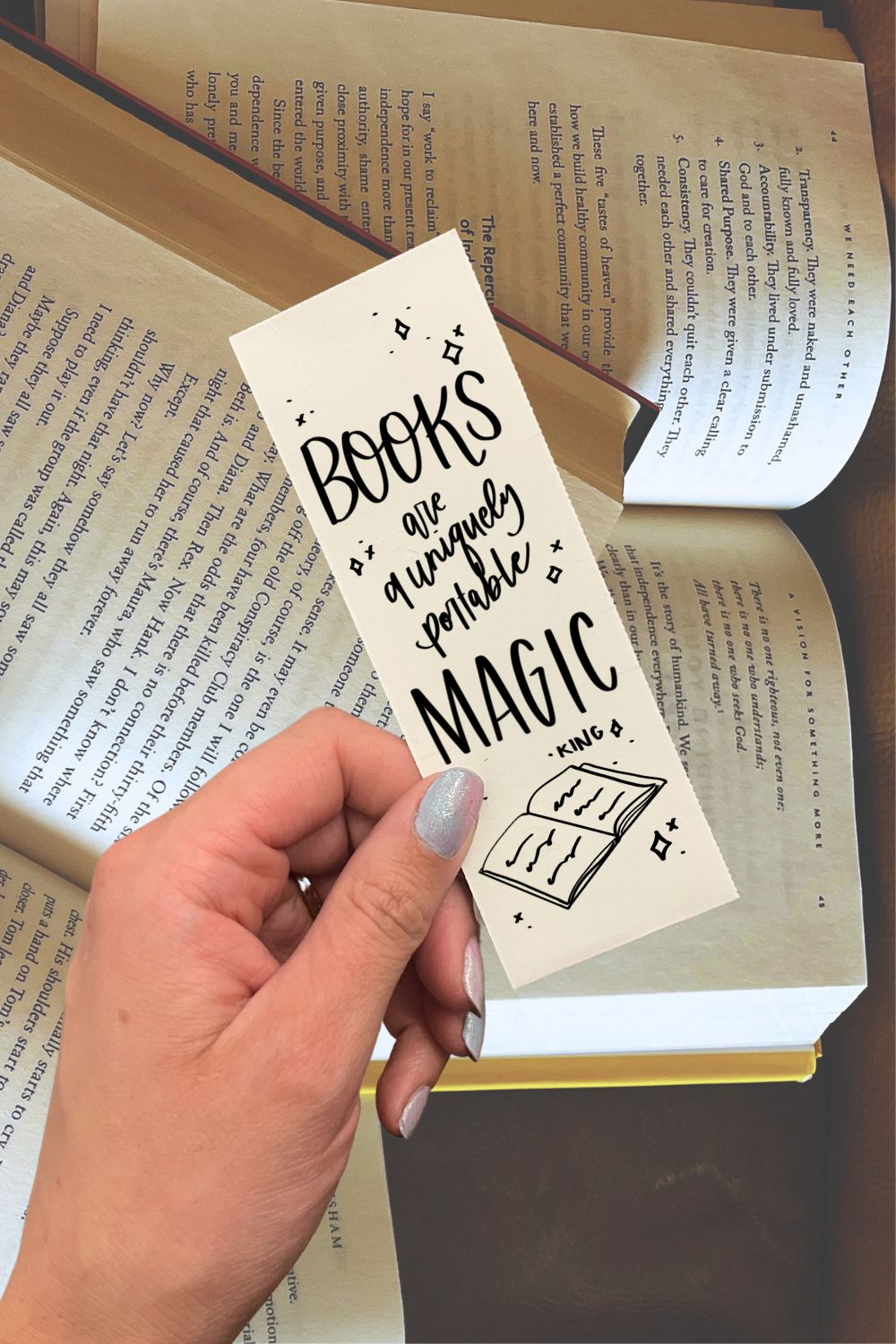 These are the books I drew for my free printable reading tracker. What a perfect pair 😉 On that note… you could definitely use the books as a reading tracker, coloring as you go! You can see more about different ways to use a reading tracker here.
You could print these off and leave them plain rectangles or get fancy with rounded edges and hole punch space for a crafty tassel. If you do this, I definitely recommend laminating for longevity of your DIY bookmark!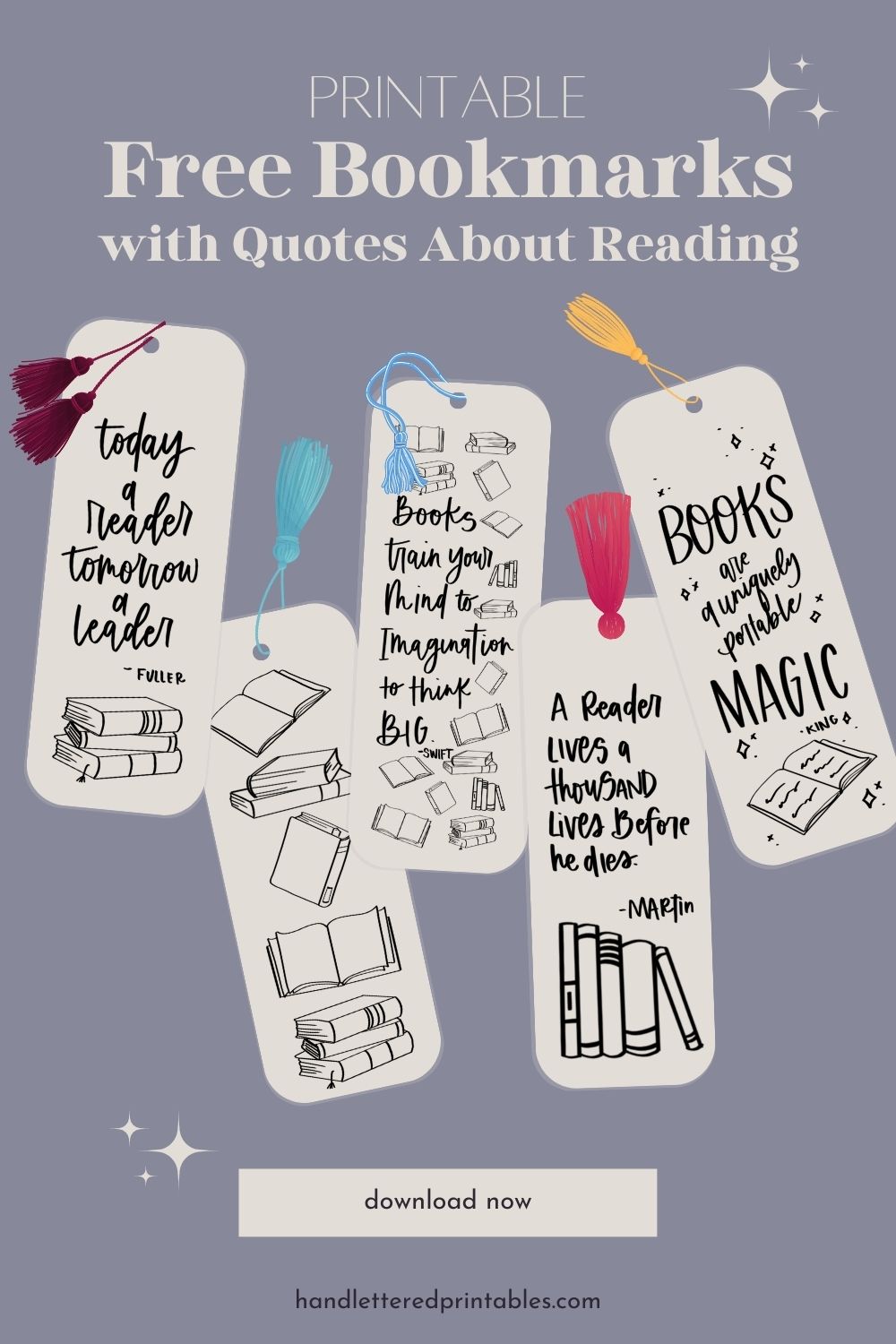 This back to school bookmark set is part of a collaboration that I'm doing with some of my favourite printable designer friends, so you can scroll to the bottom and find even more free back to school printables from some very talented ladies!
But first… let's get you these free bookmarks for back to school reading!
How to download the free printable book marks
To download this set of free printable hand lettered quotes bookmarks is so simple. To get these directly delivered to your inbox, just enter your email in the box below and I'll send you a confirmation email. Clicking the button in the email will open the PDF file up directly.
These three designs are in one PDF format document on separate pages. Some browsers will automatically start a download and in others you will need to right click and select 'save'. It should save to your download folder to make them easy to find for printing.
As always, free printables are for personal use only (print for you and all your friends, your classroom or as teachers gifts, but don't sell them, offer them as a download or modify them). Questions? Just ask 🙂
What's the best way to print free printables
You can print free printables any way you like, but I have a couple suggestions to make the most of them! While every free printable is different, these ones are black and white PDF documents which makes them incredibly easy to print at home or at your local print shop. They will print just like a document, without special settings like a photo.
While you can print these on regular paper, I find printing on cardstock looks nicer and allows you to keep your printables in better condition as you use them (it doesn't crinkle nearly as easy). This also lets you color with more pigmented markers without bleeding through to the surface below.
Laminate to help them last even longer!
You can see all of my tips for downloading and printing free printables like these ones in this detailed post.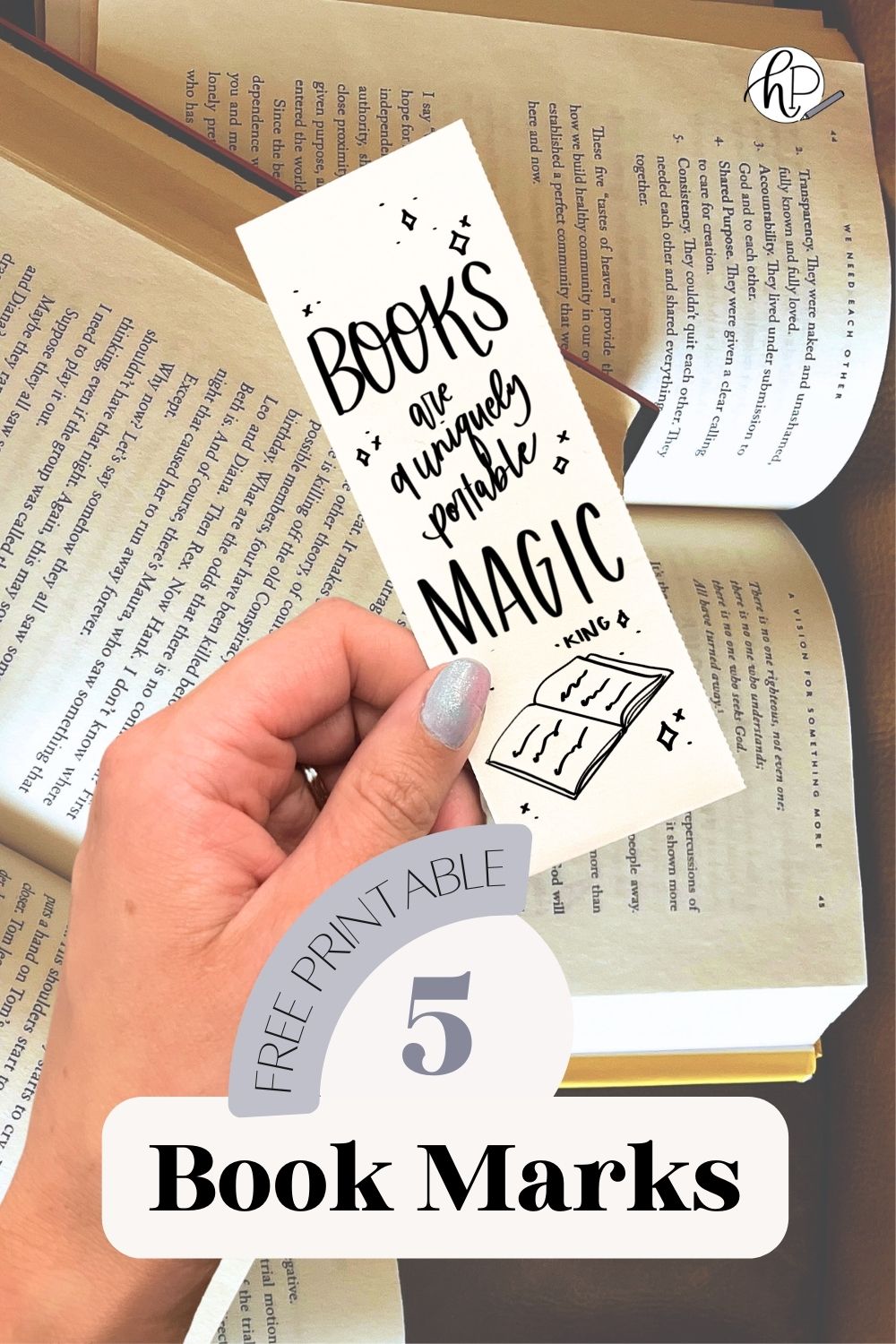 ---
If you do download and use these… you know I would love to see them in action! Tag me @handletteredprintables or shoot me an email [email protected]!
More free back to school printables
Today I'm partnering with some amazing printable designers to share even more free back to school printables for you to use as we head into the fall season! Click the links below to be taken to their site and all those freebies!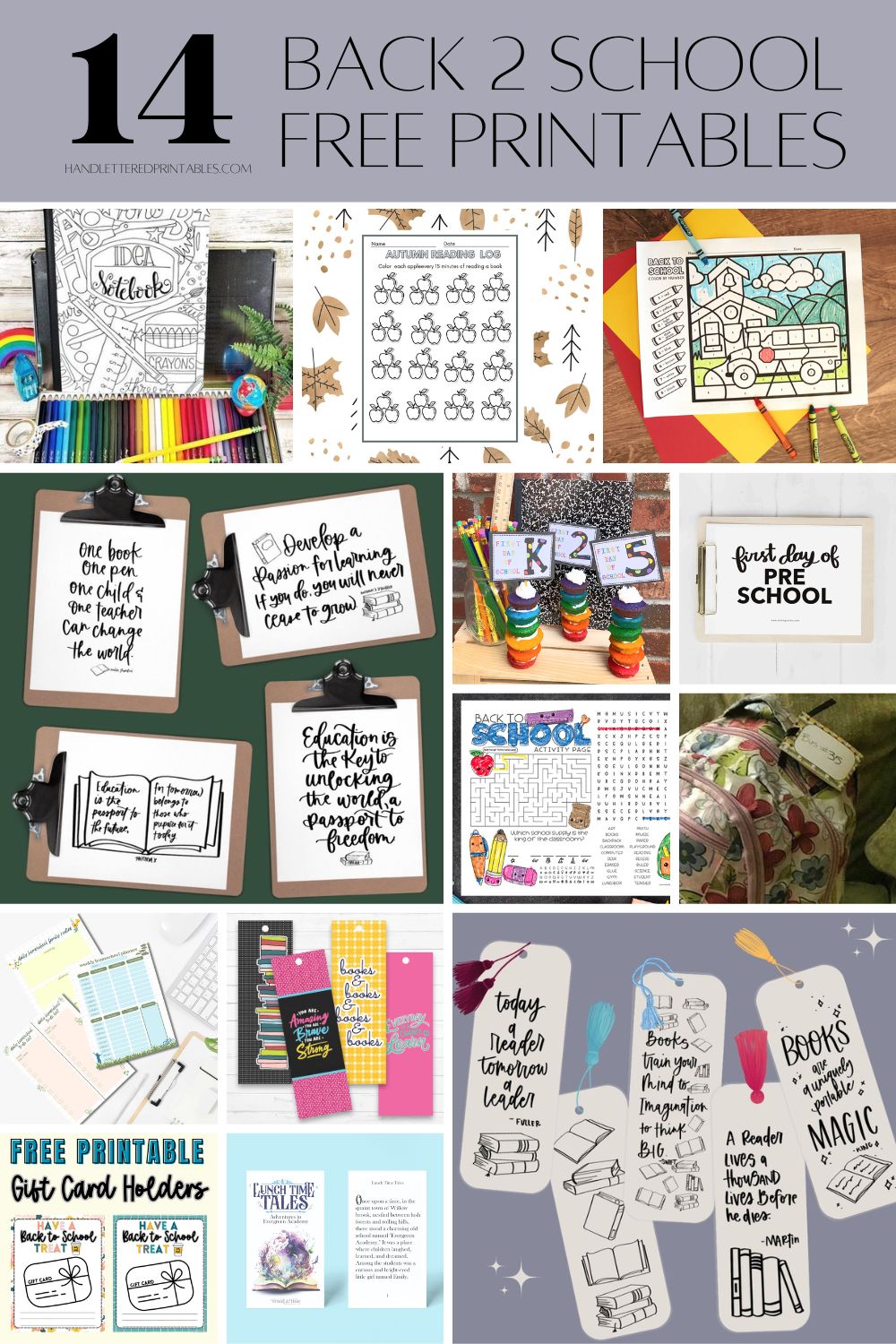 LIKE IT? PIN IT FOR LATER!
Don't have time to print these back to school bookmarks off today? Pin this so you can come back to it! Plus, pinning or sharing on FB helps this post reach more people which helps me be able to keep sharing with you. Thank you!