These free printable Irish blessings have been hand lettered for you as the perfect Saint Patrick's Day Printable Decor for your home!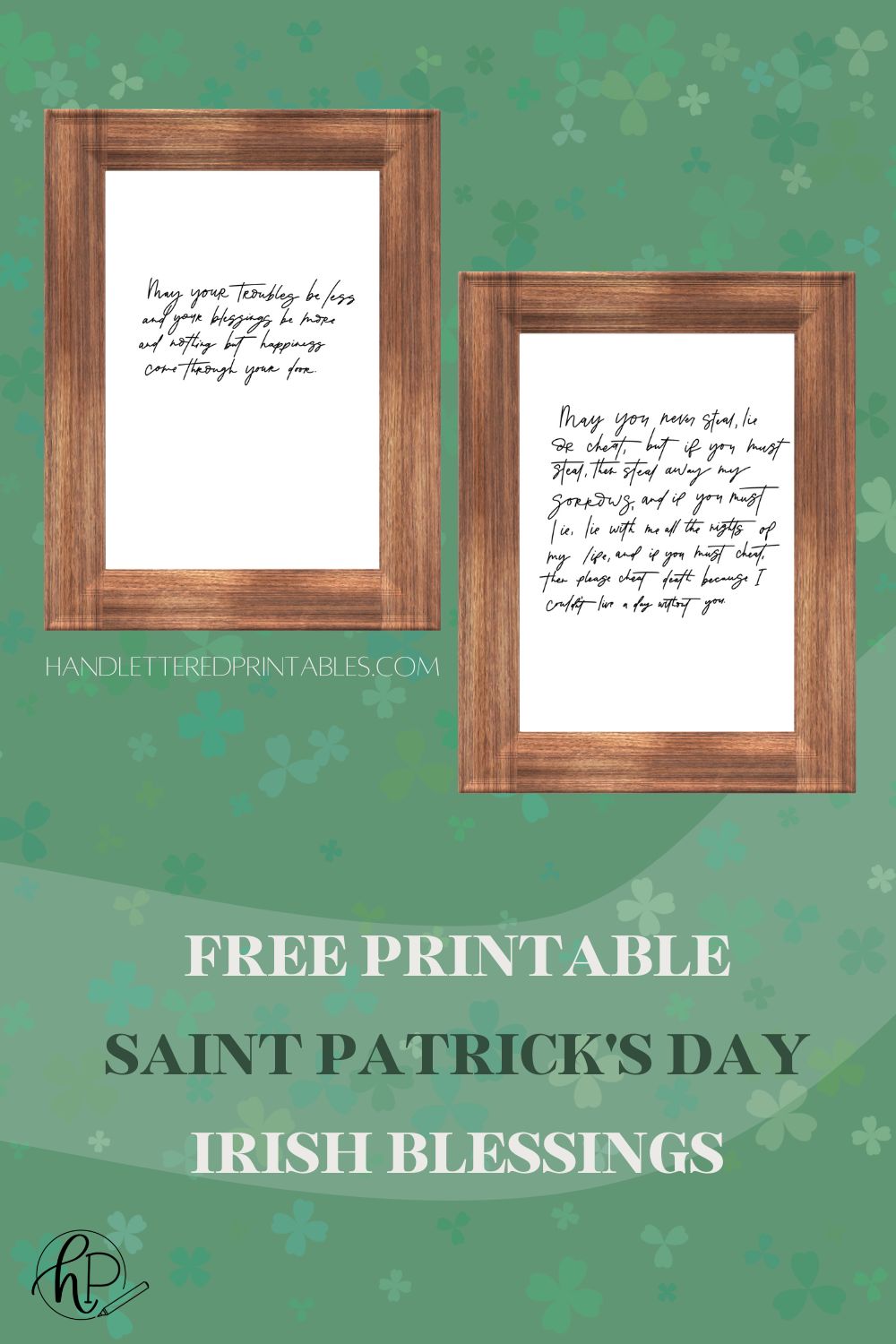 While not everyone decorates for Saint Patrick's Day, it's a really great way to cheer up the end of winter before we switch to spring decor and Easter decorating. I love to keep things simple in my seasonal home decor and especially love to avoid clutter in my home decorating.
That's why I love printables. I can switch up the art in a frame easily and for just the cost of printer paper (and ink), it's practically pennies for a fresh seasonal piece of decor.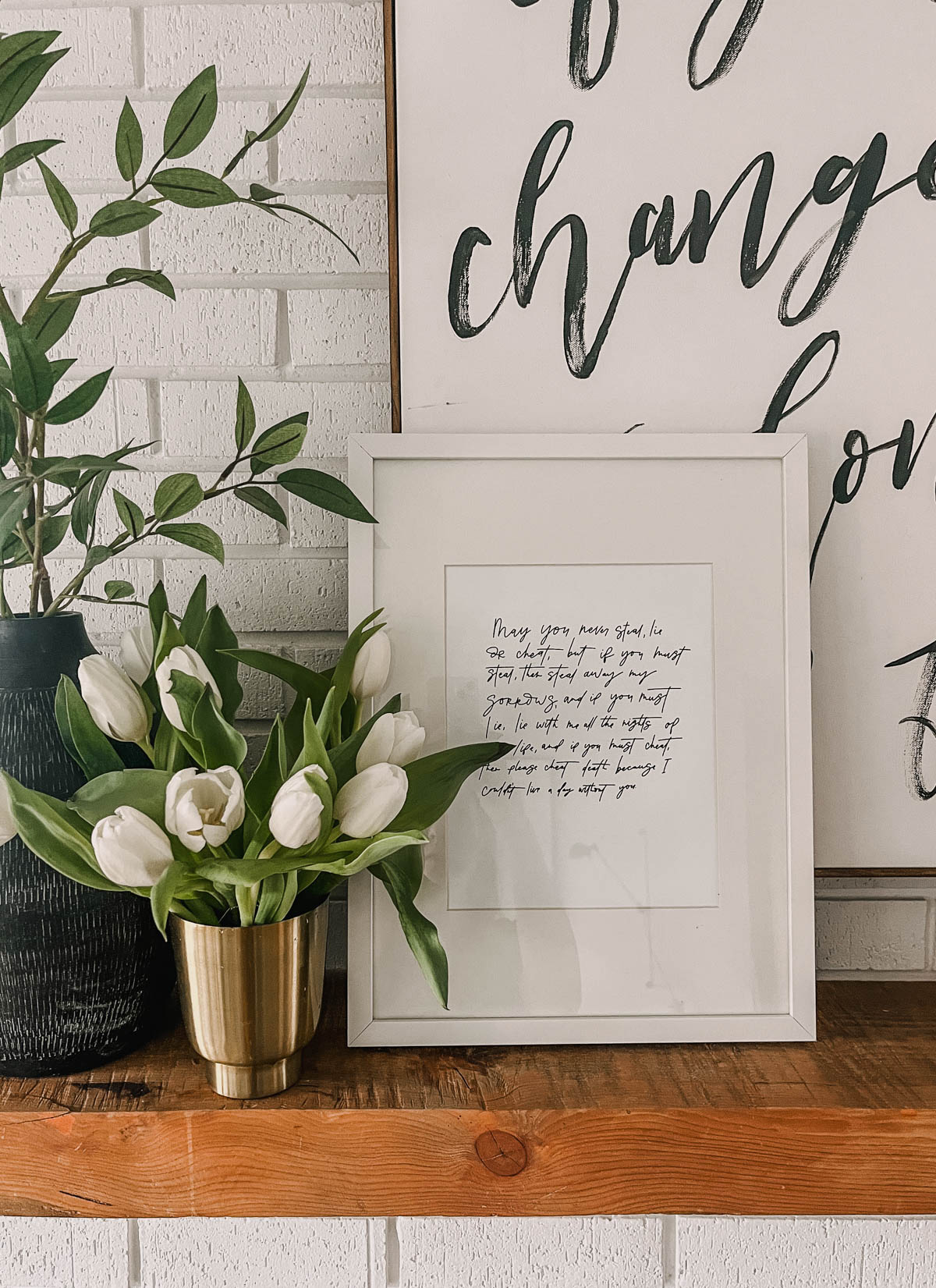 This year for Saint Patrick's Day printable decor, I decided to hand letter Irish blessings. I love how these blessings, also known as Irish prayers are such a positive reminder throughout our day. Wishing the best for those we love and those who enter our home? What more could we ask for, really.
I chose to hand letter two Irish Blessings for these free printables. They read:
May you never steal, lie or cheat, but if you must steal, then steal away my sorrows, and if you must lie, lie with me all the nights of my life, and if you must cheat, then please cheat death because I couldn't live a day without you

Irish Blessing
May your troubles be less and your blessings be more and nothing but happiness come through your door.

Irish Blessing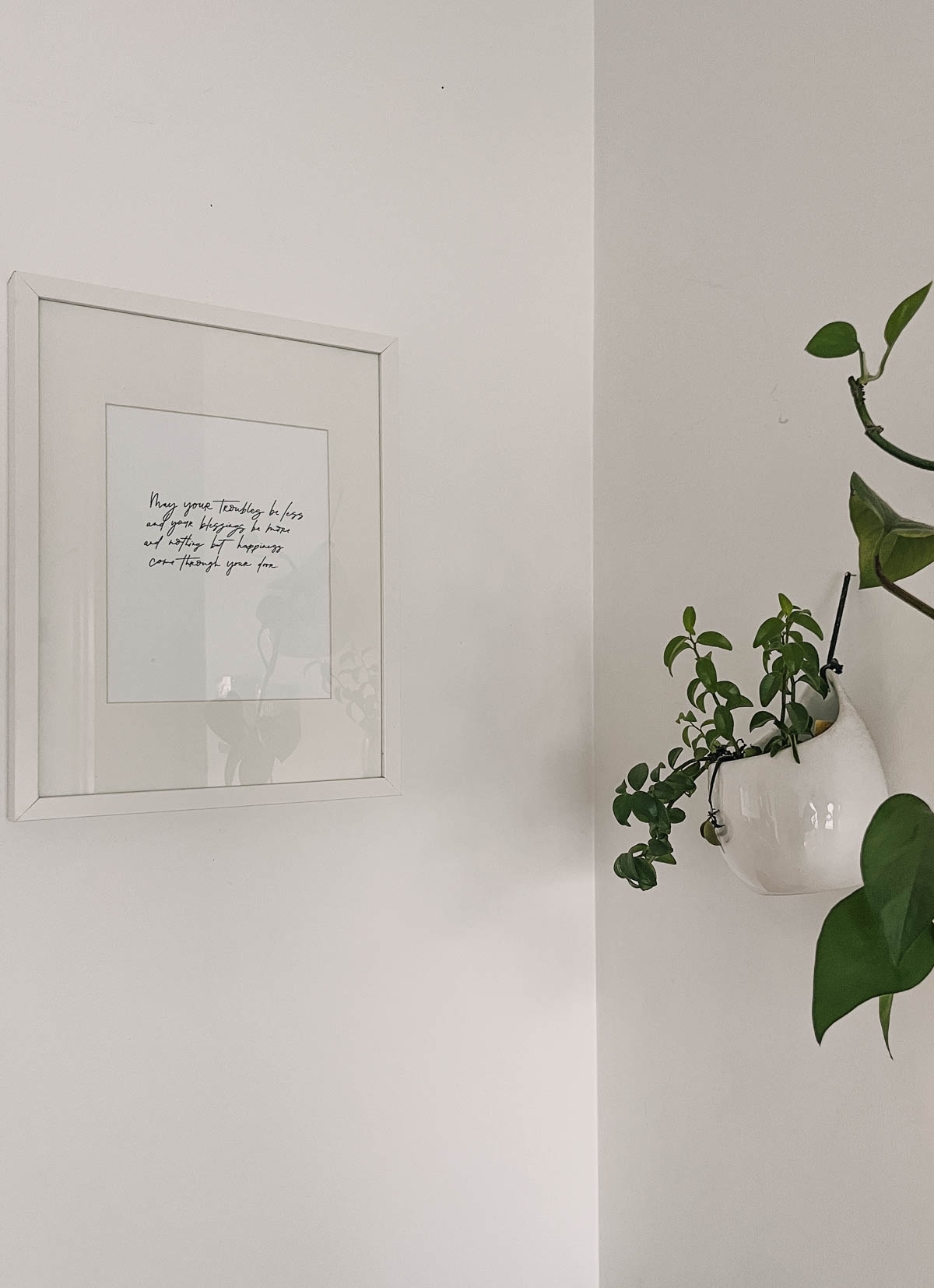 I hand lettered these in a monoline script. I love the simplicity of this, the smaller lettering makes for a more elegant saint patrick's day decoration than most. I think if you love Irish Blessings, you could honestly leave it up all year long and it wouldn't look out of place!
If you prefer more chunky hand lettering- or more obviously saint patrick's day decor, you might love this hand lettered saint patrick's day printable duo.
How to download free printable Irish blessings
To download these free printable irish blessings is so simple. To get these directly delivered to your inbox, just enter your email in the box below and I'll send you a confirmation email. Clicking the button in the email will open the file up directly.
Both designs are in one PDF document on separate pages. Some browsers will automatically start a download and in others you will need to right click and select 'save'. It should save to your download folder to make them easy to find for printing.
As always, free printables are for personal use only (print for you and all your friends, but don't sell them, offer them as a download or modify them).
What's the best way to print free printables for decor
You can print free printables any way you like, but I have a couple suggestions to make the most of them! While every free printable is different, these ones are black and white PDF documents which makes them incredibly easy to print at home or at your local print shop. They will print just like a document, without special settings like a photo.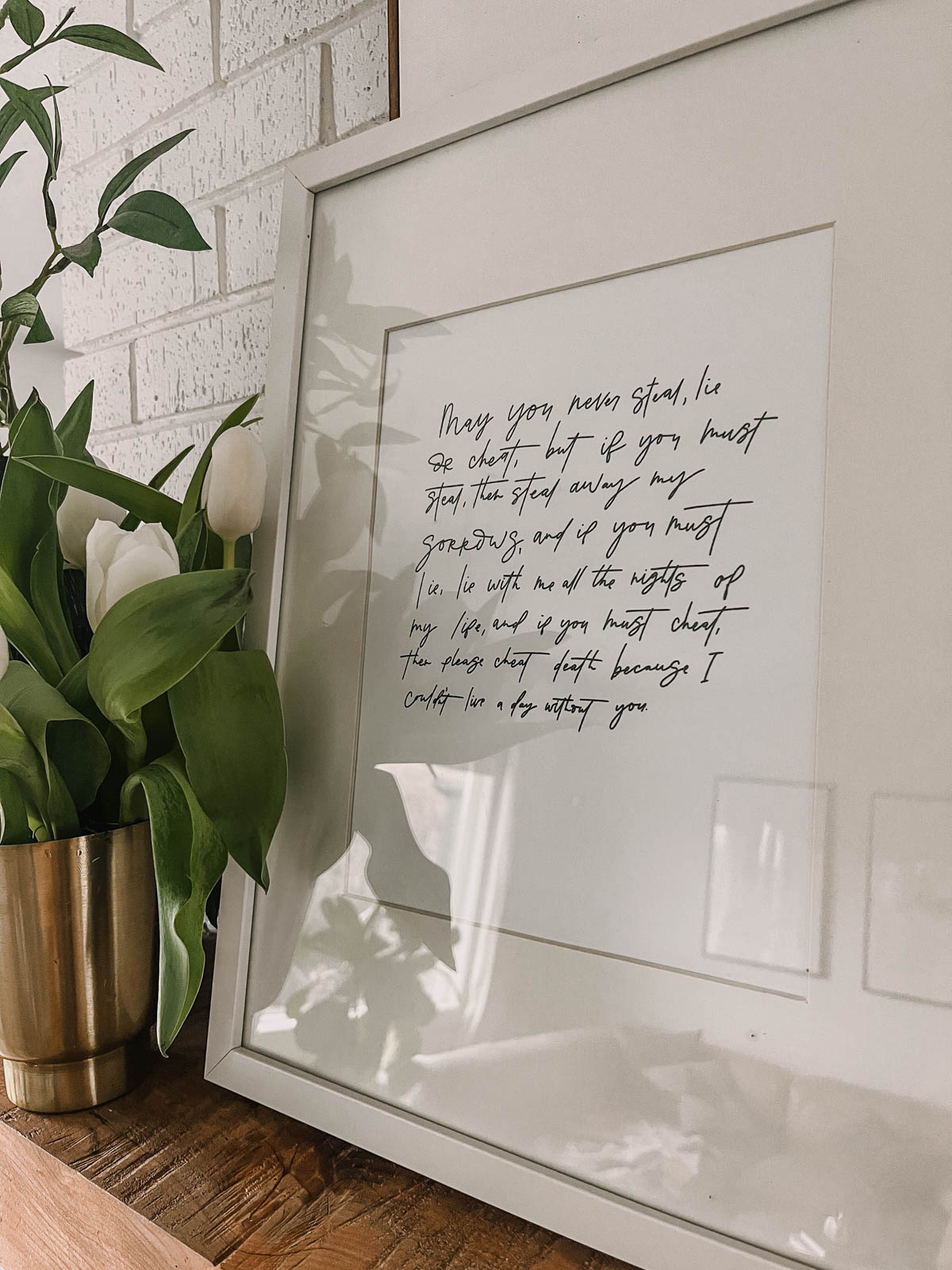 While you can print these on regular paper and slap them in a frame, I find printing on cardstock looks nicer and allows you to save your printables year to year to reuse them (I just put them in an envelope with the rest of our holiday decor).
The regular paper is somewhat transparent and if you don't have a white backing on your frame, the background doesn't look as bright white. Cardstock prevents this as it is completely opaque.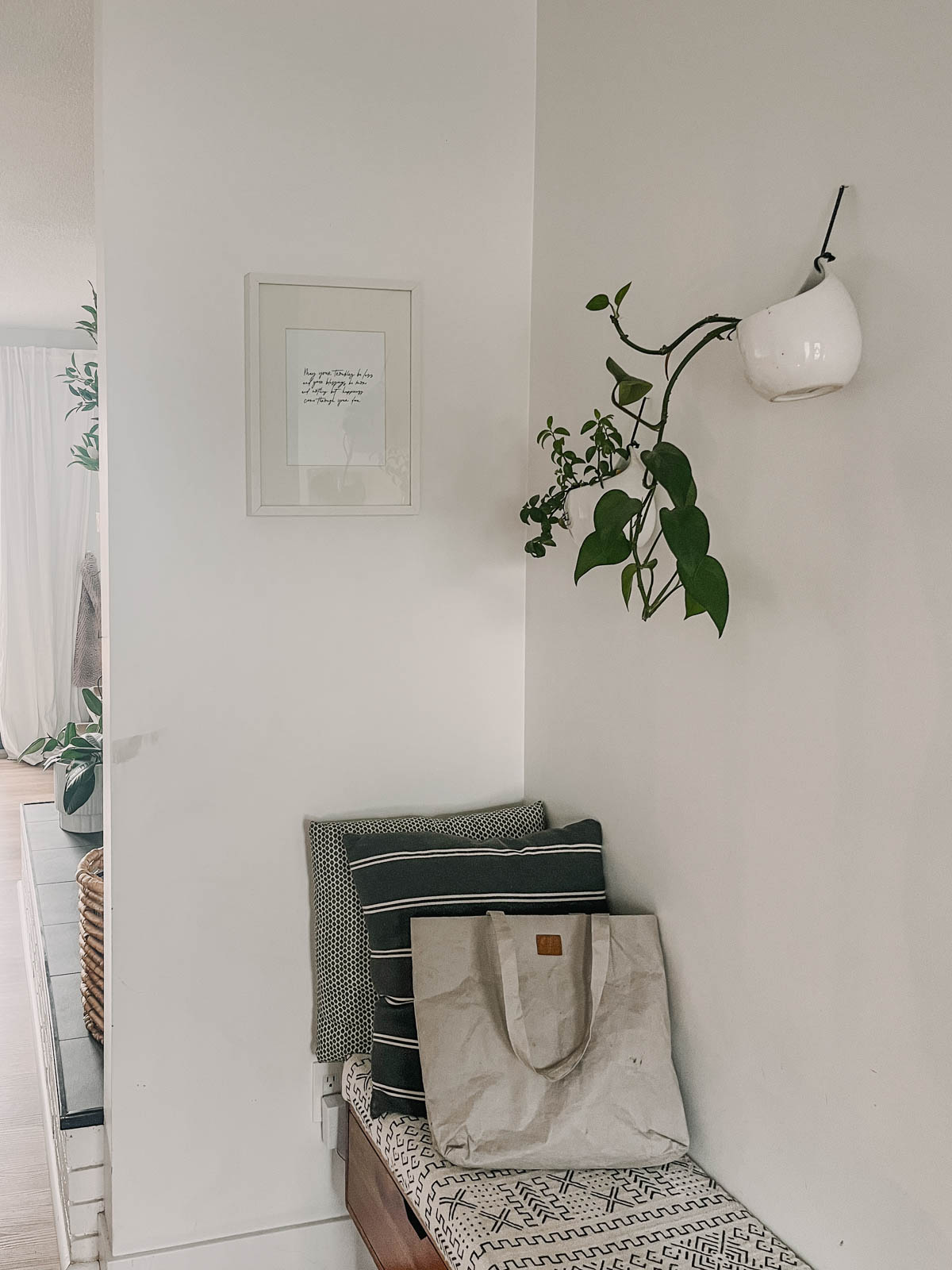 How to display free printables for home decor
I've said it before and I'll say it again- free printables are the easiest way to switch up your home decor season to season without adding clutter to your home. It's also the most affordable way to decorate seasonally (short of raiding your garden!).
I wrote a whole blog post on how to decorate seasonally without adding clutter on my other blog. One of the tips is to have a frame or space for a vignette that you change up each season. So instead of adding to your home decor for the season, you're swapping. Three places I like to do this in my own home are on our mantel, on our console table, and in our entryway.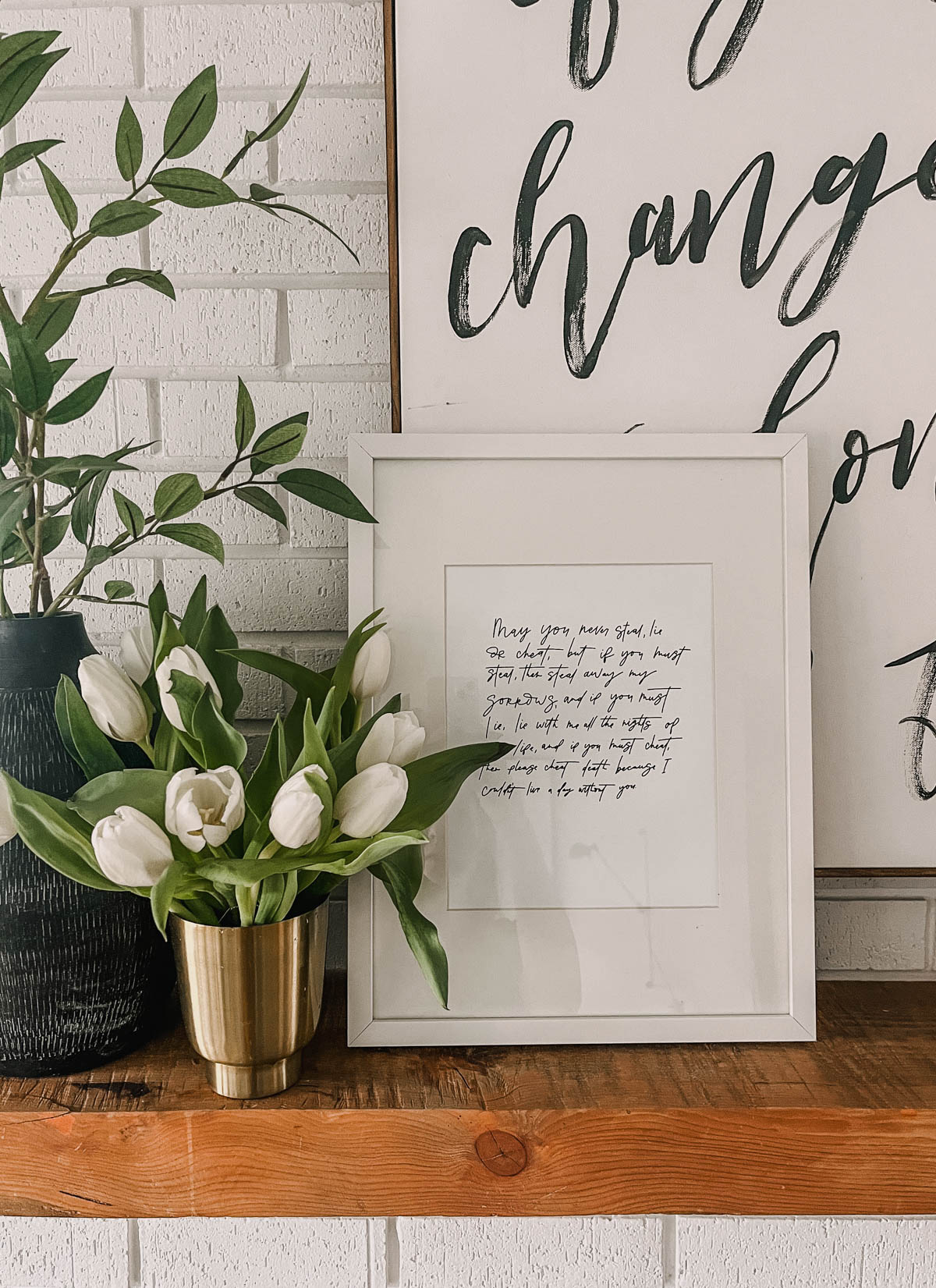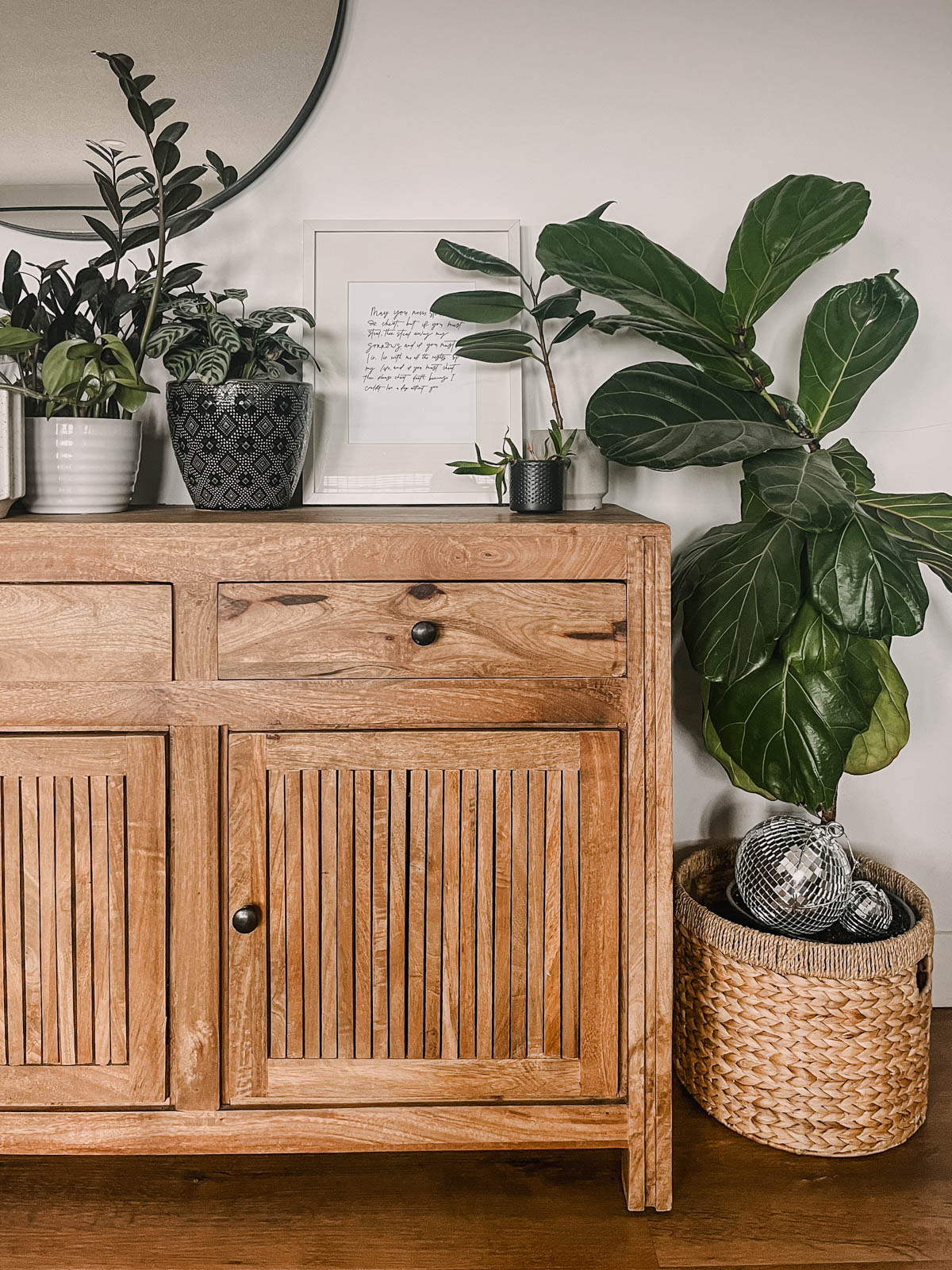 I like to frame my free printables for an elevated look, but if you have a more casual space like an office or a kids room, I think it's fun to throw them on a clipboard. The frames I've used here are the IKEA RIBBA– simple!
I've hung the frame in my entryway, it's the perfect filler for a small blank wall that you see when you enter our home. If you're looking for tabletop decor, you can choose a standing frame or a frame that you lean against the wall like I've done on the console table and on the mantel.
---
So that's the free printable Irish blessings in action! If you do download these and use them in your own home, you know I would love to see how you chose to display them! You can email me colleen (at) handletteredprintables.com or tag me on social @handletteredprintables!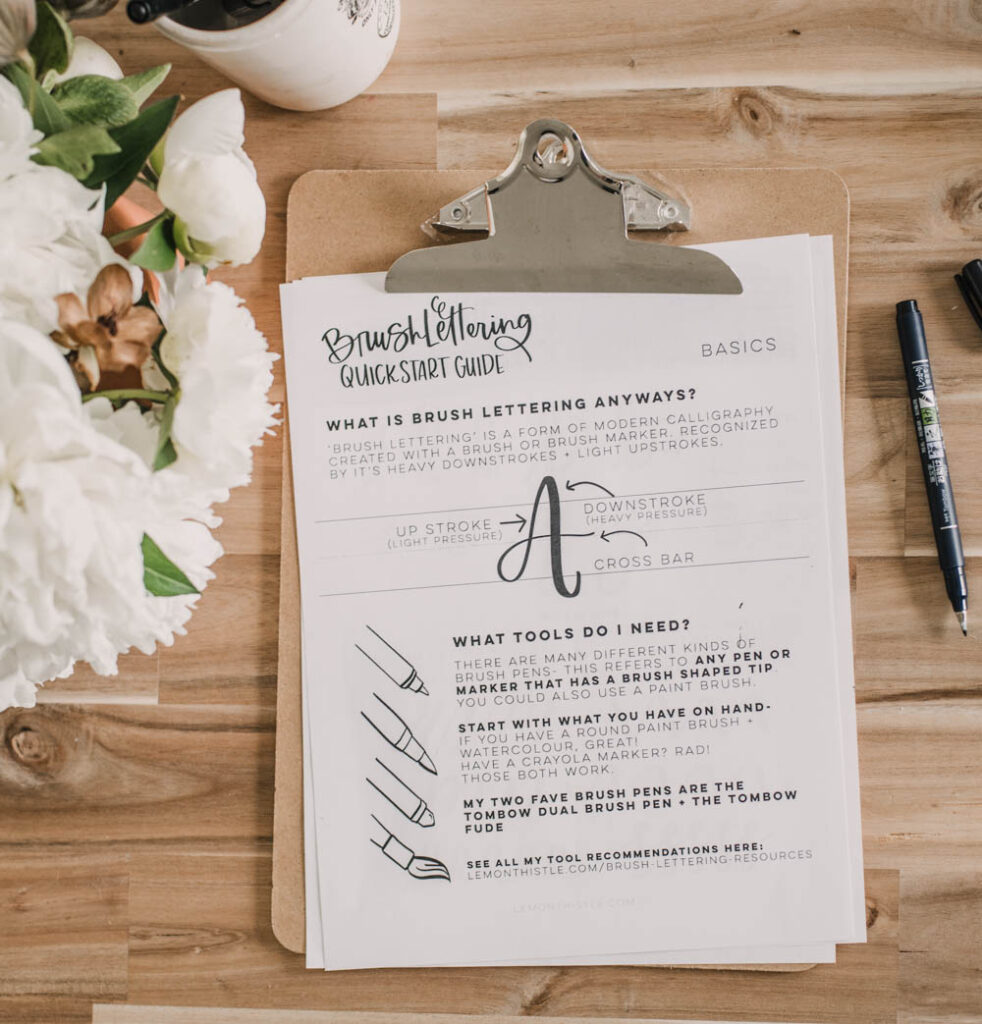 LIKE IT? PIN IT!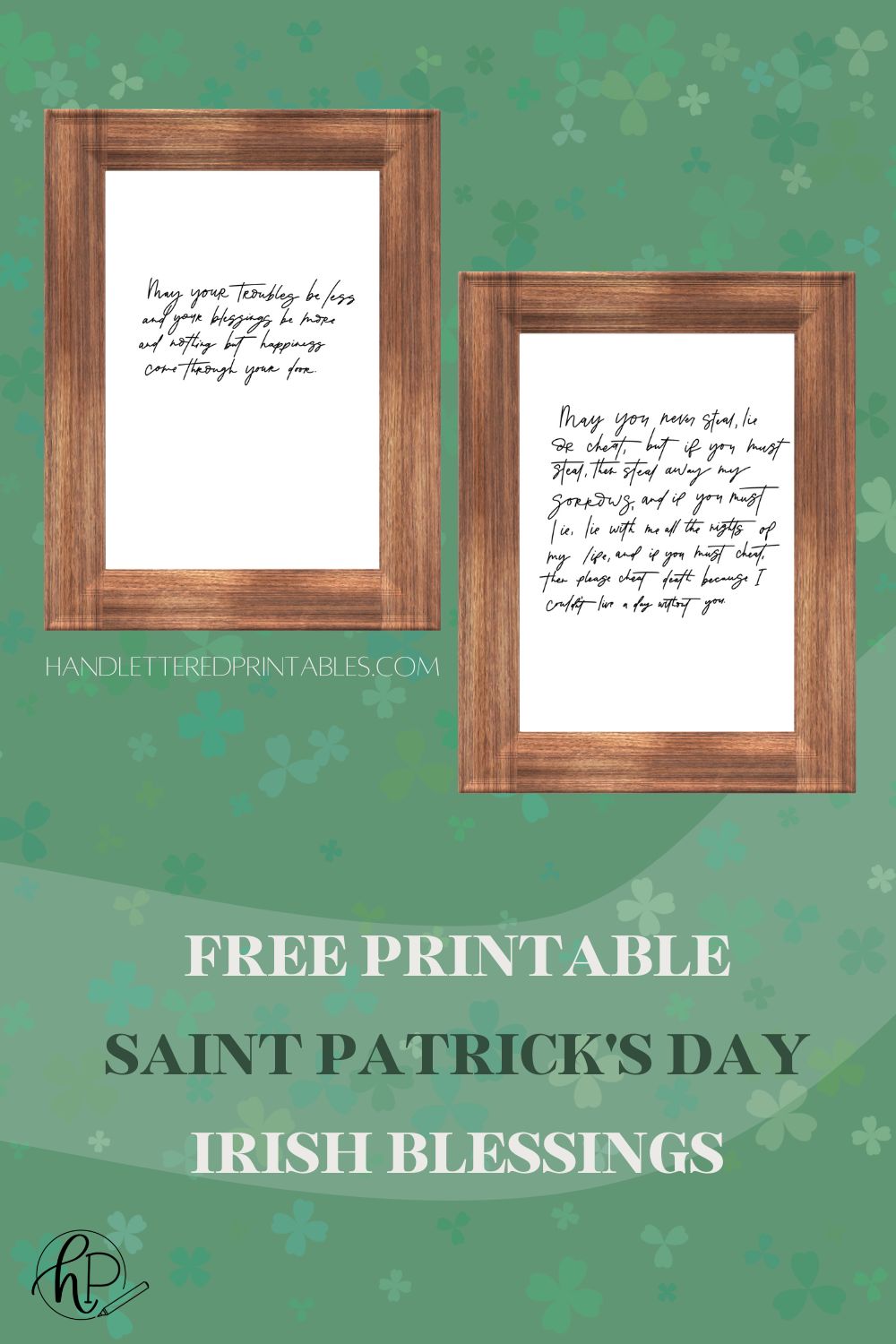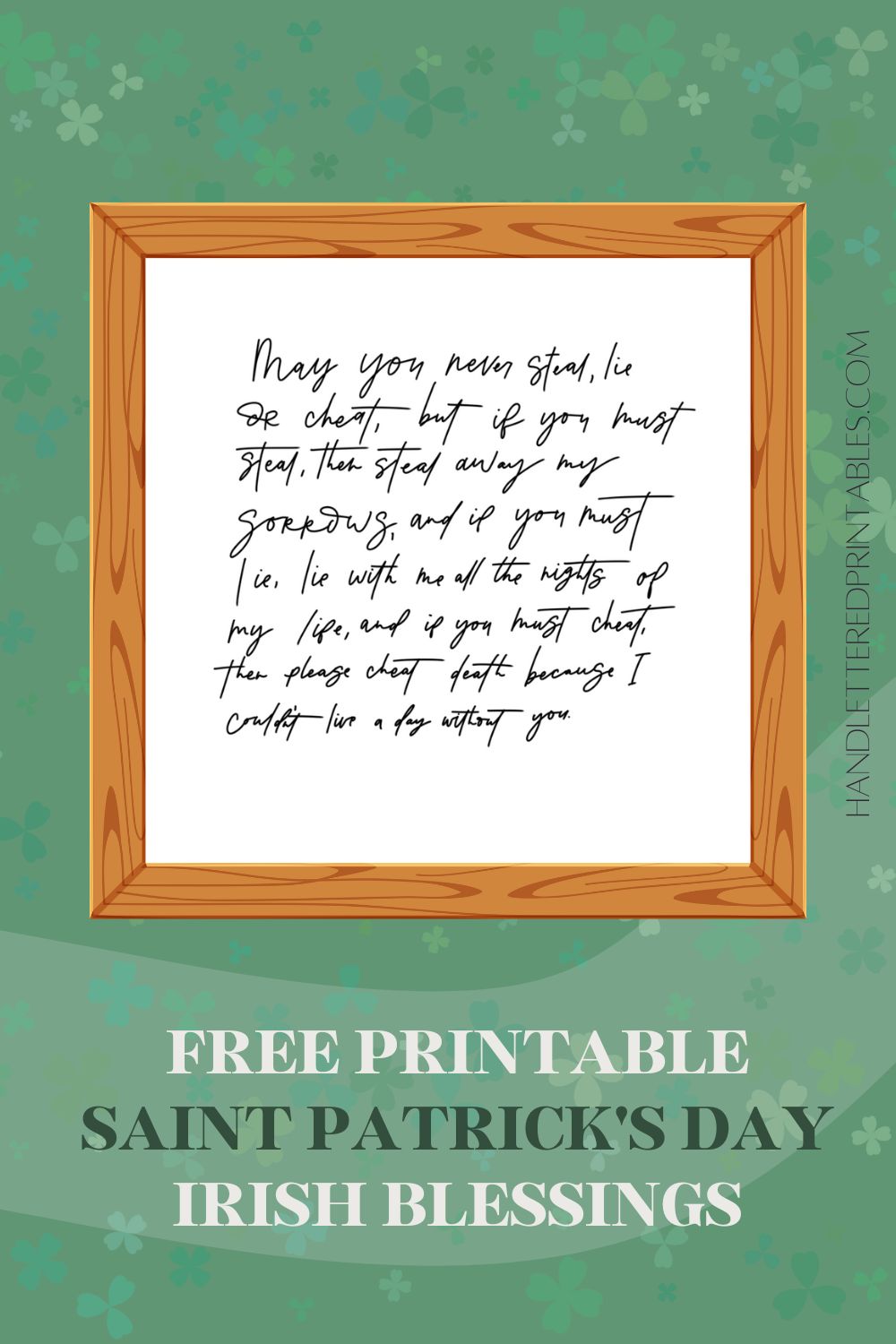 LOOKING FOR MORE HAND LETTERED PRINTABLES FOR YOUR HOME DECOR, CHECK THESE OUT!