Customize this template free wedding invitation SVG file to cut with your Cricut or Silhouette for a modern aesthetic wedding invitation… but DIY! With a fold out design, information cards and playful arches, it's the perfect modern wedding invitation template.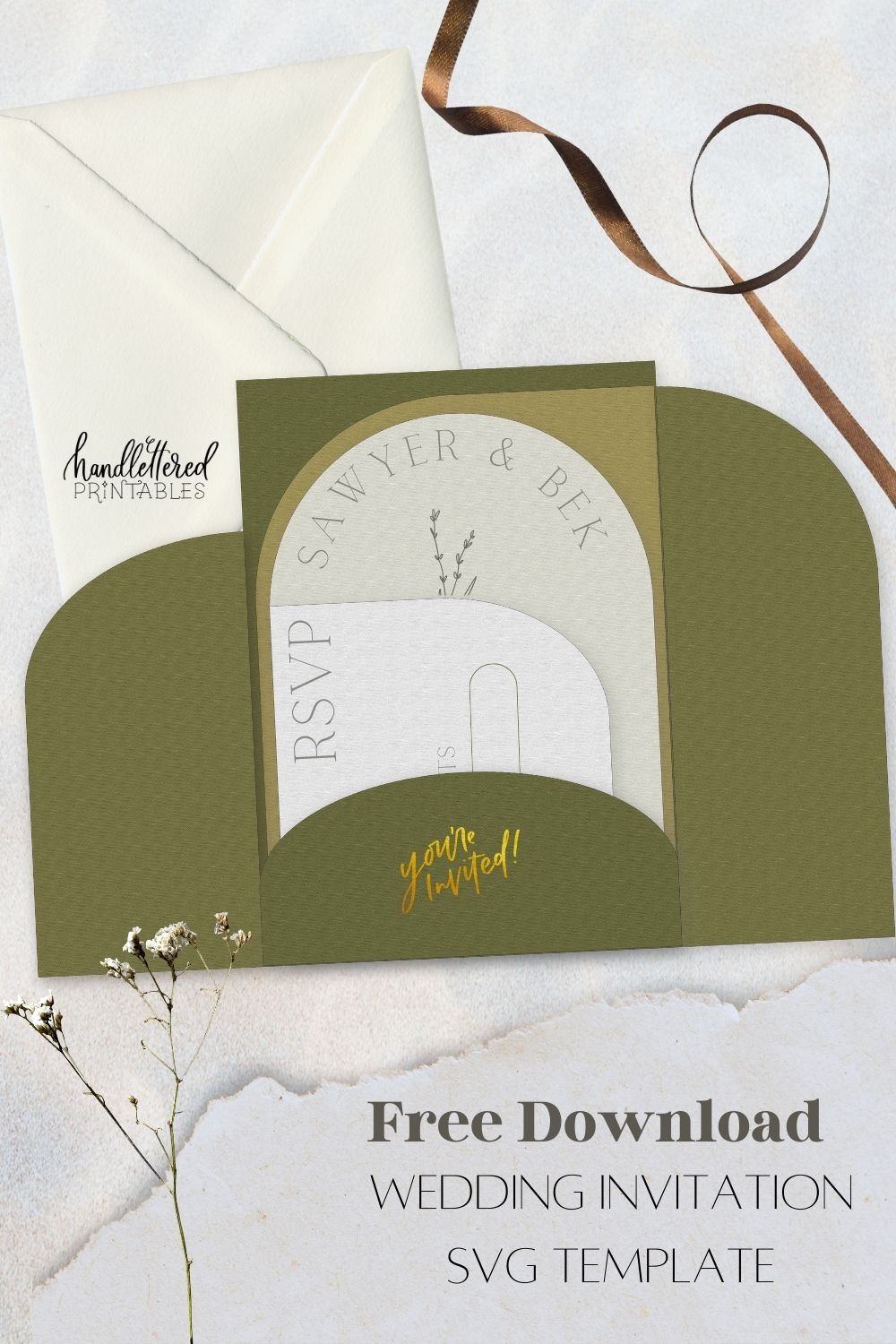 Years ago, I spent a year as a wedding planner. It was my dream job but after one long wedding season of all nighters, closing down weddings… I realized it wasn't really my dream job. I wanted to see my husband who worked a normal 9-5. But I do still love weddings, especially DIY weddings… so very much.
So much so that when blogging became my job I worked for wedding vendors writing blogs and creating content for them to keep a hand in the industry. It's been a solid 15 years since my summer of weddings now (how time flies!).
This month, I joined forces with some amazing SVG designers to create a collection of wedding themed SVG files for you… for free! I thought it was the perfect excuse to dust off my love for wedding invitation designing and created a template for modern wedding invitations as my free SVG file for you!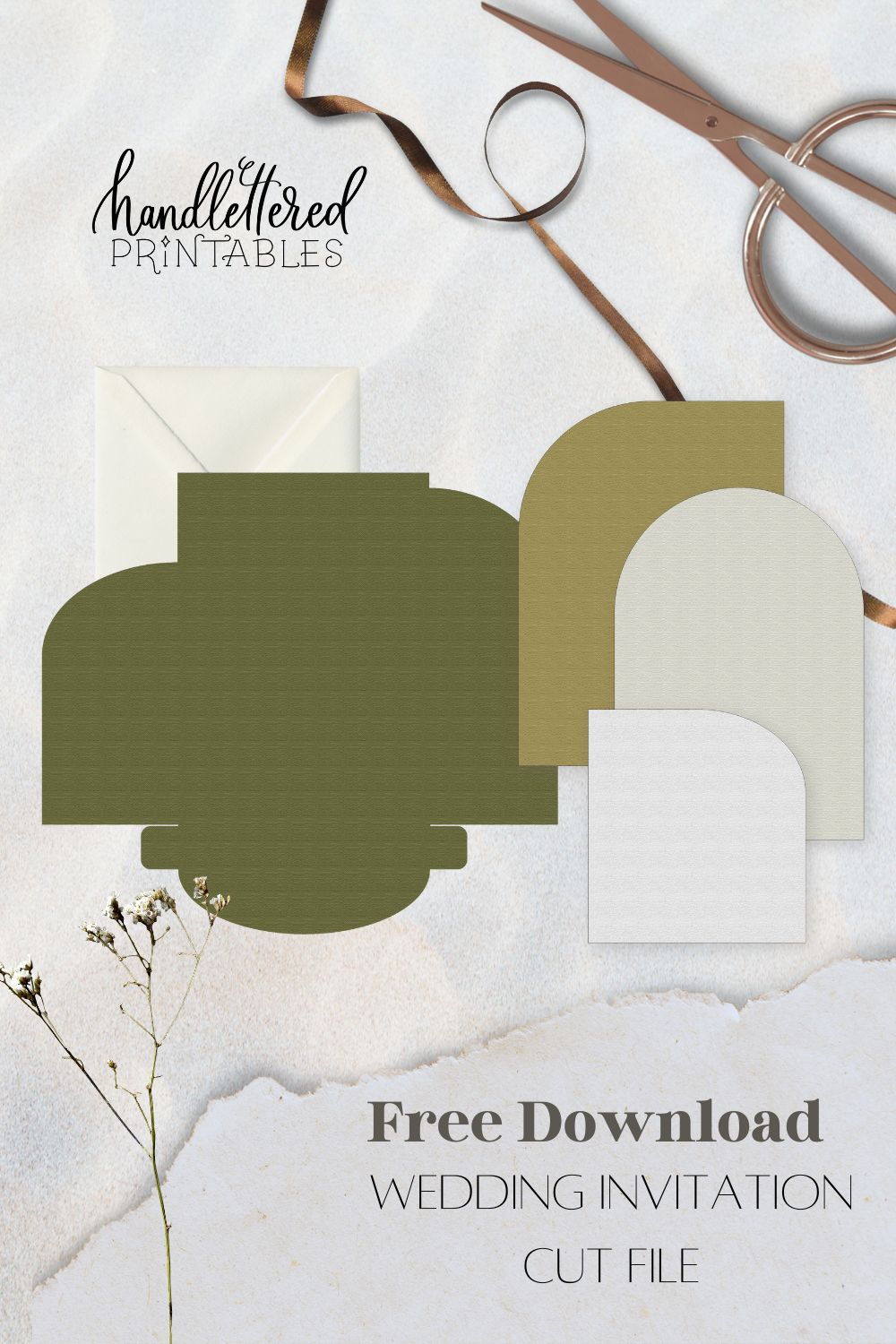 With modern arches, clean lines, and a trifold design (with pocket!), this is the perfect modern look invitation for a small wedding and an even smaller budget.
I know that wedding invitations have gotten SO fancy since my wedding planning days and I know that custom stationery and paper goods (like every cost that goes into your big day!) can ADD UP quick, so I'm excited to make a modern aesthetic wedding template for you to help cut your costs by making your own wedding invitations!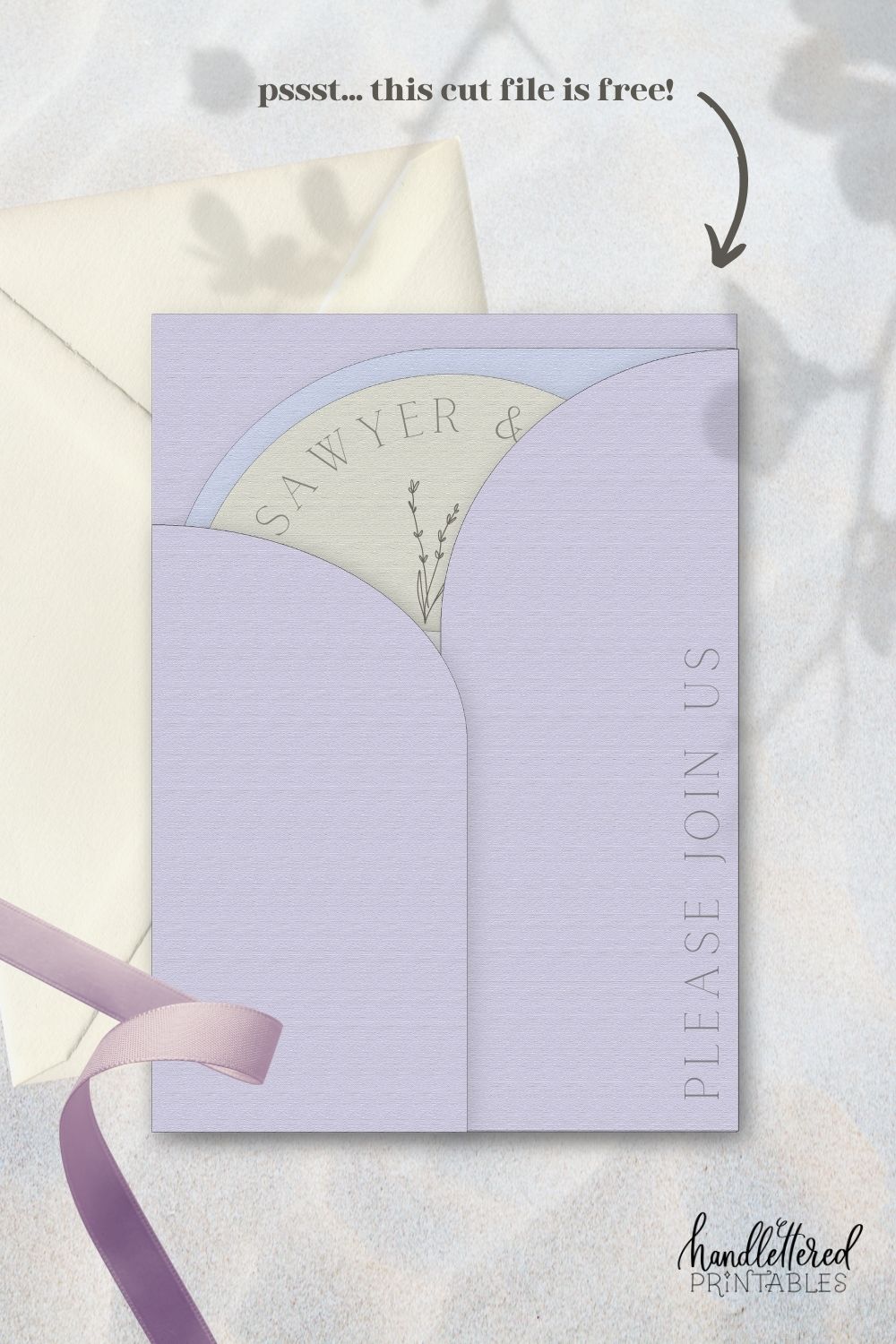 Yes, I know it doesn't technically have hand lettering on it and the blog is called Hand Lettered Printables BUT… you can put all the hand lettering in the world on these once they're cut. I mean… how pretty is the gold foil 'you're invited' on the green ones?!
This free wedding pocket invitation svg is a fold out invitation with a little pocket for the different invitation, RSVP and information cards that you might want to include in your invitation package.
Having all the pieces as their own separate cards is a great way to include all of the necessary information in one aesthetic package. The SVG file is layered so you can make each card a different color if you like and the invitation template has lines for your Cricut to score where you need to fold as well.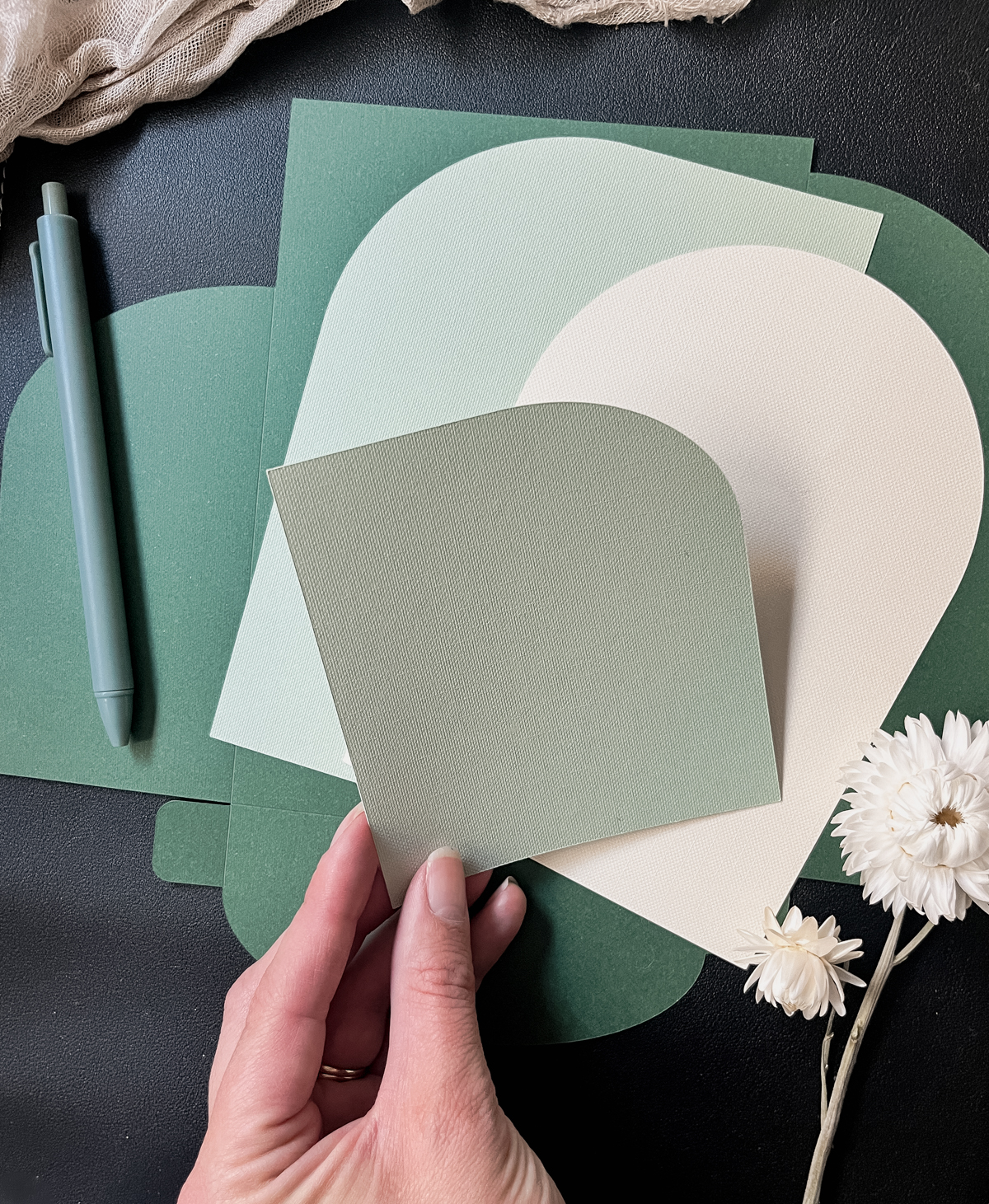 As with all of my free SVG files, please feel free to use them for your personal projects. These are free for personal use only so make them for yourself, your sisters wedding or your BFFs, but you can't make money off of them 🙂
Looking for commercial use SVG files? Hit me up! I'm happy to chat special uses and commercial license.
If you're new to SVG files but are wanting to use all of the free wedding SVGs shared here to customize your wedding, you can see a great introduction to uploading your own files (including what even is a SVG File Type) to Cricut Design Space here.
* Are you new to Cricut? Or deciding which machine to buy? I wrote a whole post about the differences between the Cricut machines RIGHT HERE. And if you're looking for more Cricut projects and tutorials, you can find them all here!
This post includes affiliate links where possible, at no cost to you. See all my policies here.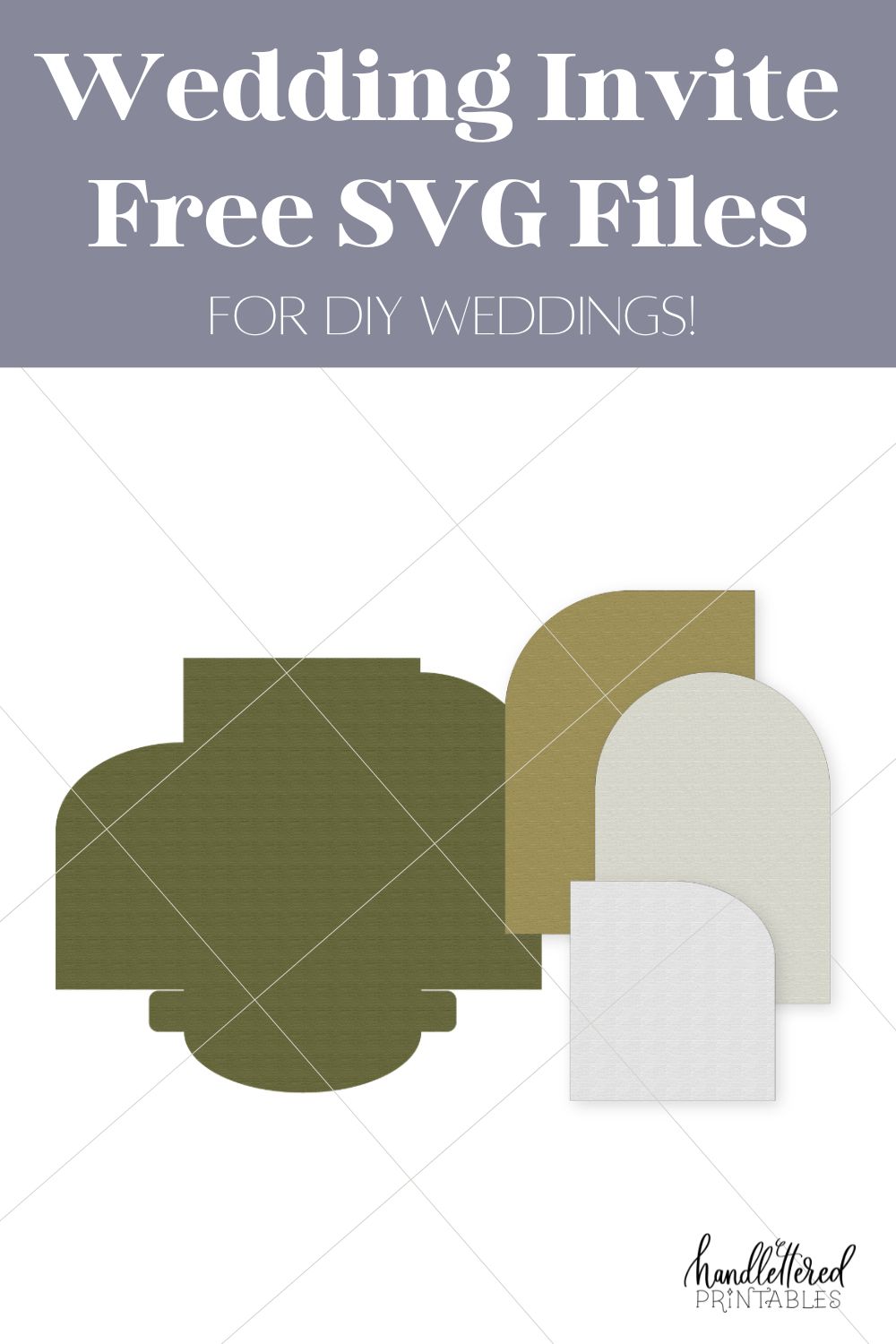 How to Download your Free wedding invitation SVG Files
To download this template wedding invitation SVG file, all you need to do is enter your email below and have it sent to your inbox. When you click the confirm button on the email you receive, it will open the digital download directly.
Some browsers will start download immediately, others you'll need to right click and save. The SVG file is uploaded as a compressed folder. Double click the zipped/compressed folder to 'unzip' it and see your SVG digital file. Once it's in your downloads folder, you can upload it to your Cricut Design Space, Silhouette Studio or whatever cutting machine software you are using.
If you're already subscribed to my e-mail list (hey friend!), you won't get double emails, I promise, go ahead and pop your email in there and follow the same steps 🙂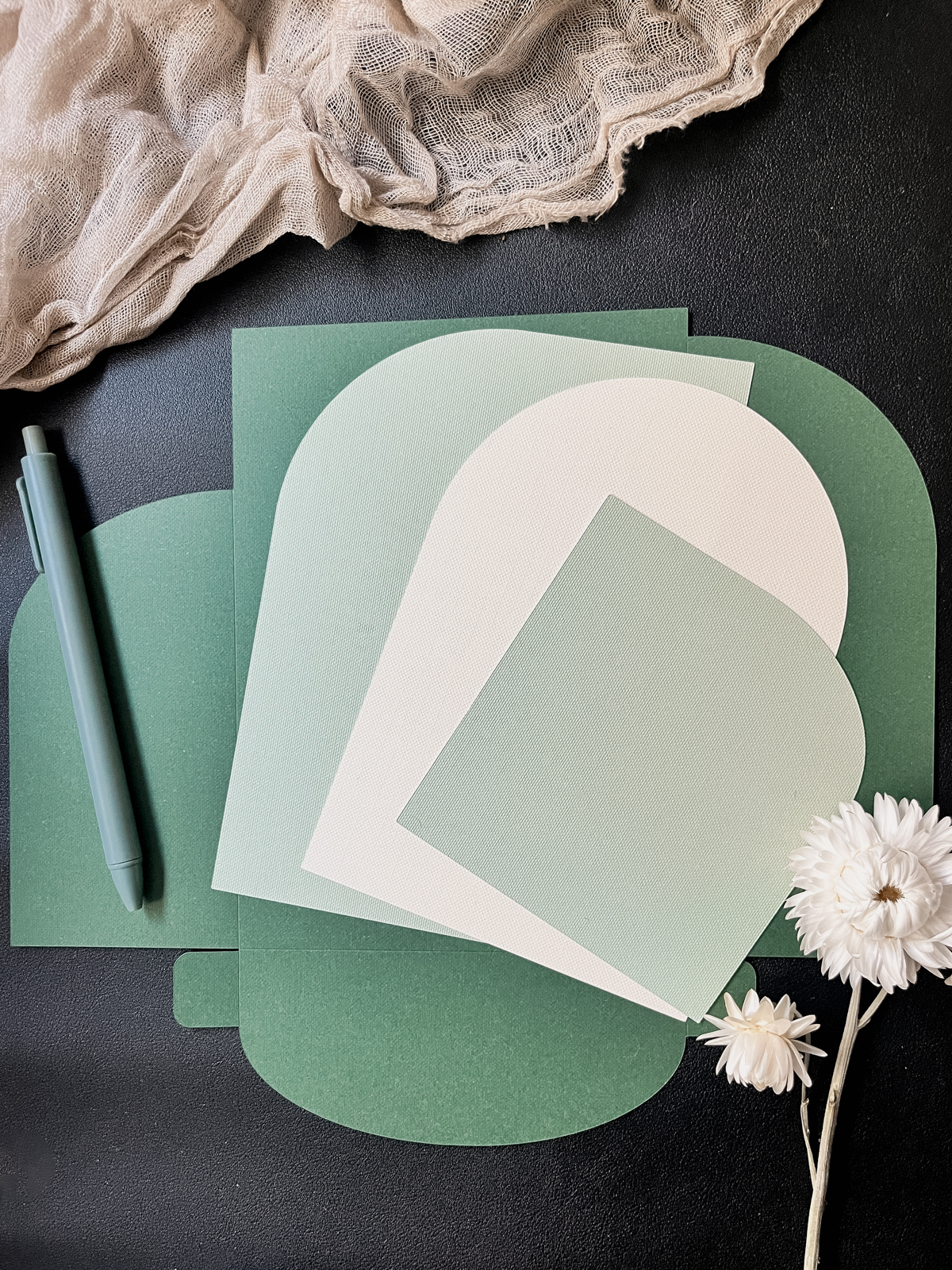 How to prepare your wedding invitation SVG template to cut AND score in Cricut Design Space
When you're uploading this wedding invitation SVG cut file to Cricut Design Space to cut with your Cricut, it will upload with layers. To get the score lines to score instead of cut, there's a couple extra steps you need to take.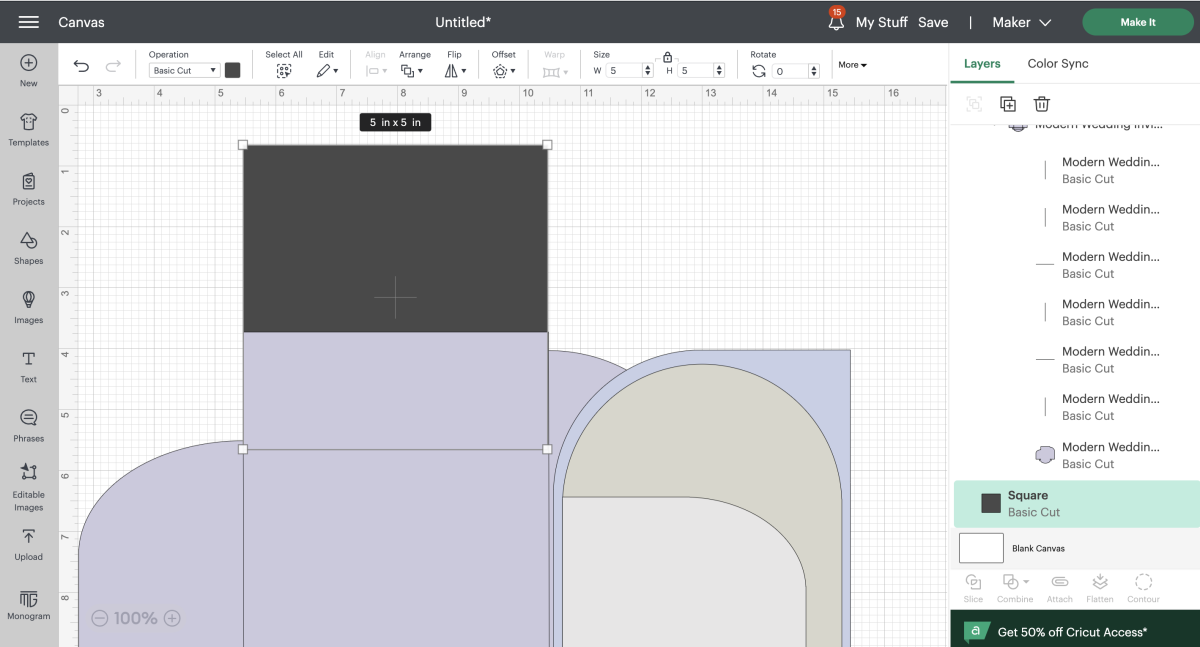 First, size your design so the main body of the invitation is 5×7. I find the quickest way to do this is to create a square that is 5″ wide, then just size my SVG so it's the same size.
Then you can delete that square.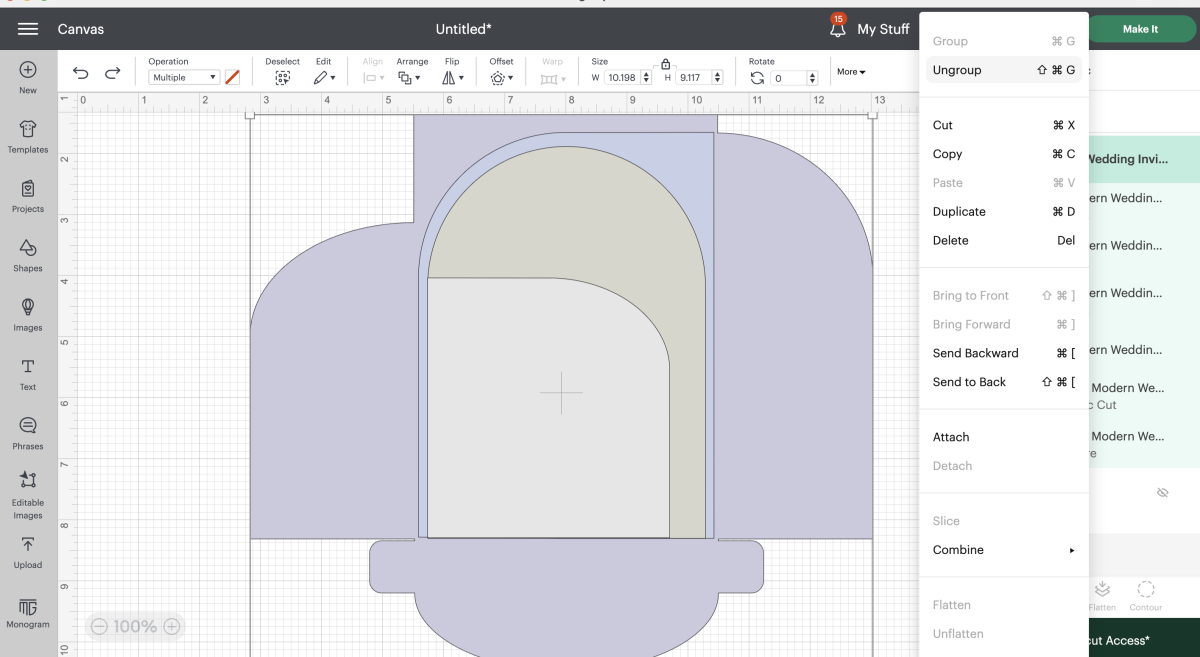 Then, you'll need to ungroup your SVG layers. You might need to ungroup twice depending on how you've selected the layers and your version of Cricut Design Space.
Next, select the score line layer. This layer is just lines, and change this layer from 'cut' to 'score' as shown in the screenshot.
You'll need to have your regular cut blade and a scoring stylus for this.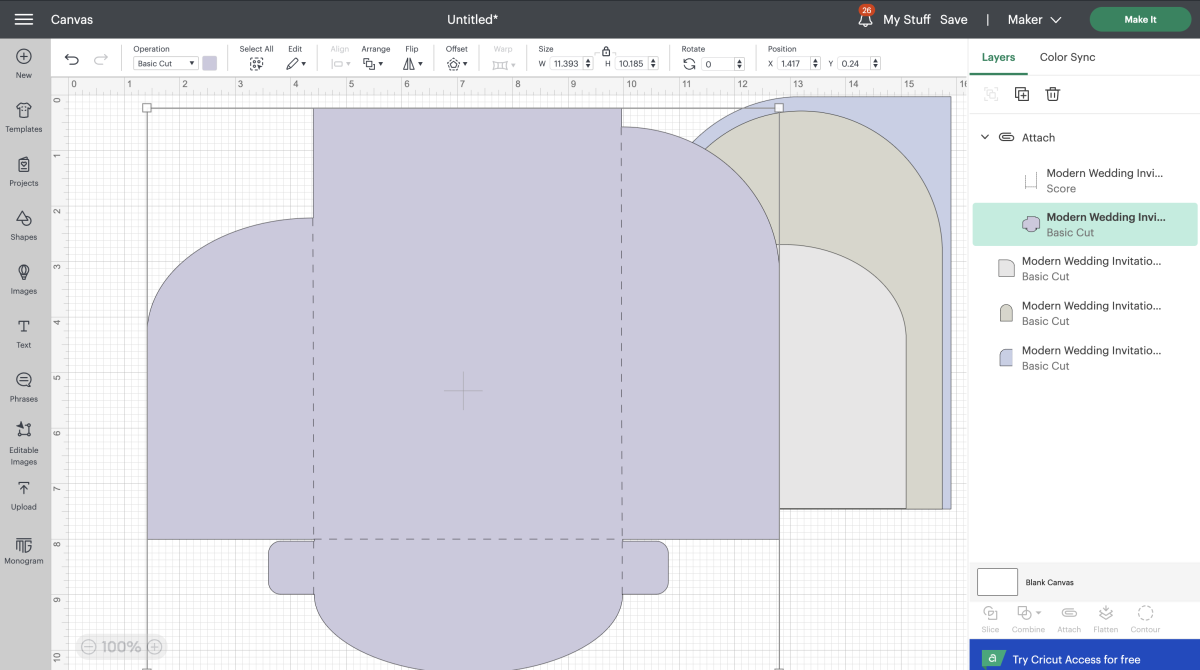 Then, select both the invitation template layer and the score layer and click 'attach'. When you hit 'make it', these will do both actions on the same piece of paper now. Perfect!
I would definitely do a test invitation first, but then from here you can duplicate your design on your mat so you can cut multiple of the wedding invitation card template at a time.
For efficiency sake, I would use 12×24 cardstock and cut as many pieces as you can fit on each sheet to save time on loading and unloading your machine. These are smooth lines with not a lot of detail, so they do cut very quick! If you're wanting to use a specialty paper, just be mindful that you'll be loading your cricut machine twice as many times if it's smaller than 12×24!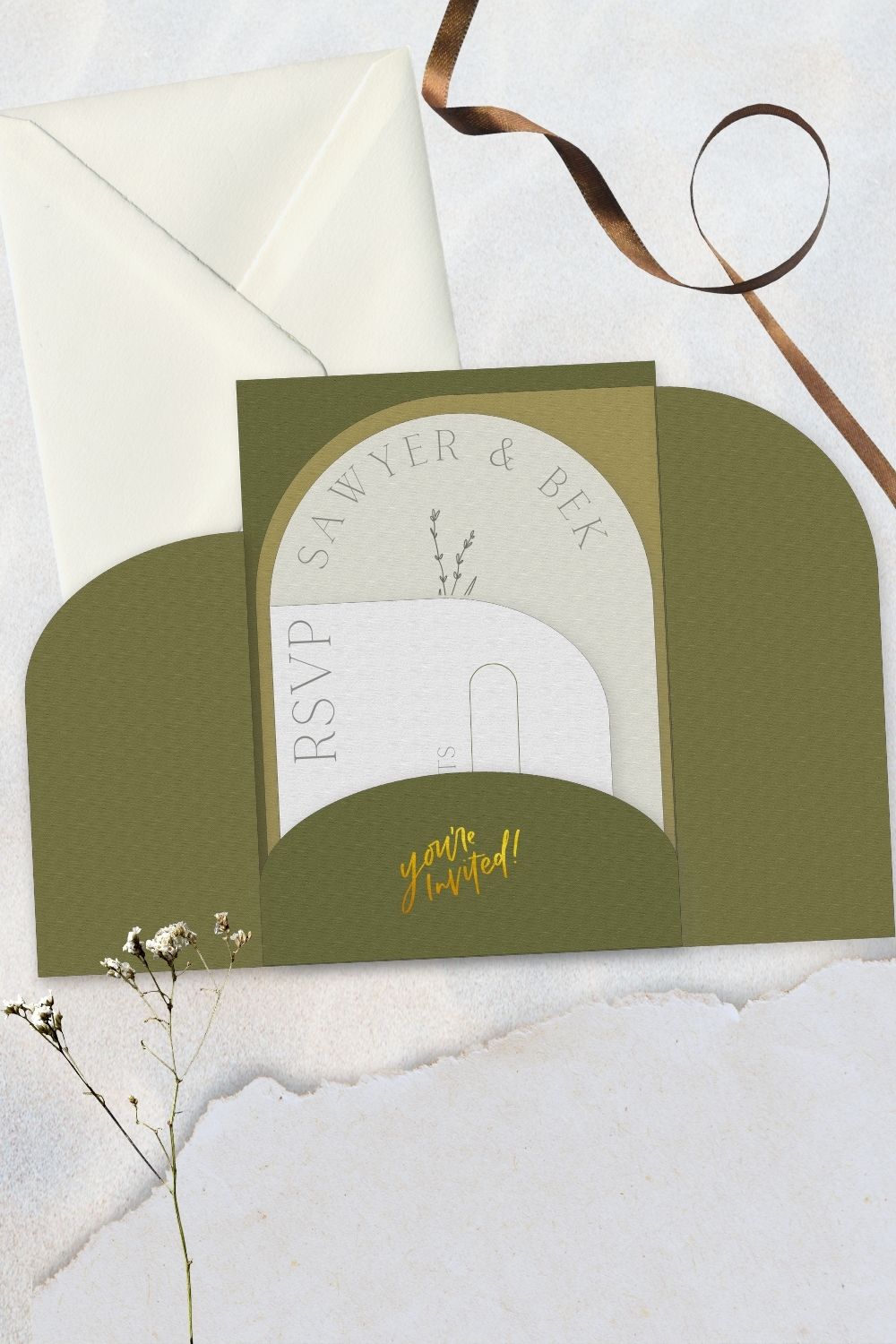 Tips to best use this modern wedding invitation SVG template
I wanted to include a few additional tips to make the most of this template!
This SVG wedding invite template is designed to cut out of card stock. For the pocket layer on these trifold wedding invitations, you'll need to do some folding to assemble! The pocket on the bottom should be folded first and you can attach it with the tabs and double sided tape, adhesive dots, or glue (I'm a double sided tape fan for paper crafting!).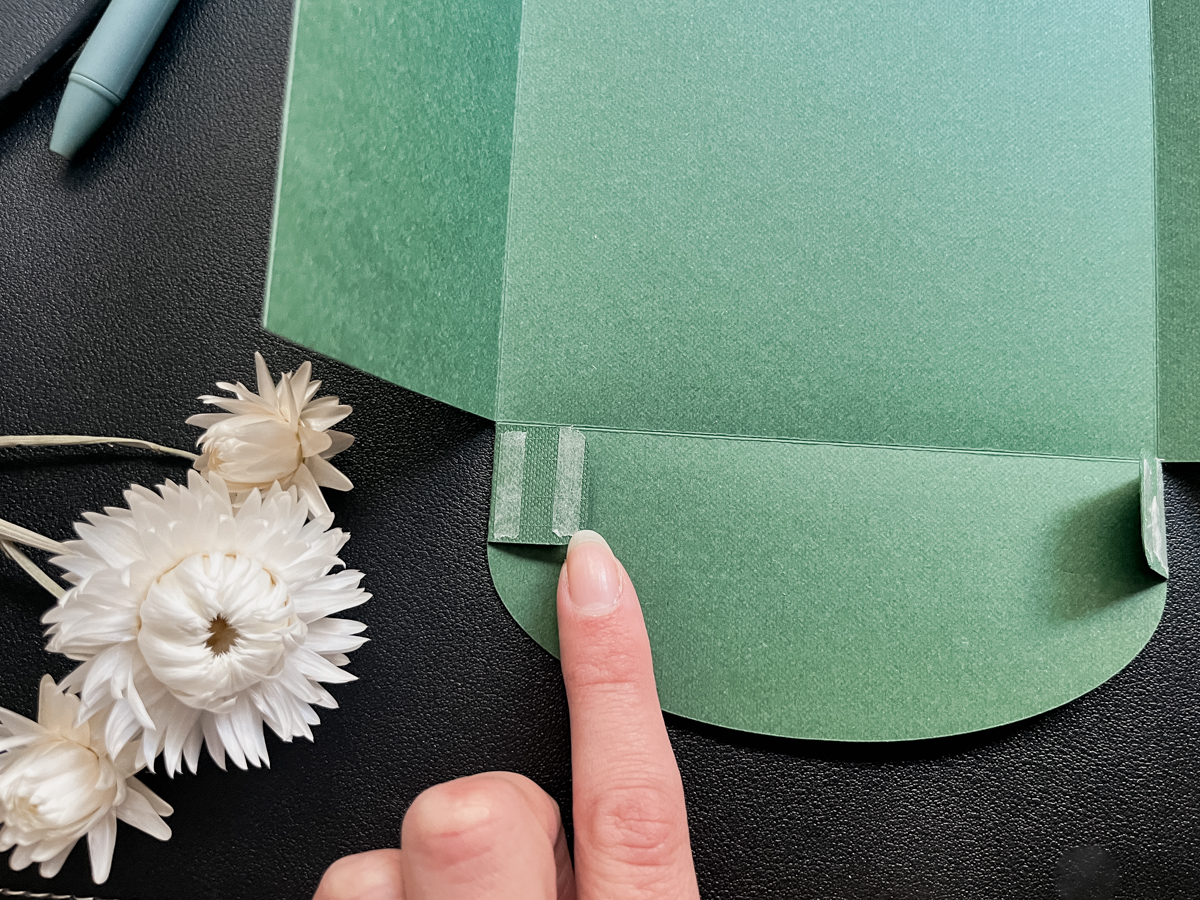 It would look lovely tied shut with a ribbon or a wax seal. Or… keep it simple and just fold!
The SVG wedding invite is designed to be cut for a finished 5×7 invitation. You can get envelopes for these on Amazon- I love these pearlized envelopes, but there's tons of colors available!
Want to add gold foil lettering like in that green invitation? Cut that out of adhesive gold foil to easily apply it or you can play with the Cricut foiling attachment!
Print then Cut is a handy tool that Cricut offers. Printing on high quality card stock might require some testing, but once you have it perfected- you could print and then cut your invitations this way. You can see a print then cut introduction here.
You could also consider using the Cricut pen function for your lettering or design. You must select a line type font for this from Cricut Design Space, but I think that would look lovely for a monogram or little line art detail.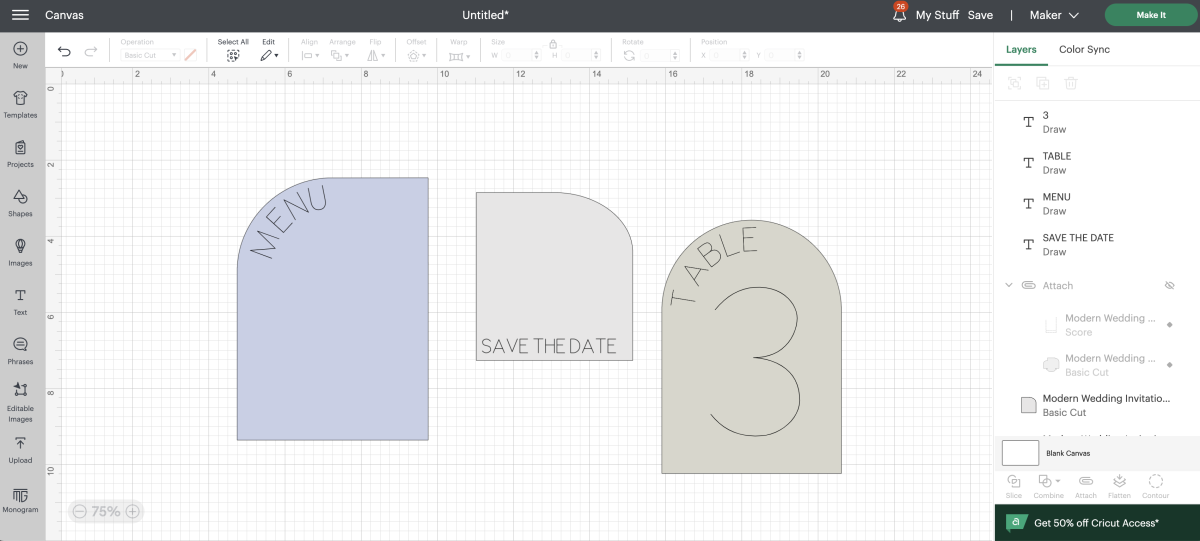 Want to coordinate with place cards? Use one of the insert cards (the arch or the half arch rectangle) for place cards! Just size accordingly.
Same goes for a coordinating save the date card! Uses one of the SVG cut files layers for your save the date cards.
And what about a menu card? Well, An arch for a menu sounds absolutely lovely! Hello, full wedding stationery suite from one template 😉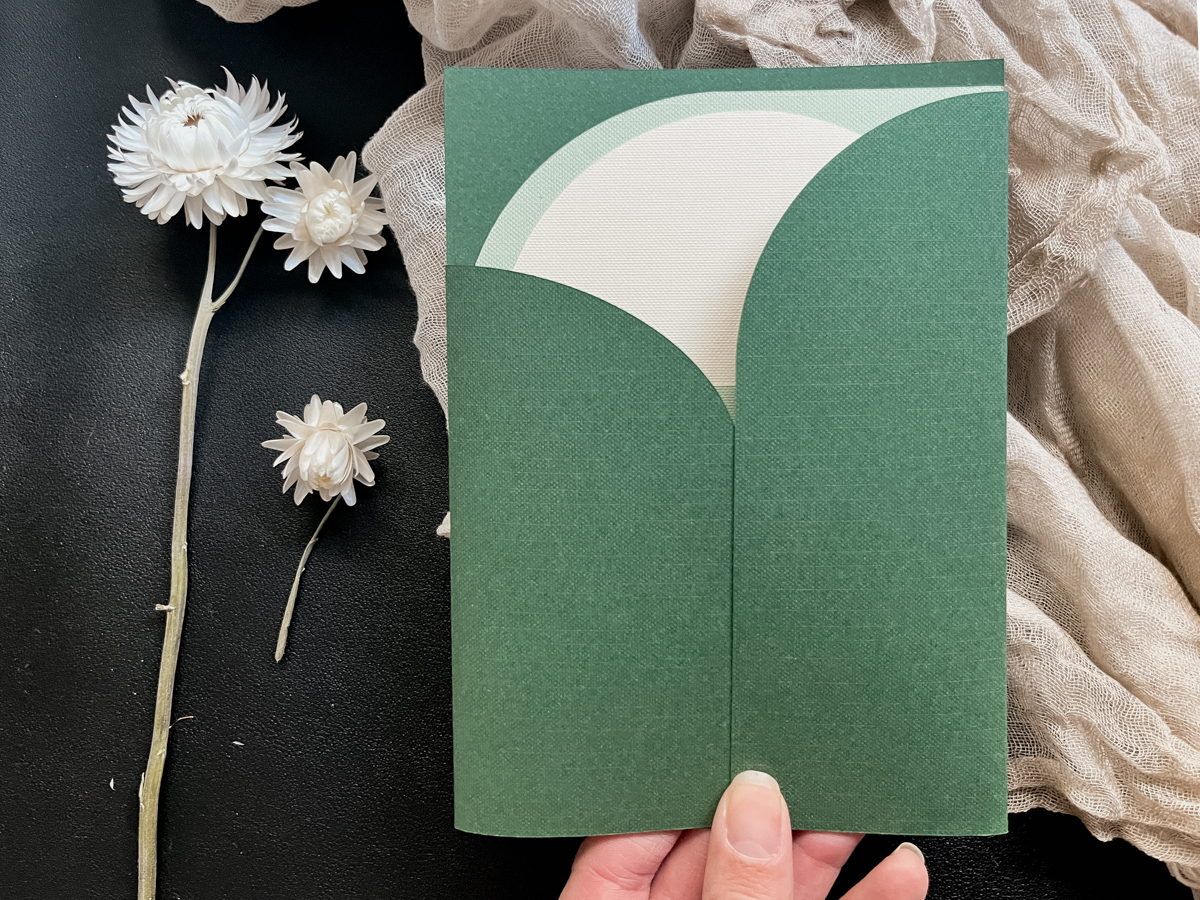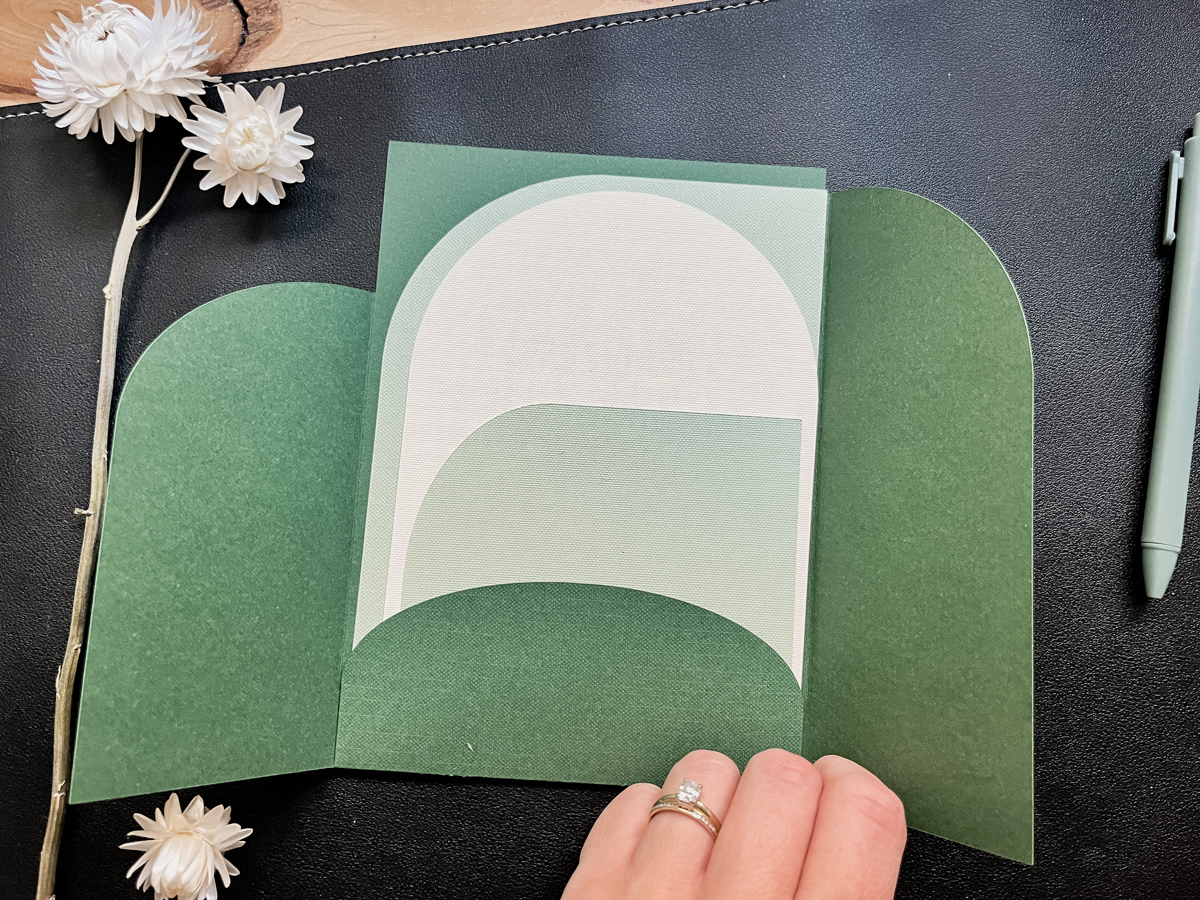 If you do download and use these wedding invitation template SVG files… you know I would love to see them in action! Tag me on social media @handletteredprintables or shoot me an email [email protected]!
MORE AWESOME FREE WEDDING SVG FILES
Today I'm partnering with some amazing SVG designers to share even more free wedding cut files for you to use in preparation for your wedding day! Click the links below to be taken to their site and the free designs!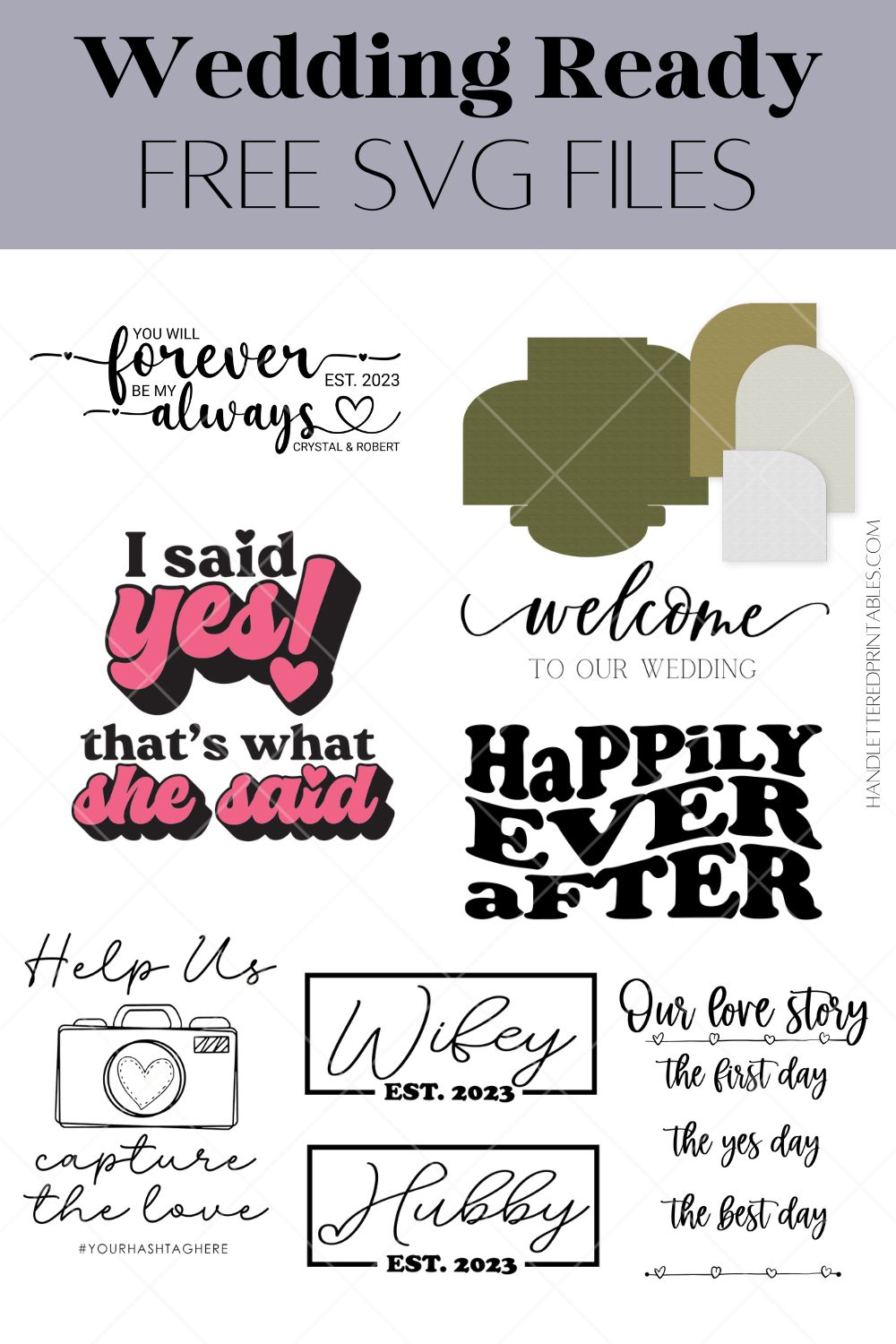 Wedding Invitation Template – Handlettered Printables (you're here!)
LIKE IT? PIN IT FOR LATER!
Don't need these modern wedding invitation cut files today? Pin it for later! Plus, pinning or sharing to FB helps more people find my work which helps me continue to put out free content for you here at Hand Lettered Printables. Thank you!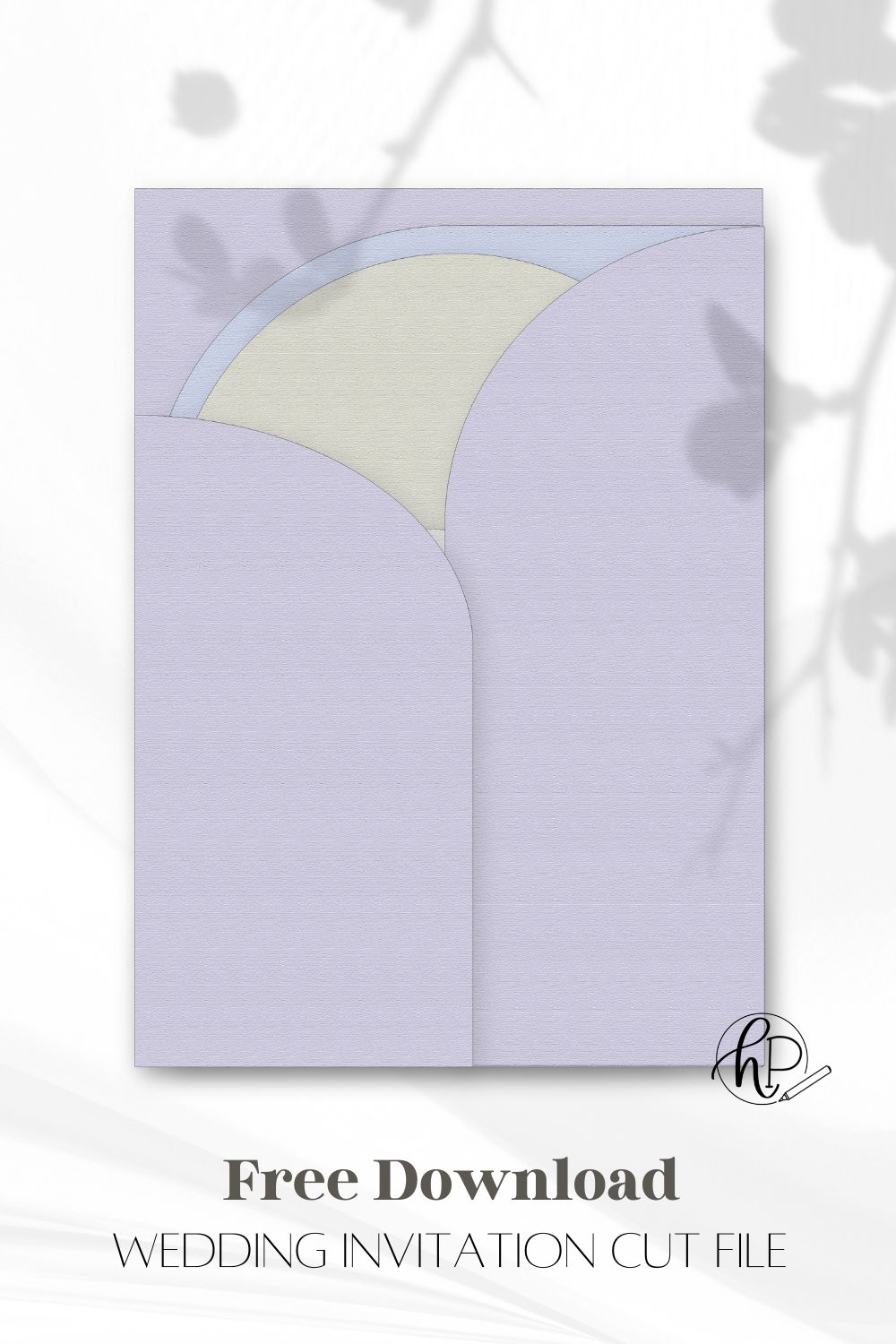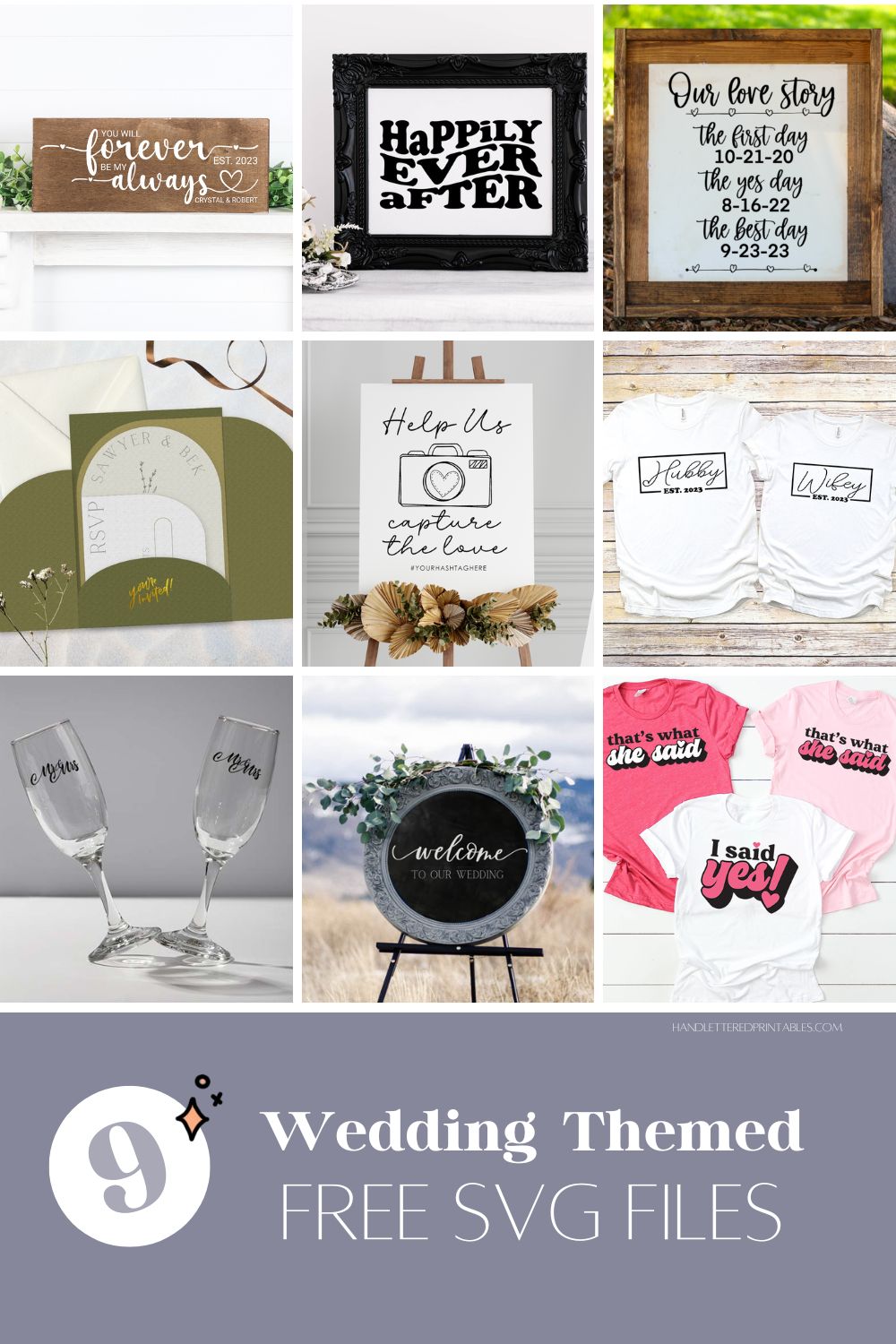 More free SVG files: