Download and print these free printable halloween cards with cute ghosts and 12 different statements to say happy halloween, happy birthday, or just to spread the spirit of halloween!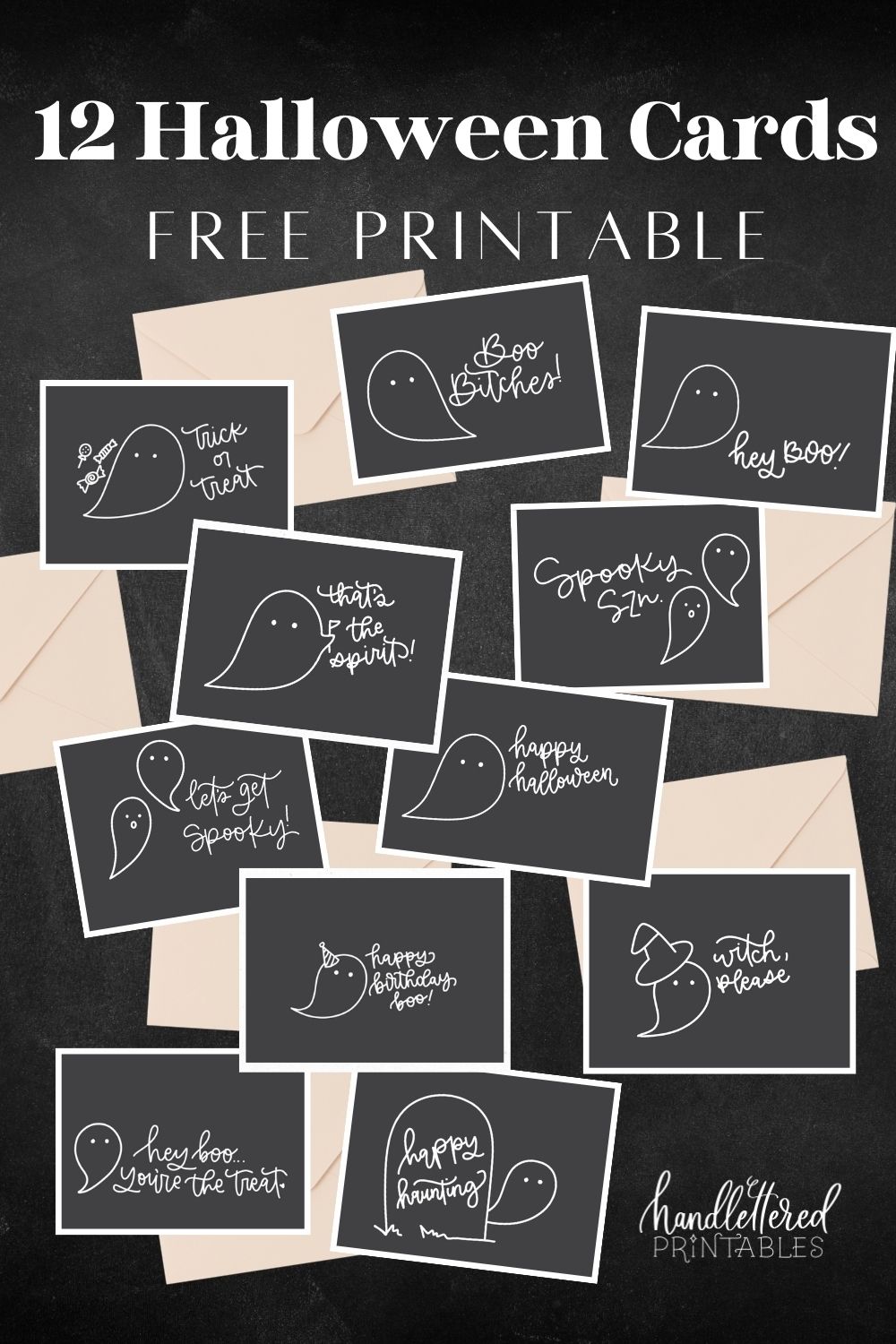 I used to be such a snail mail boss. I would have cards for every occasion hitting every one of my good friends mailboxes in time for the holiday, birthday or even just for no reason. Over the years, as I have filled my plate with commitments, snail mail has kind of fallen off. But I'm determined to get back into the fun of sending mail more regularly.
So today I'm excited to share 12 free printable halloween cards for you to send snail mail of your own! It's the perfect time to start printing some new halloween cards to get in the mail.
Even if you're not a snail mail fan, these free printable cards are such cute halloween designs, you could use them for anything.
Send them in your kids' lunches on halloween, use them as printable halloween party invitations, a birthday card for someone who has their birthday on halloween (or someone who doesn't but really loves that spooky cute vibe!), or as a treat bag topper (stapled over the top of a treat bag!).
Really… whatever unique way you think to sue these cute halloween cards... I can't wait to see!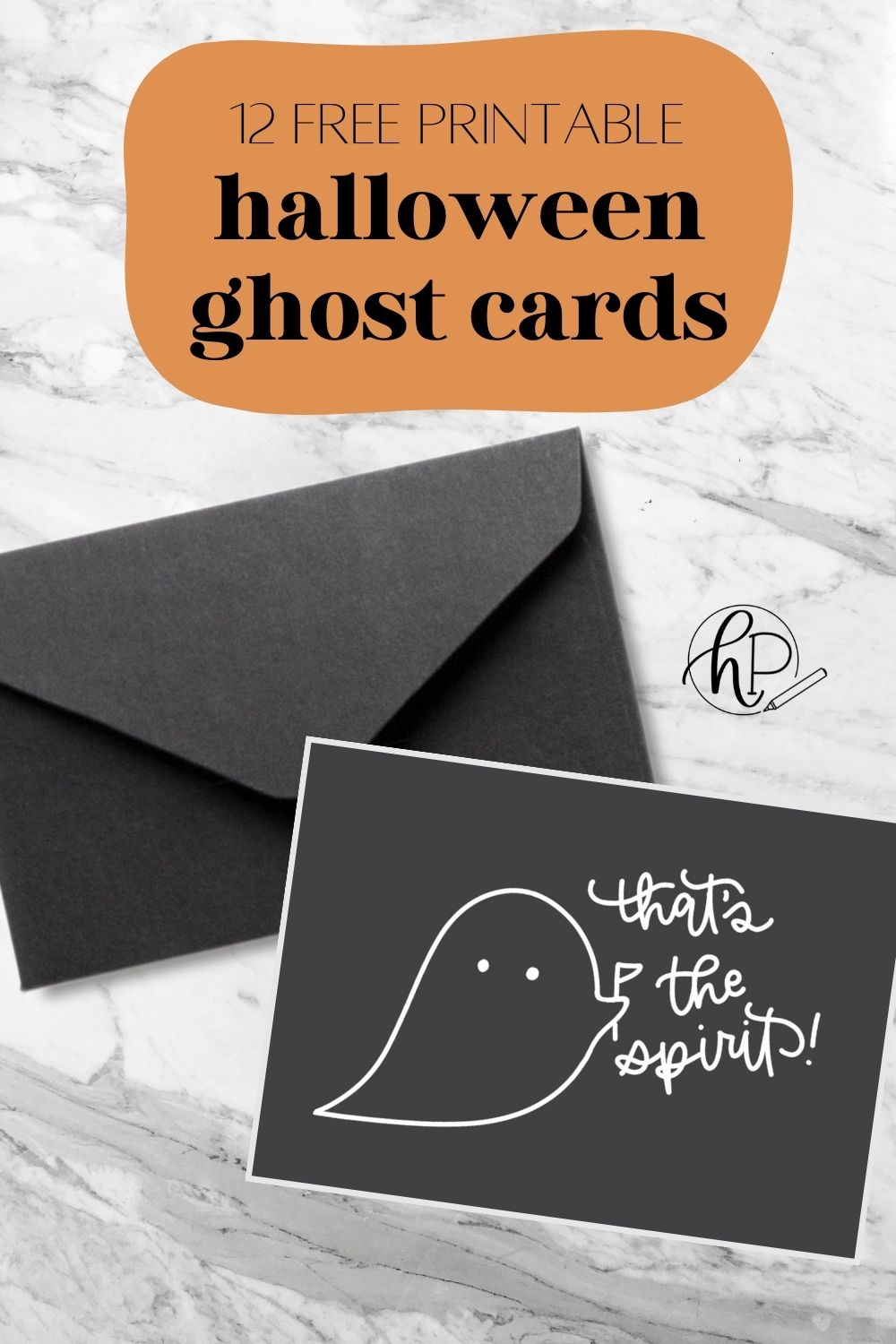 So this is a set of printable greeting cards for halloween- they all have adorable hand drawn ghosts I've illustrated and some bubbly hand lettered phrases (all the happy halloween wishes!).
There's 12 different designs to choose from- some are funny halloween cards, some are more basic (hello happy halloween card!) and some are just a little spooky fun with no real message.
Here's the 12 designs you can choose from:
Trick or Treat
That's the Spirit!
Spooky Szn
Hey Boo!
Boo Bitches!
Happy Halloween
Witch, Please
Happy Birthday Boo!
Hey Boo… You're the Treat.
Happy Haunting
Happy Halloween Boo-tiful
Let's get Spooky!
My favorite is definitely the 'that's the spirit!' card. How cute is that ghost with his little flag?!
I had such a fun time looking up all of the halloween card ideas. I knew I wanted to do some basic cute ghosts (did you see my halloween windows I shared on my sister site last year? I'm loving that spooky cute vibe ghosts bring!) but there are so many funny cards out there for halloween. It was hard to narrow it all down so I made 12 instead of just one or two!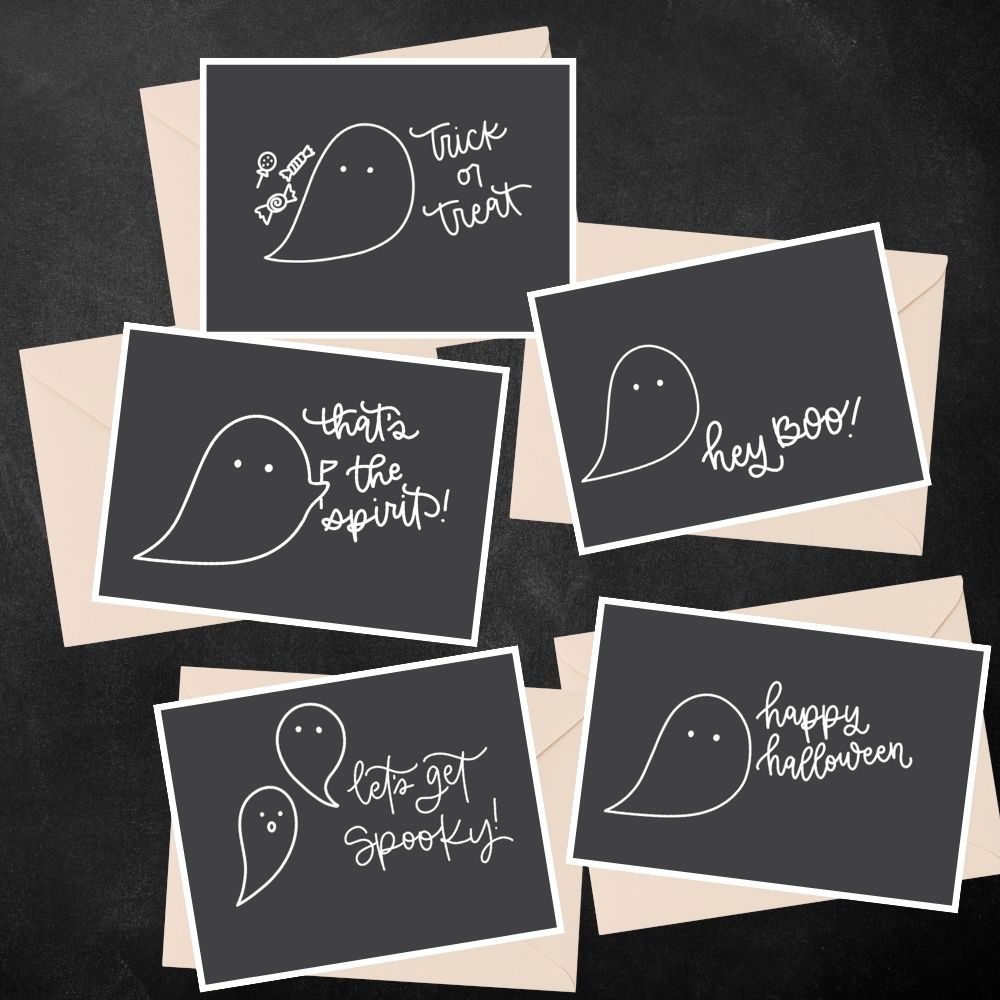 I chose to keep them pretty simple so they can work for so many different things (invitations, cards, treat toppers etc).
These free printable halloween greeting cards are designed to print two to a page (6 pages total) so they will fit standard 4×5 card envelopes once cut to size and folded.
They're all blank on the inside so you can write your own message (or if you're using them for halloween parties- all that party details- there's room for a lot of information or just a wee little bit).
These free halloween cards are part of a collaboration that I'm doing with some of my favourite printable designer friends, so you can scroll to the bottom and find even more halloween printables from some very talented ladies!
But first… let's get you these printable halloween cards!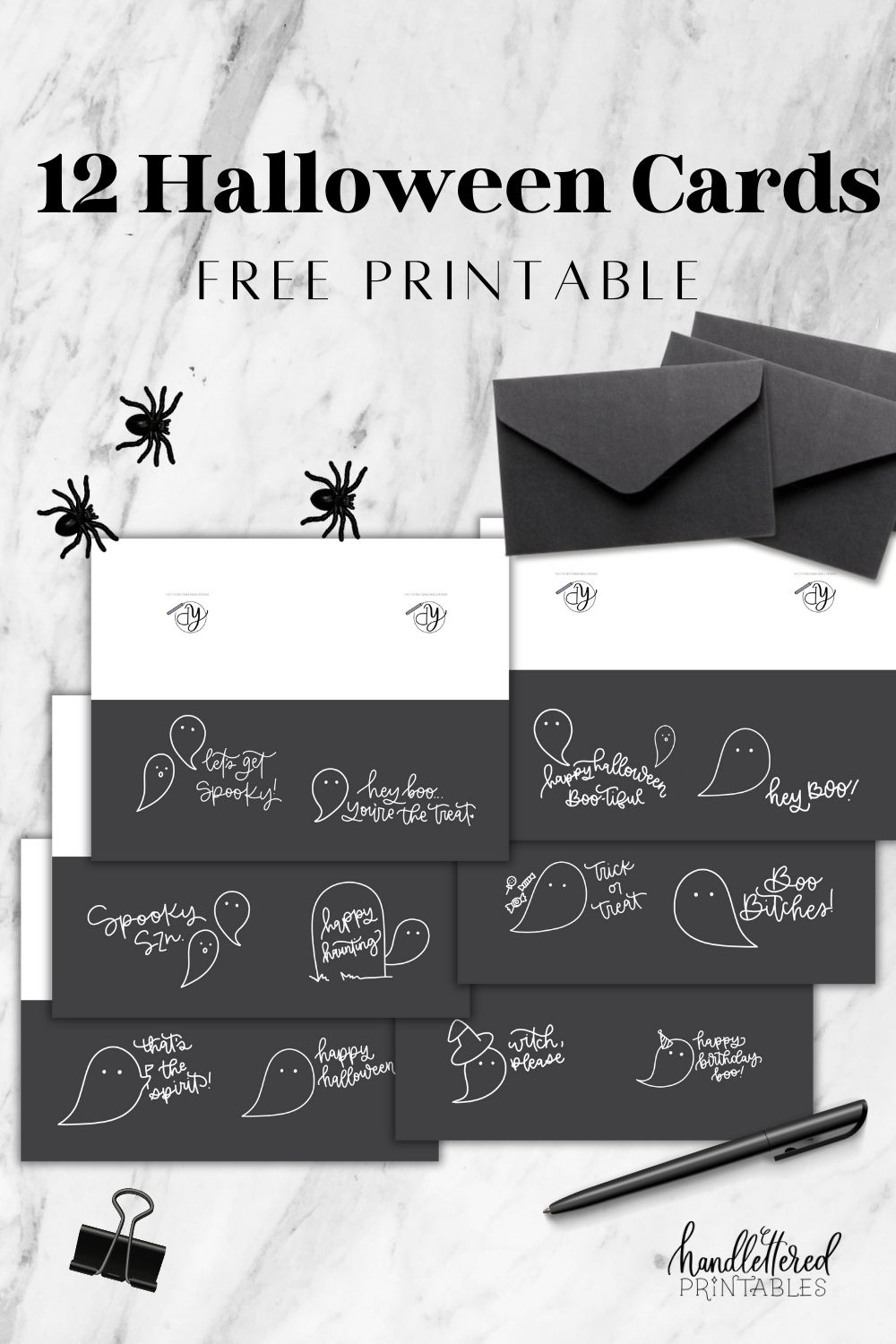 How to download the free halloween card designs
To download this set of free printable halloween cards is so simple. To get these directly delivered to your inbox, just enter your email in the box below and I'll send you a confirmation email. Clicking the button in the email will open the PDF file up directly.
All 12 designs are in one PDF format document on separate pages (2 to a page). Some browsers will automatically start a download and in others you will need to right click and select 'save'. It should save to your download folder to make them easy to find for printing.
As always, free printables are for personal use only (print for you and all your friends, your classroom, small business gifting or as teachers gifts, but don't sell them, offer them as a download or modify them). Questions? Just ask 🙂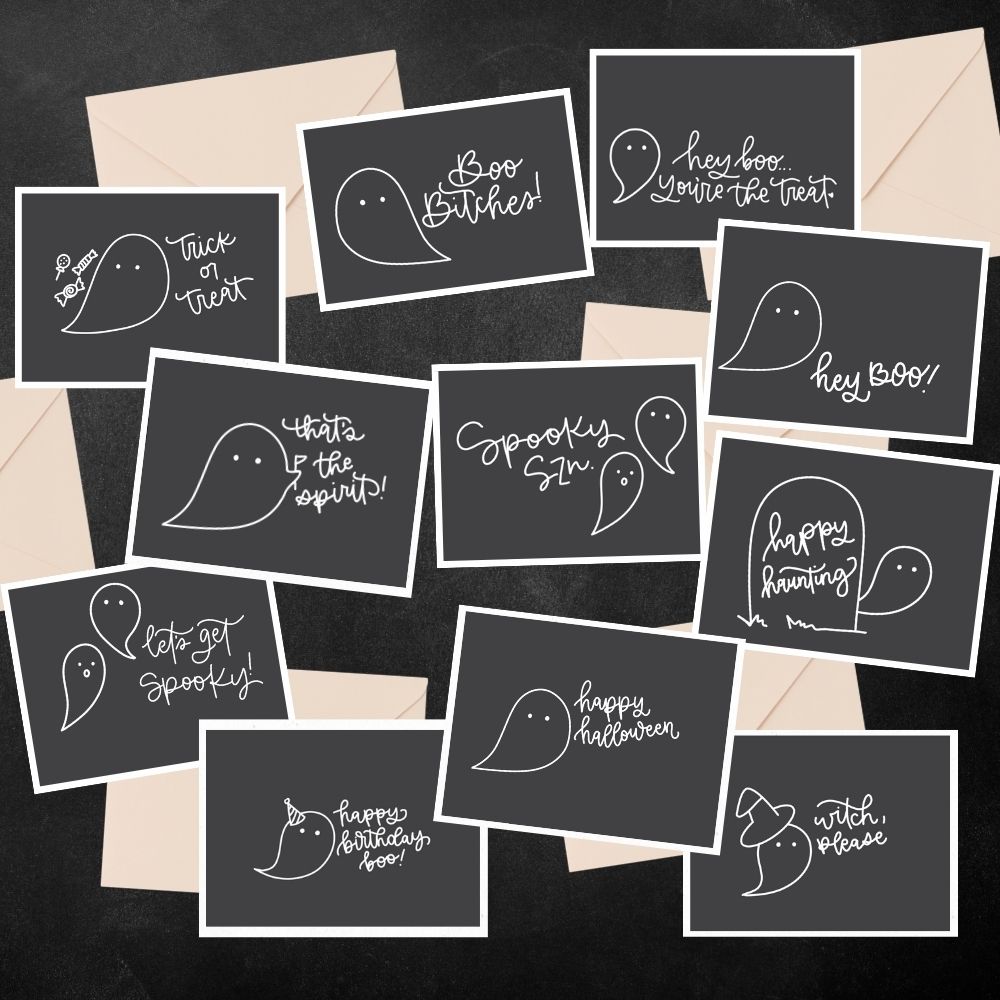 What's the best way to print free printable halloween cards?
You can print your own halloween card designs any way you like, but I have a couple suggestions to make the most of them!
While every free printable is different, these ones are simple 8.5×11″ PDF documents which makes them incredibly easy to print on your home printer or at your local print shop. They will print just like a document, without special settings like a photo.
While you can print these on regular printer paper, I find printing on cardstock looks nicer for cards, they just feel higher quality.
Since this design does use a lot of black ink- I'd probably opt to send them to the print shop to have them printed. It's so affordable to print black and white designs there- plus you will get a beautifully even charcoal background to your card that way!
You can see all of my tips for downloading and printing free printables like these ones in this detailed post.
---
If you do download and use these… you know I would love to see them in action! Tag me @handletteredprintables or shoot me an email [email protected]!
More free Halloween printables
Today I'm partnering with some amazing printable designers to share even more unique Halloween printables for free! Click the links below to be taken to their site and the digital items! Happy Halloween prepping!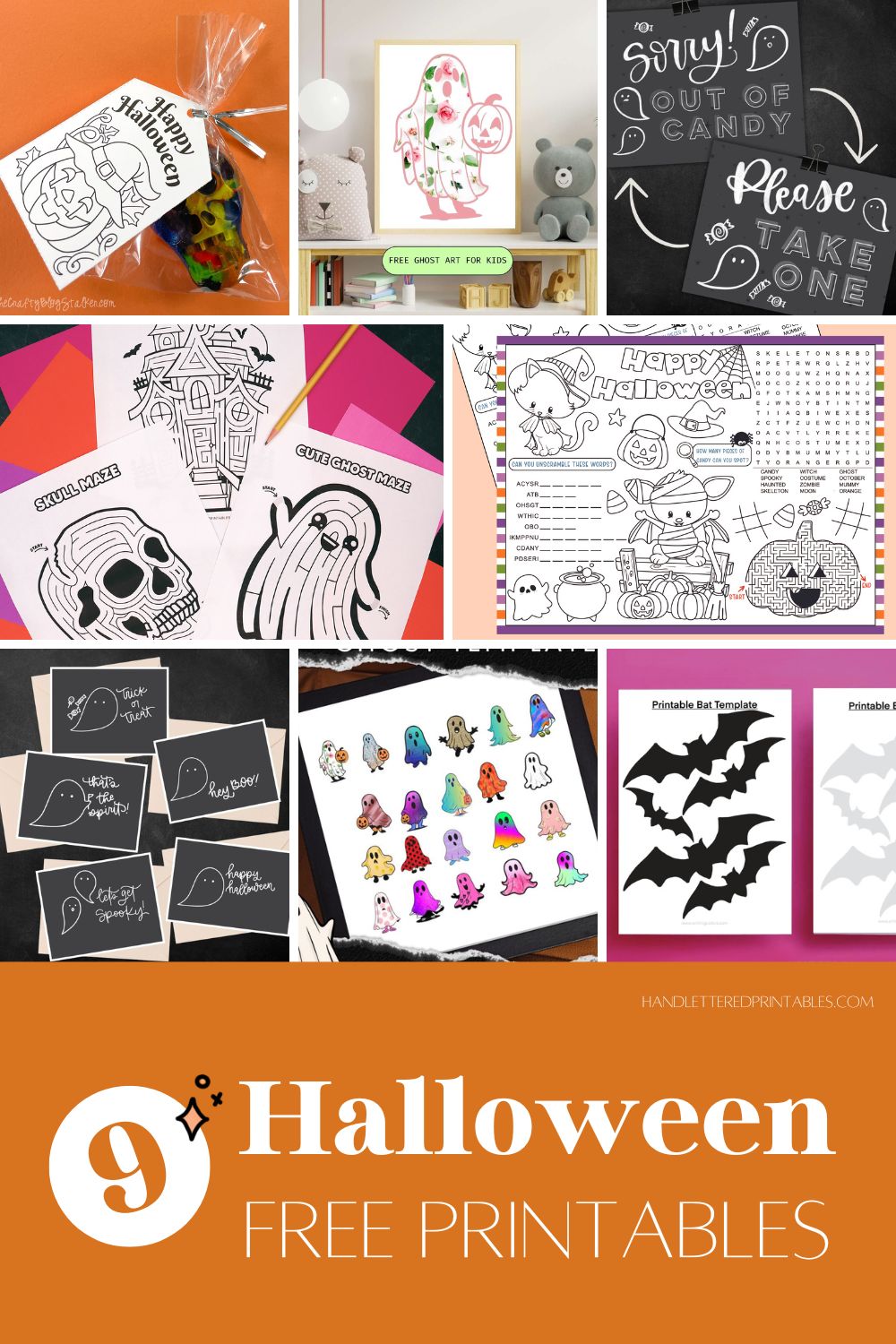 Printable Halloween Cards (ghosts!) – Handlettered Printables (you're here!)
Like it? Pin it for Later!
Don't have time to print these halloween cards off today? Pin this so you can come back to it! Plus, pinning or sharing on FB helps this post reach more people which helps me be able to keep sharing with you. Thank you!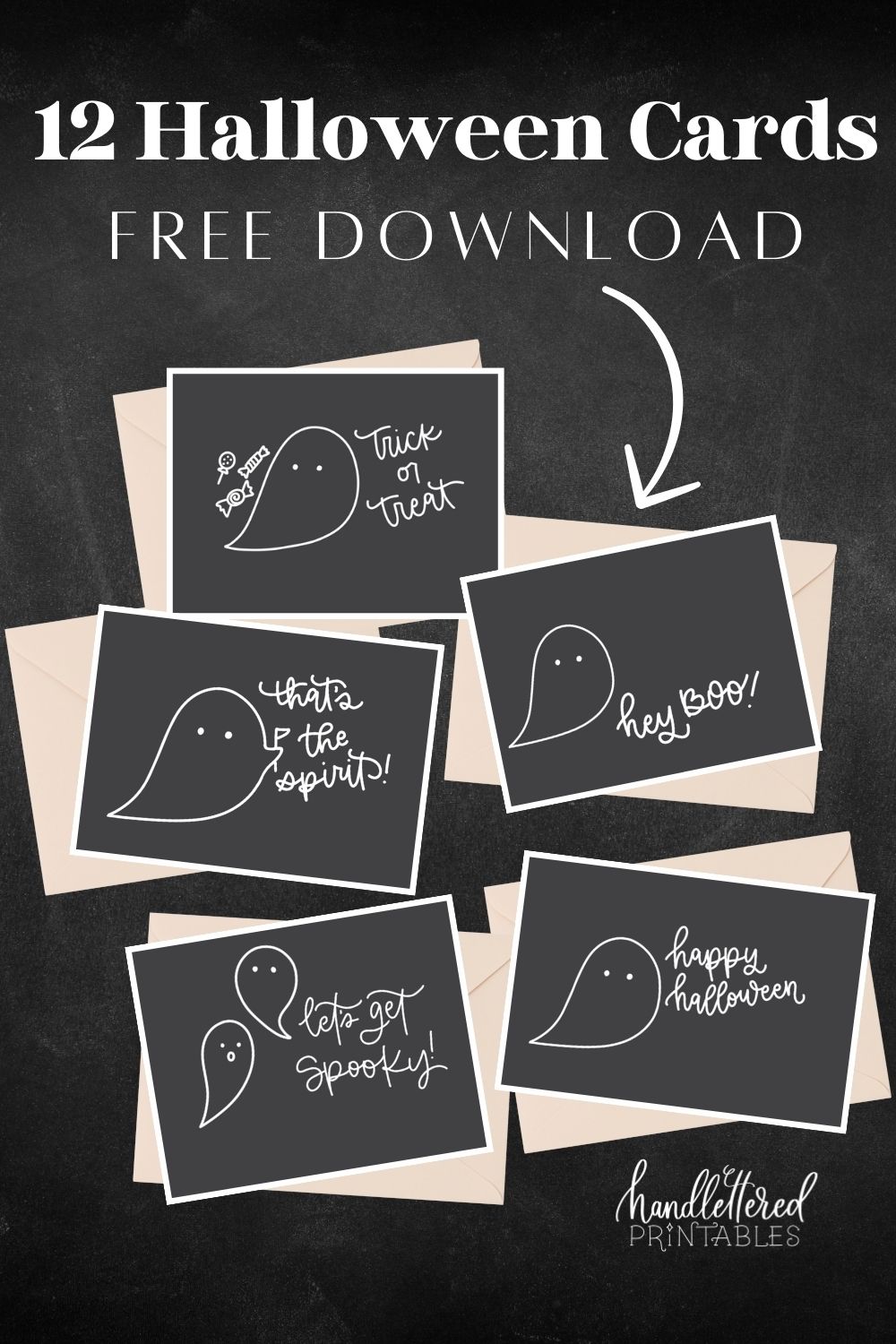 More Free Printable Cards
See some of the other free printable cards I've shared here at Hand Lettered Printables!