A minimalist declutter checklist that is actually fun to check off? You need these printable declutter bingo cards and deep clean bingo cards with checklists! This free printable bundle will help you take the first step to get your entire home feeling great without the overwhelm. Think less stress and visual clutter with bite size tasks and rewards along the way? Count me in.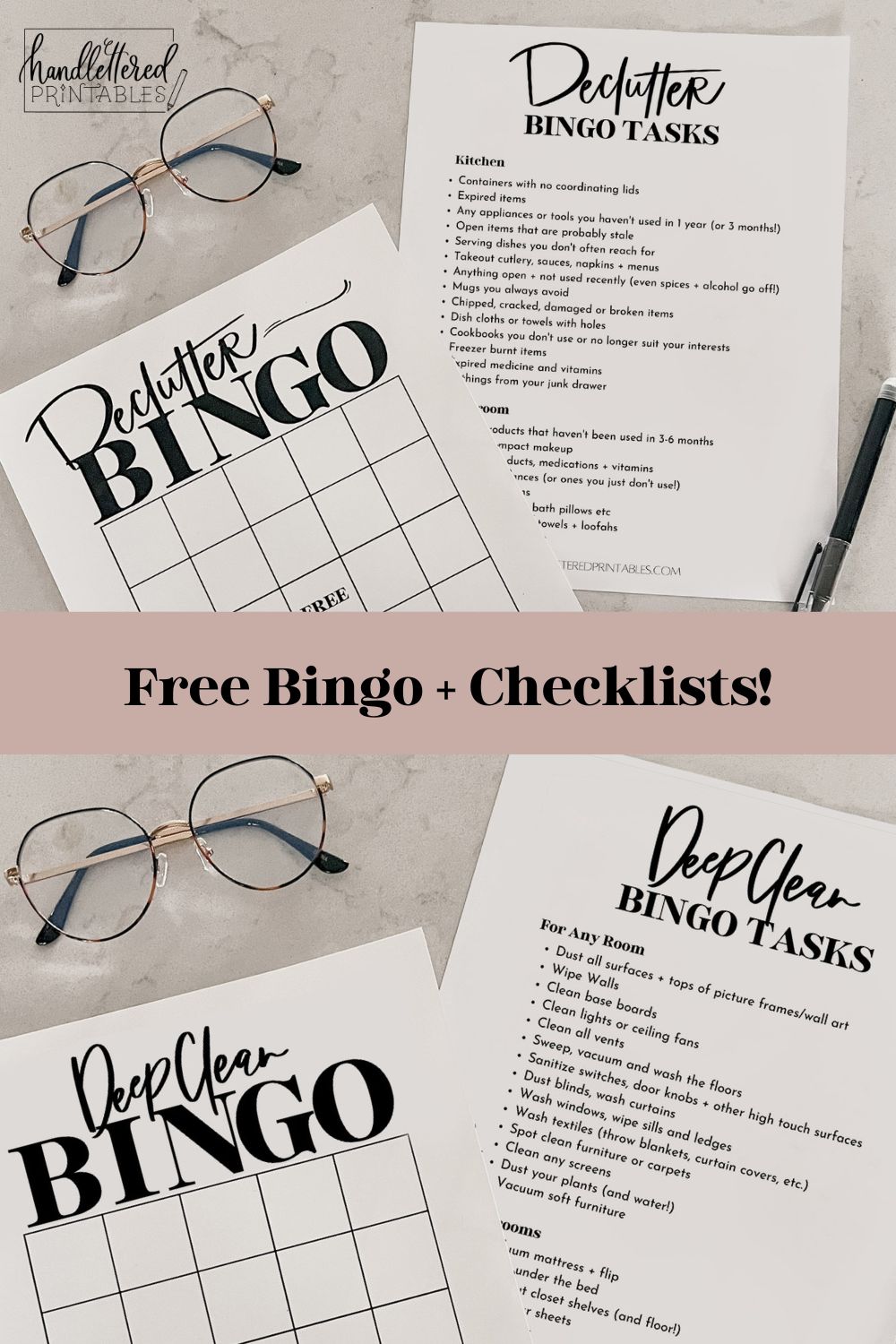 If you're feeling the urge to throw everything out of your house so you can give it a wipe down… but really, you know that you need to make it fun and bite size or it's not happening, these free printable bingo cards are for you!
In this post, I'm sharing a free printable deep clean bingo, a free printable declutter bingo, a 3 page free printable declutter checklist, and a 3 page free printable deep clean checklist.
You can print the whole hand lettered minimalist declutter checklist and deep clean bingo bundle off and fill it in with the tasks that you'll benefit most from. Then next month? You can do it all over again! Momentum, baby!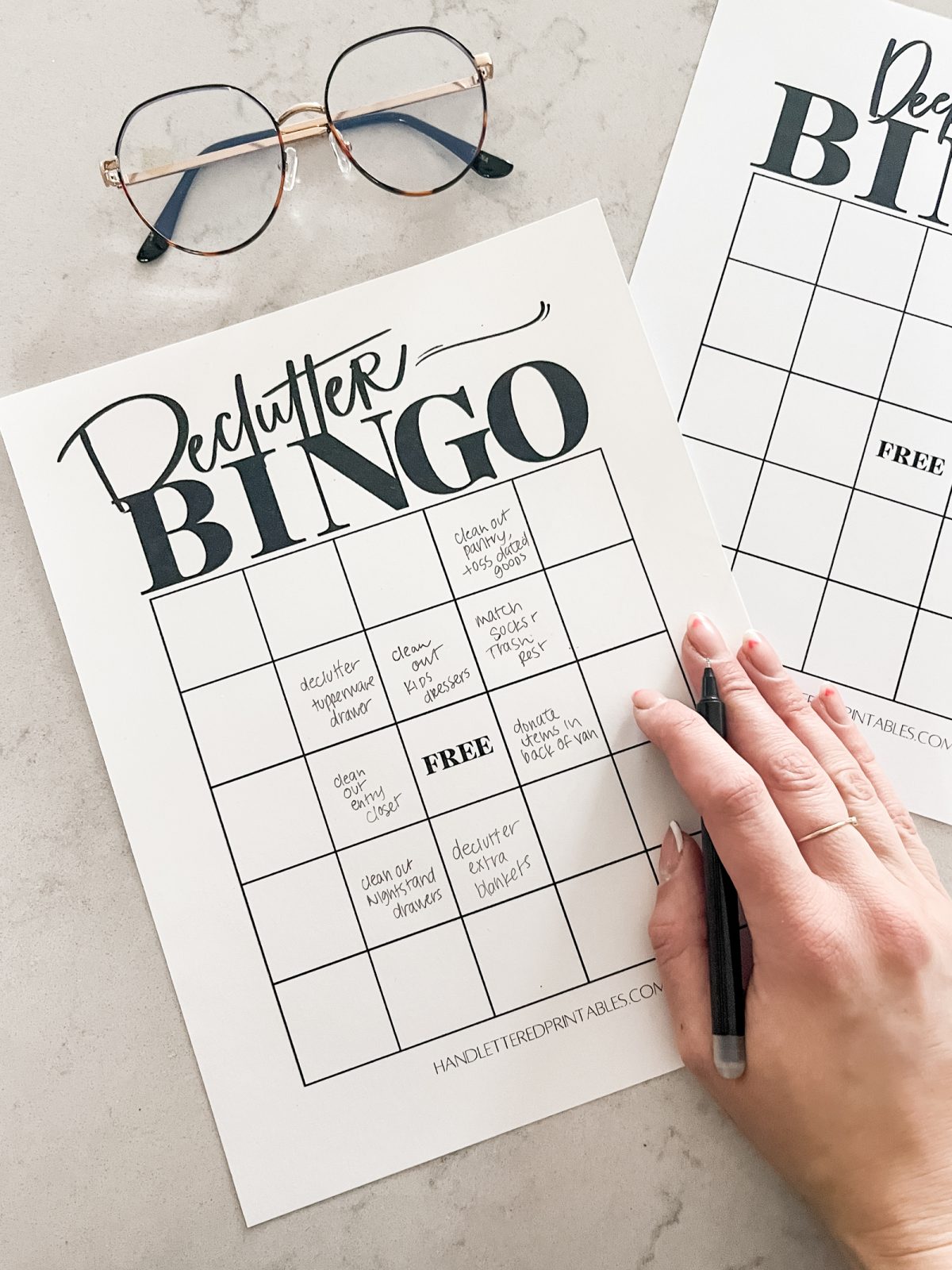 If you love the idea of a minimalist lifestyle, but practically… you have too much stuff, not enough storage space and oh, yeah… that junk drawer… that minimalist journey can feel like a super long road of trash bags and overwhelm. I get it!
On my main website, I talk a lot about home. From practical organization tips to making home work hard for your family with room makeovers. BUT if you have too much stuff?
Even the best organization is not going to help feel relaxed and at peace in your living space.
Not to mention the cleaning… how do you wipe the closet shelves or floor down when they're piled with little things you'll never use?
I'm all about fun. If it's not fun, I don't want to do it. So even a minimalist decluttering checklist needs to be fun for me. And a deep cleaning checklist? That definitely needs to come with some sort of rewards 😉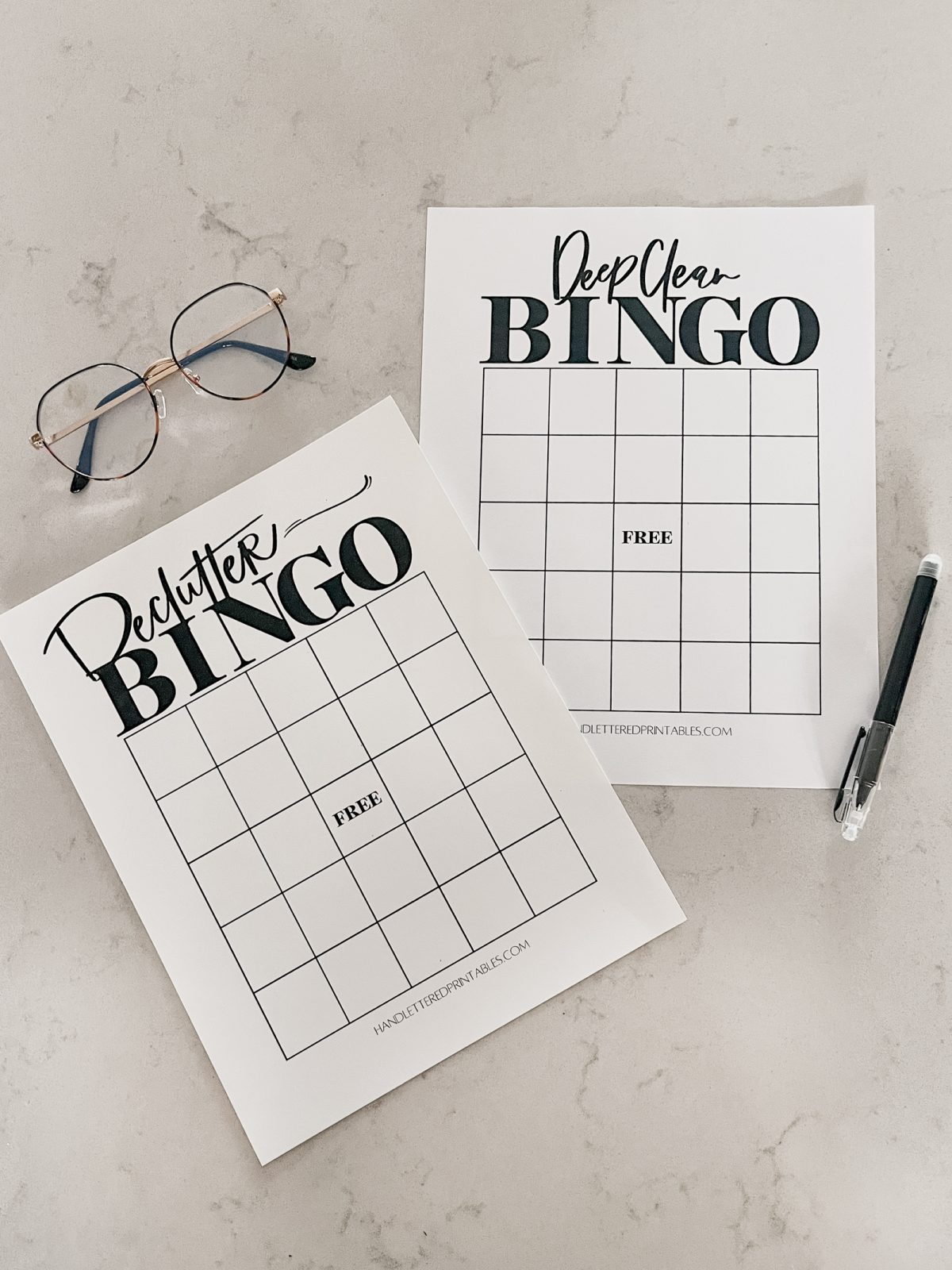 I made these bingos back in the winter for a friend and I to hold each other accountable to our decluttering goals. We each filled them out with miscellaneous items or spaces we wanted to tackle in the month as a bit of a 30-day challenge.
We came up with our own tasks that have been adding stress, but to make it even easier for you, I took some time to do research and came up with some very practical checklists to include with this free printable bundle.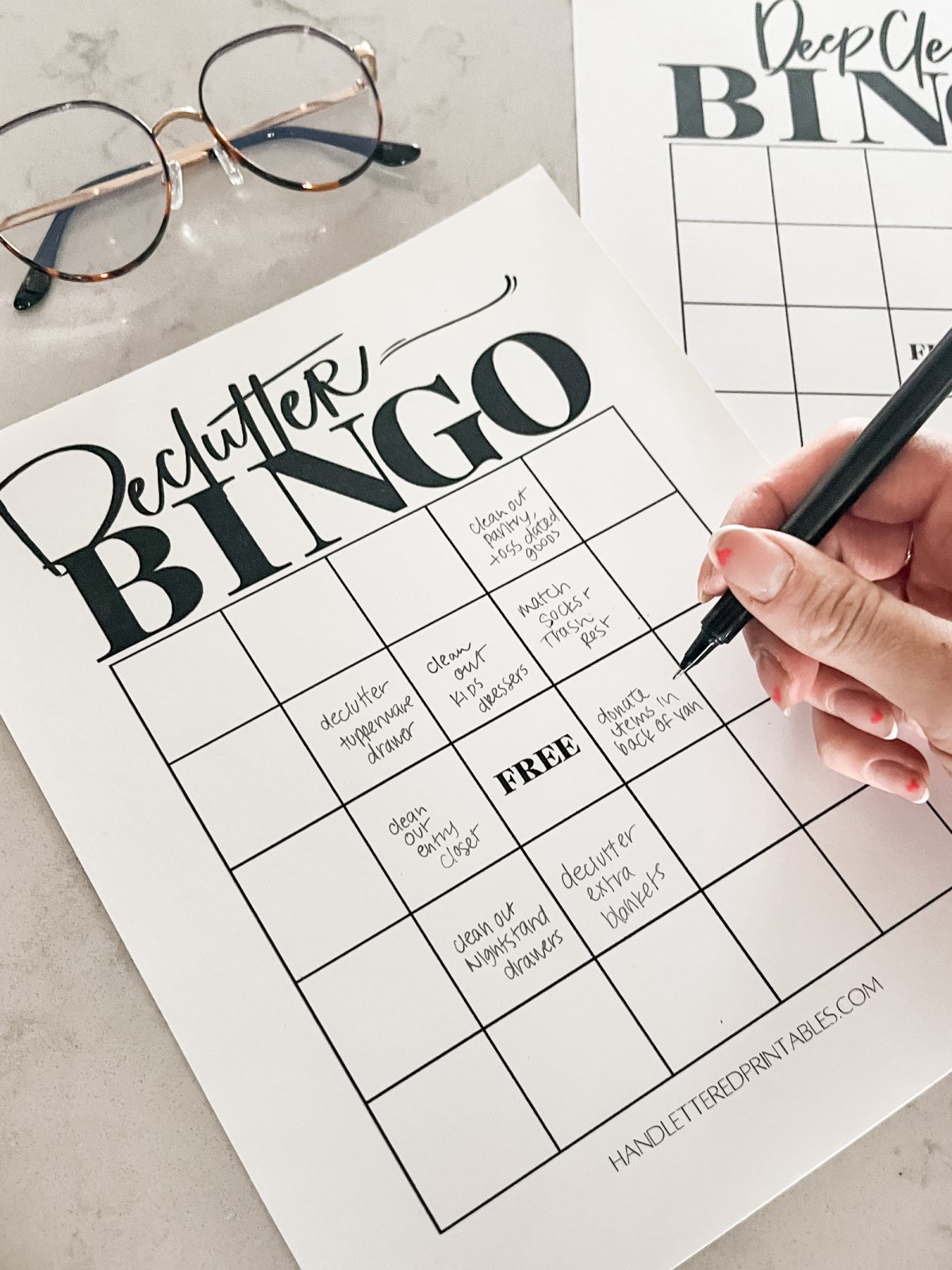 Each checklist has three pages in addition to the bingo cards. We have a minimalist declutter checklist and a deep clean checklist, both broken down by spaces in your home.
The nice thing about bingo is you can just pick a few from each space and your card will be full. You don't need to go through the checklist line by line, taking on the big or overwhelming tasks if you're not ready to.
This decluttering challenge (and deep clean challenge!) is all about taking it at your own pace and having a good time while you're at it. It's a really great place to start if you take a good look at your last year and you didn't accomplish what you'd planned on towards a minimalist home or a clean and tidy home or even just a home you love to be in that doesn't feel overwhelming when you walk in the door.
This bingo works especially great for anyone with ADHD or neurodivergence- it lets you follow the dopamine while still accomplishing the goal. Matching socks feels like an easy win today? OKAY, go girl! And as that bingo card fills in, well… the dopamine comes with seeing it blacked out 😉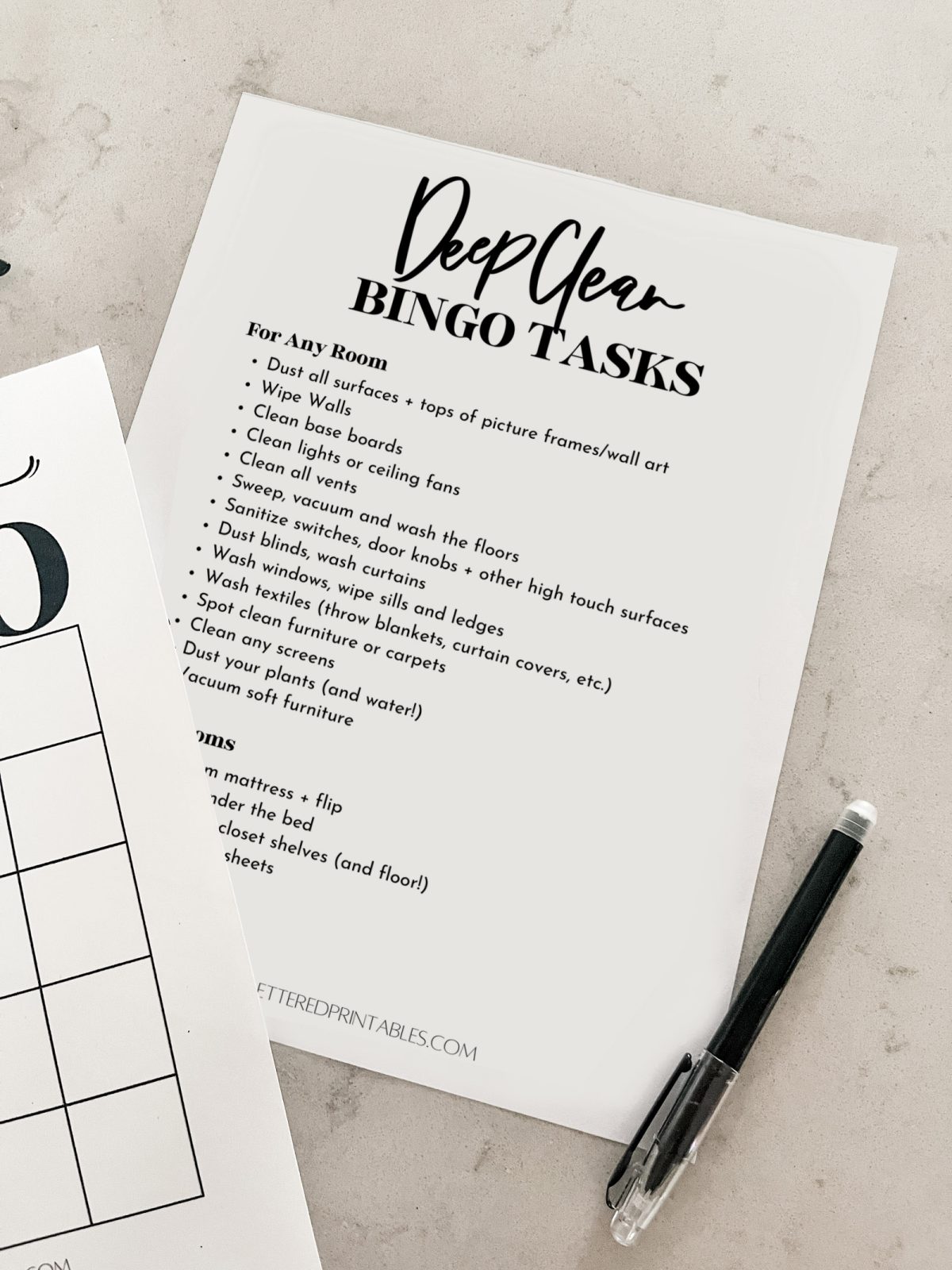 Why a deep cleaning checklist or minimalist declutter checklist is not enough… why fun
Without digging too much into the science behind clutter and our mental health… did you know that women's stress levels have been linked to how many things are in our homes? Or that 54% of Americans feel overwhelmed by the amount of clutter they have? Or that a whopping 84% of recently stressed Americans say they worry that their home isn't clean or organized enough?
That's a whole lot of stress over something that should be supporting you. After all, your home should be your safe landing pad, where you can rest and decompress. And all those things you buy? Shouldn't they be bringing you joy and not more stress?
The extra cost isn't just mental, it's also financial. I know a lot of people wait until a move to a new home to tackle all that stuff they never use. But why wait? When we move, so much ends up in storage to cause stress for a long time. In fact, 1 in 11 American house holds have storage units and of those storage unit owners, 67% live in single-family homes with a garage & 33% also have a basement… so it's not a matter of *enough room*.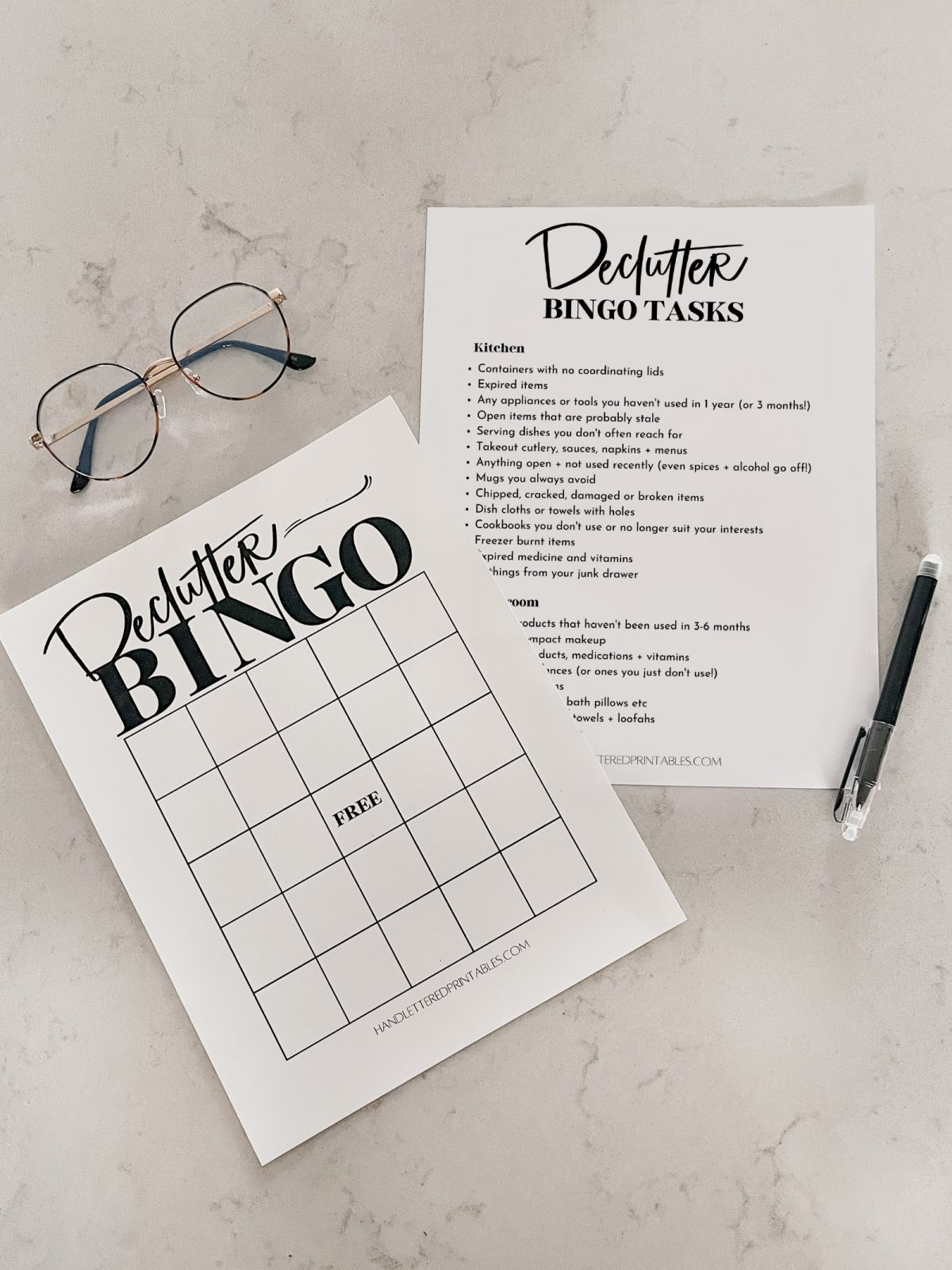 If we want to spend less time maintaining our things and our home, we need to clear out some extra space and make room for the important things to be easy to find. This decluttering bingo and deep clean bingo is a really easy way to start. Okay, but why Bingo when I probably need to do every single thing on this checklist?
Harvard business review has an article on small wins in the work place, but we can apply this at home as well, "When we think about progress, we often imagine how good it feels to achieve a long-term goal or experience a major breakthrough. These big wins are great—but they are relatively rare." The article goes on to suggest that creating a positive feedback loop for even the small things can increase satisfaction.
Entrepreneur lists creating 'micro goals' as one of the 8 ways to win your bigger goals. They also cite having an accountability partner… so putting this bingo on your fridge and inviting a family member to check in on your progress can only help. Bonus points if you recruit them to this process of decluttering with you!
You could even share your bingo card on social media for some extra accountability which might be a huge help for you.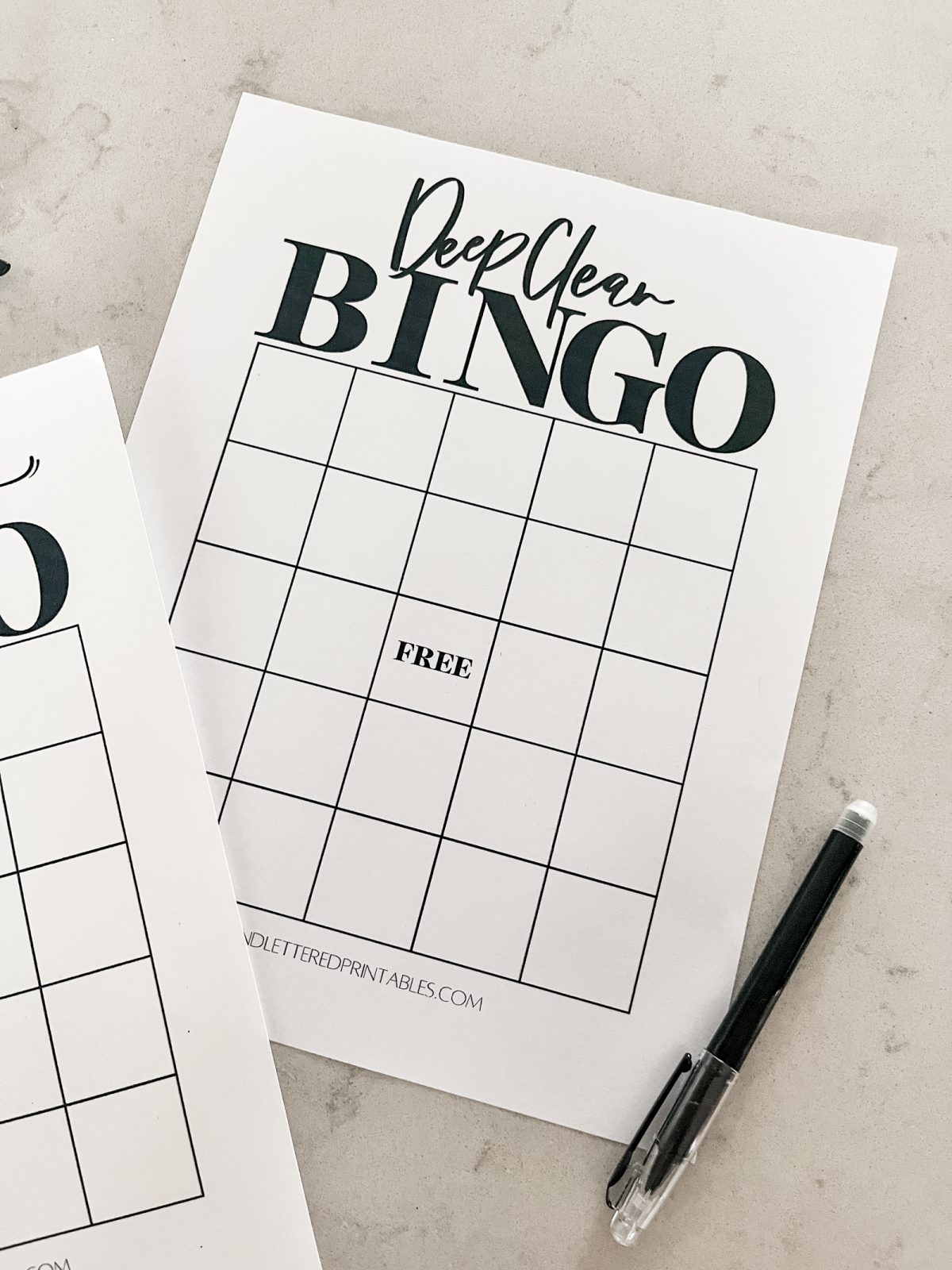 So we want to celebrate the small, mundane wins and almost every teacher of elementary school students knows that an easy way to do that? Is to put it on a bingo card. If given the option, most students will complete a bingo, so why not give ourselves that tool for something we find a bit overwhelming or boring?
I'd argue bingo makes almost everything more fun. From watching the Bachelor with a bingo card and wine to to staying home and handing out candy on Halloween with a bingo card for costumes… although this is probably more valuable to your long term mental health 😉
The hardest part of the decluttering process is often just getting started. This Bingo makes it really easy and fun to get going. SO, without further ado… let's check out the bite sized tasks and get these printable checklists and bingos in your hands so you can get started!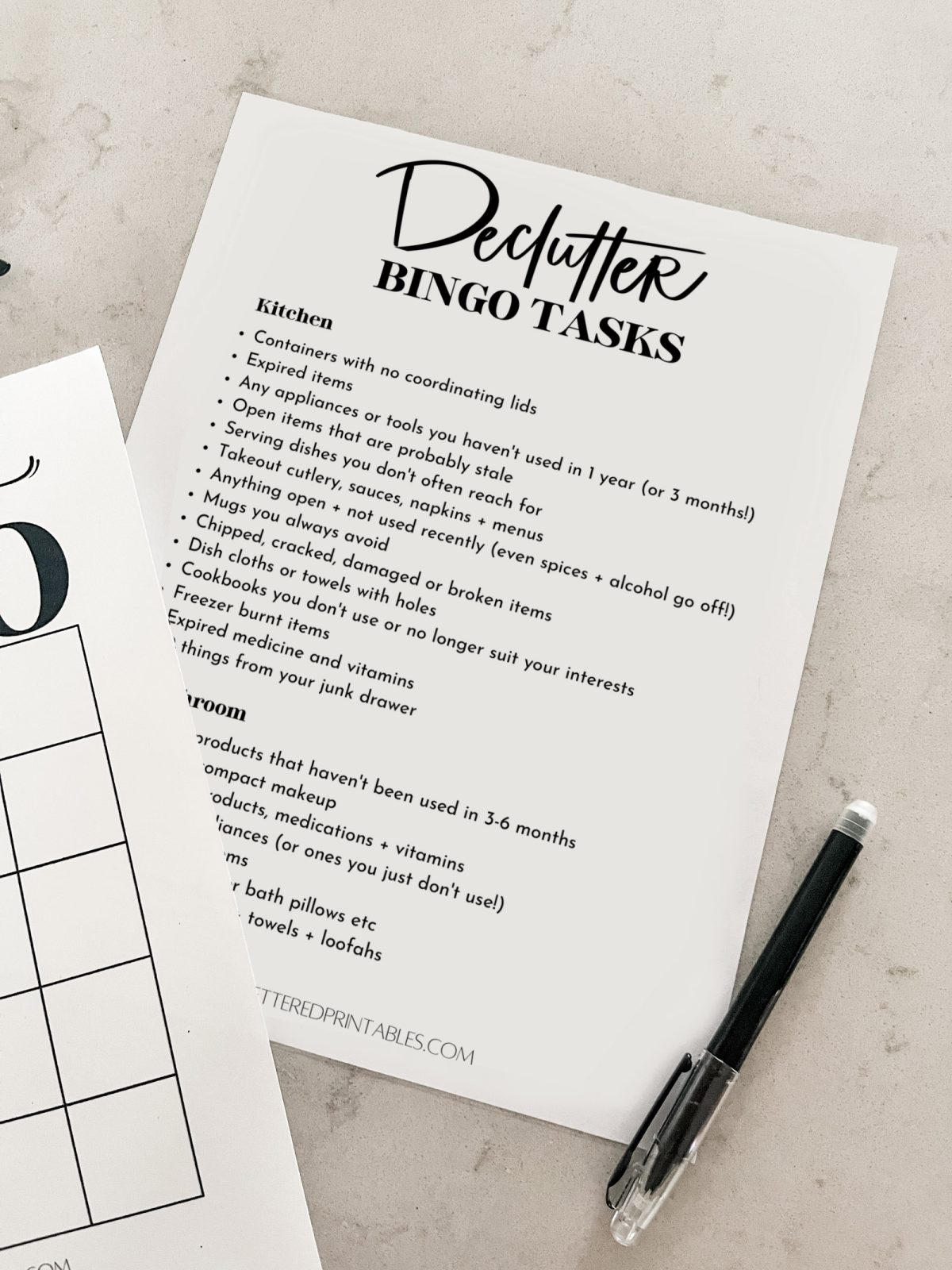 Bite Size Decluttering Checklist
I've listed these on the free printable decluttering checklist as well so you can print them off and highlight the ones you'd like to use in your bingo cards. I've broken it down by room to make it easy and kept them really actionable so that you're not working weeks to check one square off your bingo. You'll probably toss your card before you do that!
Decluttering Kitchen Tasks
Plastic containers or other storage containers with no coordinating lids
Any food items past their expiration date
Any appliances, kitchen gadgets or tools you haven't used in 1 year (or 3 months!)
Open items that are probably stale
Serving dishes you don't often reach for
Takeout cutlery, sauces, napkins + menus
Anything open + not used recently (even spices + alcohol go off!)
Mugs you always avoid
Chipped, cracked, damaged or broken items
Dish cloths or towels with holes
Cookbooks you don't use or no longer suit your interests
Freezer burnt items
Expired medicine and vitamins
10 things from your junk drawer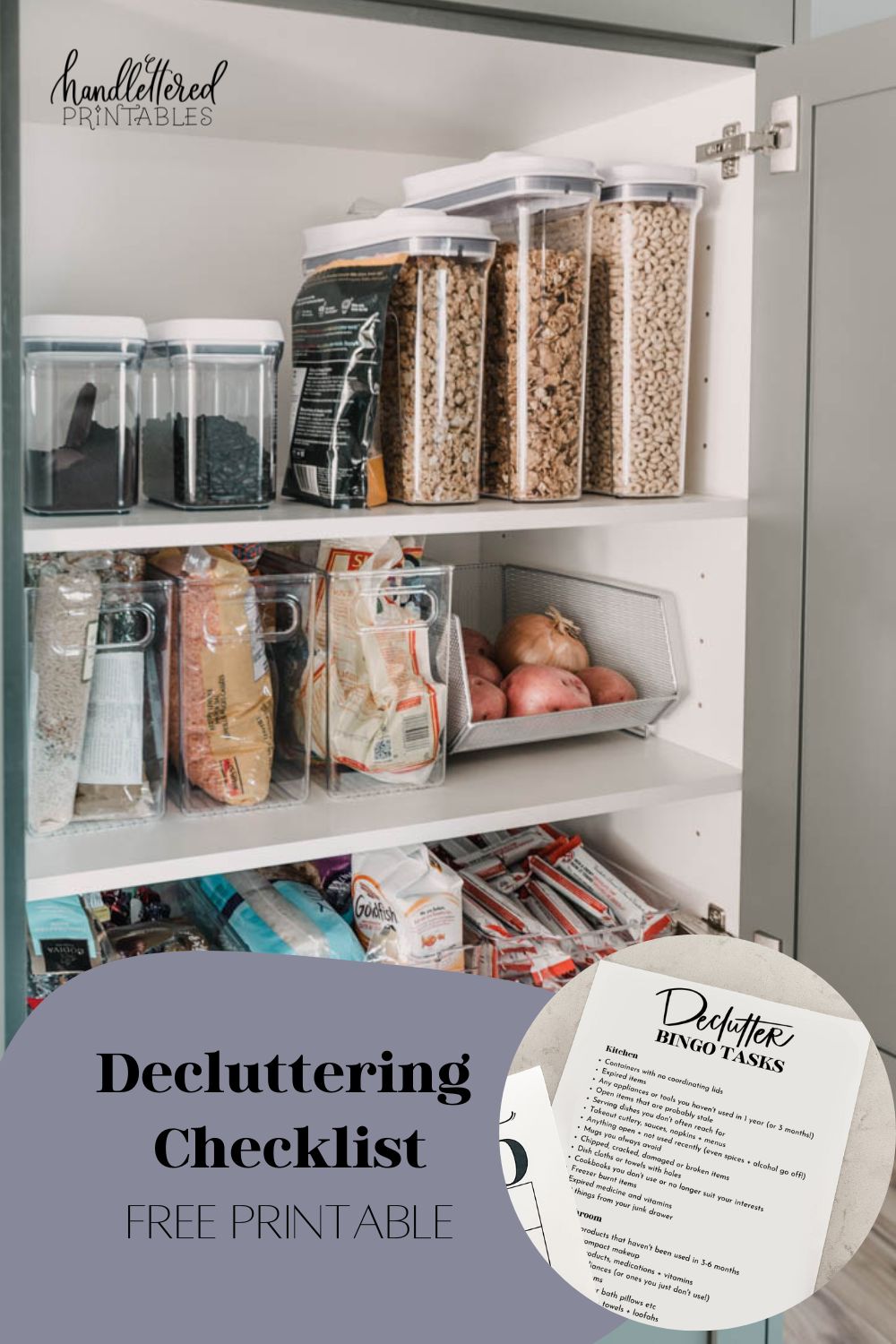 Decluttering Bathroom Tasks
Open beauty products, skin care products or hair care products that haven't been used in 3-6 months
Broken compact makeup
Expired products, medications + vitamins
Broken appliances (or ones you just don't use!)
Decorative items
Old bath toys or bath pillows etc
Worn out cloths + towels + loofahs
Samples and travel sizes from hotels
Have more than 10 of a specific item (nail polish?), maybe choose your #(you choose the number) faves and let go of the rest
Decluttering the Entryway, Laundry Room or Mudroom Tasks
Shoes that are out grown, worn out or no longer reached for
Expired items (bug spray? sunscreen?)
Things you've been meaning to give back or donate for 3+ months
Jackets or coats that have not been worn in the last suitable season
Hats, scarves, beanies that don't get used
Mitts or socks that have no match
Broken umbrellas, bags with broken zippers etc.
Bags that don't get used (did you even know that was there?)
Rags (I'm sure some of these can go!)
*Almost* empty detergents or stain removers (if you've opened new)
Household items that have been shoved into these spaces that won't be used again
Do you have a pile of unwanted items stashed here that can go straight into that donate bin?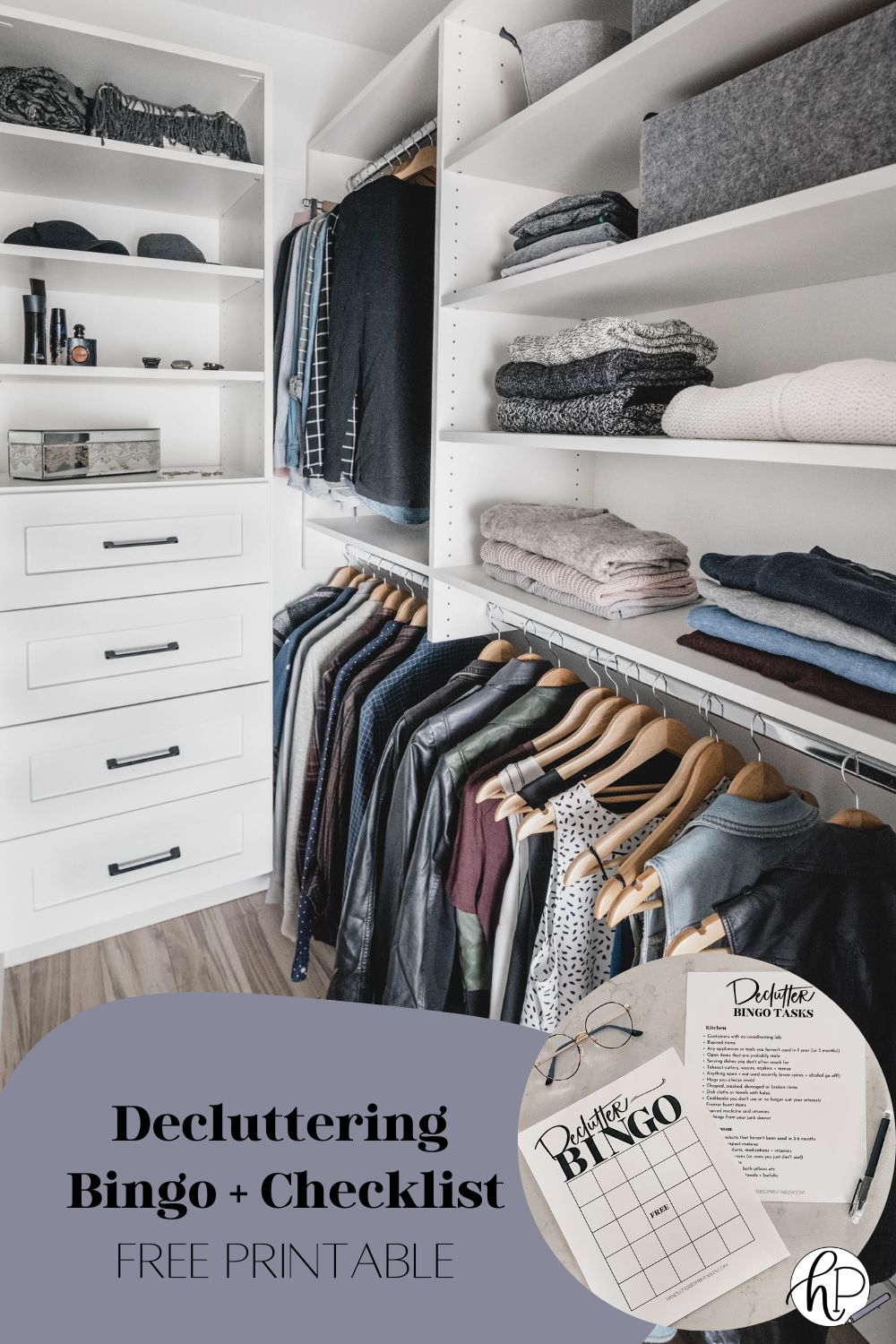 Decluttering Bedrooms + Closets Tasks
Uncomfortable clothing you don't reach for
Things that don't fit or are from a past life season (ex. office wear)
Worn out garments (holes, stained or threadbare!)
New with tags on and 3+ months old
Hangers that don't match (or exess)
Shoes that cause blisters (they're shoved at the back for a reason!)
Broken jewellery (or pieces you will never wear again)
Socks without a match
Sporting wear for sports you no longer participate in
Anything under the bed
Whatever is piled on that chair (yes, that chair, that dumping ground)
10 Items from your bedside table
Take those dirty dry clean items to the dry cleaners
Decluttering Kids rooms + Play rooms tasks
Anything in the closets section (from bedrooms)
Declutter the top shelf of the closet (they can't reach it, that's all yours!)
Halloween or show costumes (that don't fit + not used for dress up)
Collected artwork (we photograph these first)
Garbage (there's lots in here, isn't there?)
Toys they've grown out of
Broken toys or those with missing pieces
What is always getting left out, but not enjoyed?
Dried out play doh or paints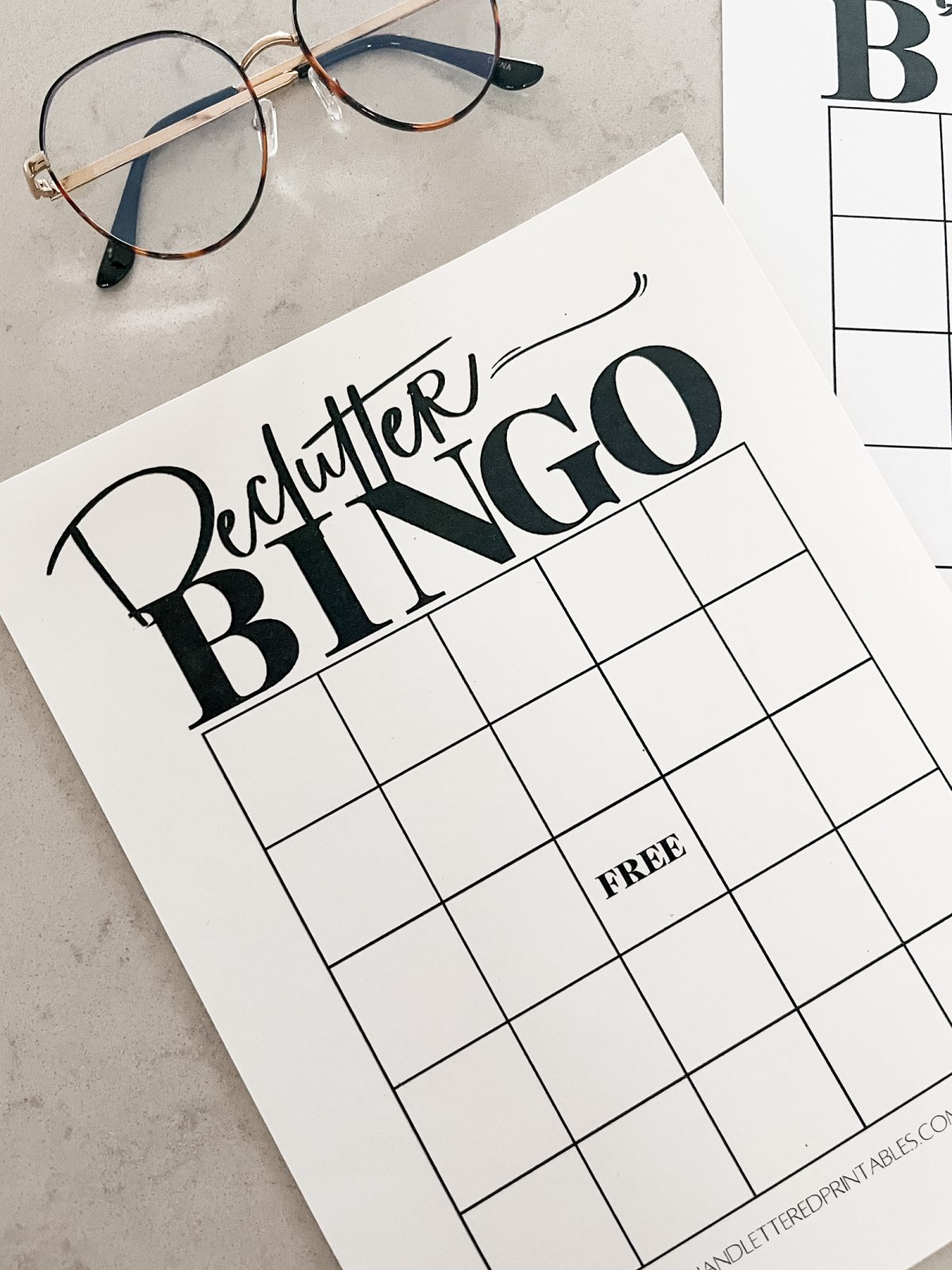 Home Office + Living Room Decluttering Tasks
Books that won't be read again
Stained or torn pillows + blankets
CDs, DVDs, VHS tapes etc.
Old cell phones, cd player, and other electronics you won't use (what's that old hard drive for anyhow?)
Mystery cords (we all have them)
Clear your coffee table (and drawers)
Books you won't read again
Candles that won't be burned
Old magazines (I let myself keep one year or my faves)
Decor you no longer love
Expired coupons + flyers
Declutter that paperwork, old receipts + mail!
Kids artwork (we like to photograph first)
Misc craft supplies (that won't be used- half cut paper for ex.)
Pens/markers that don't work/ pencils that you'll never sharpen
Worn out or unloved pet toys
This checklist doesn't tackle digital clutter or managing digital files. I know that can be overwhelming too. If you're looking for a way to handle kids artwork, I share how I manage all our kids artwork and combine it into fun art books in this blog post. I also have a full post on how I take thousands of photos and organize them on my computer, then who I create family yearbooks out of those right here.
One bonus task I recommend adding to your bingo is to actually take your decluttered items and donations and drop them off.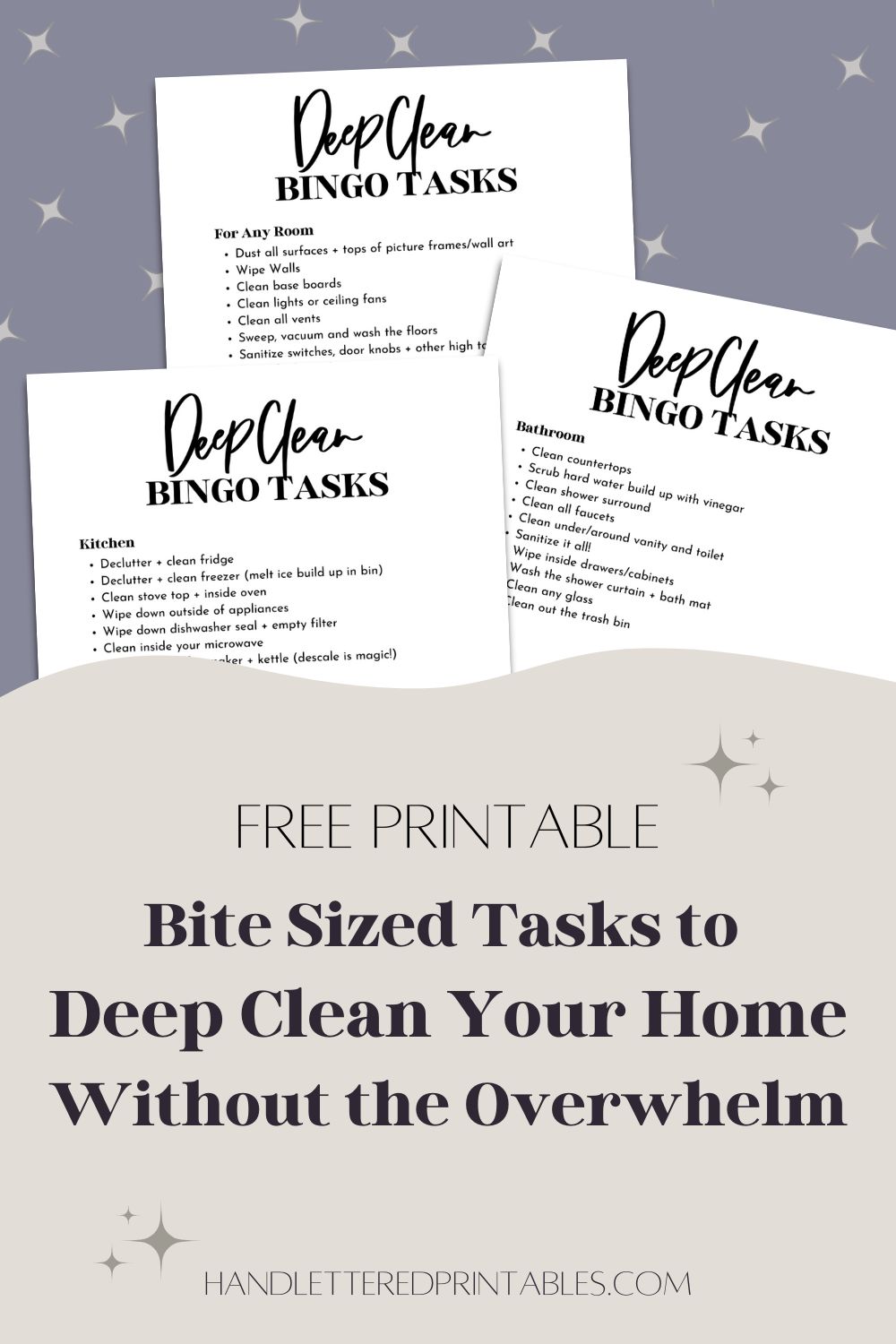 Bite Size Deep Clean Checklist
Once you've decluttered your different rooms and gotten rid of unnecessary items… it's time to give your home the clean it deserves! Let's get rid of any excess dust that could be causing allergies and feel great when we look around at those baseboards.
Again, I've broken this down into specific rooms and every room tasks so you can duplicate those on your bingo card for any room you want to take on.
When I was young I used to dread spring cleaning. That was the one time of year we would pull everything out and give a good clean. It was totally overwhelming for me, so these days, I have a more minimalist approach to deep cleaning and do a few tasks a month. But even then, every once in a while it feels like the whole house needs a deep clean.
So take a good hard look at your home and this following list and choose a starting point. What tasks will have the biggest impact the quickest?
Deep Clean Tasks for Every Room
Dust all surfaces + tops of picture frames/wall art
Wipe Walls
Clean base boards
Clean lights or ceiling fans
Clean all vents
Sweep, vacuum and wash the floors
Sanitize switches, door knobs + other high touch surfaces
Dust blinds, wash curtains
Wash windows, wipe sills and ledges
Wash textiles (throw blankets, curtain covers, etc.)
Spot clean furniture or carpets
Clean any screens
Dust your plants (and water!)
Vacuum soft furniture
Bedroom Deep Clean Tasks
Vacuum mattress + flip
Clean under the bed
Wipe out closet shelves (and floor!)
Wash your sheets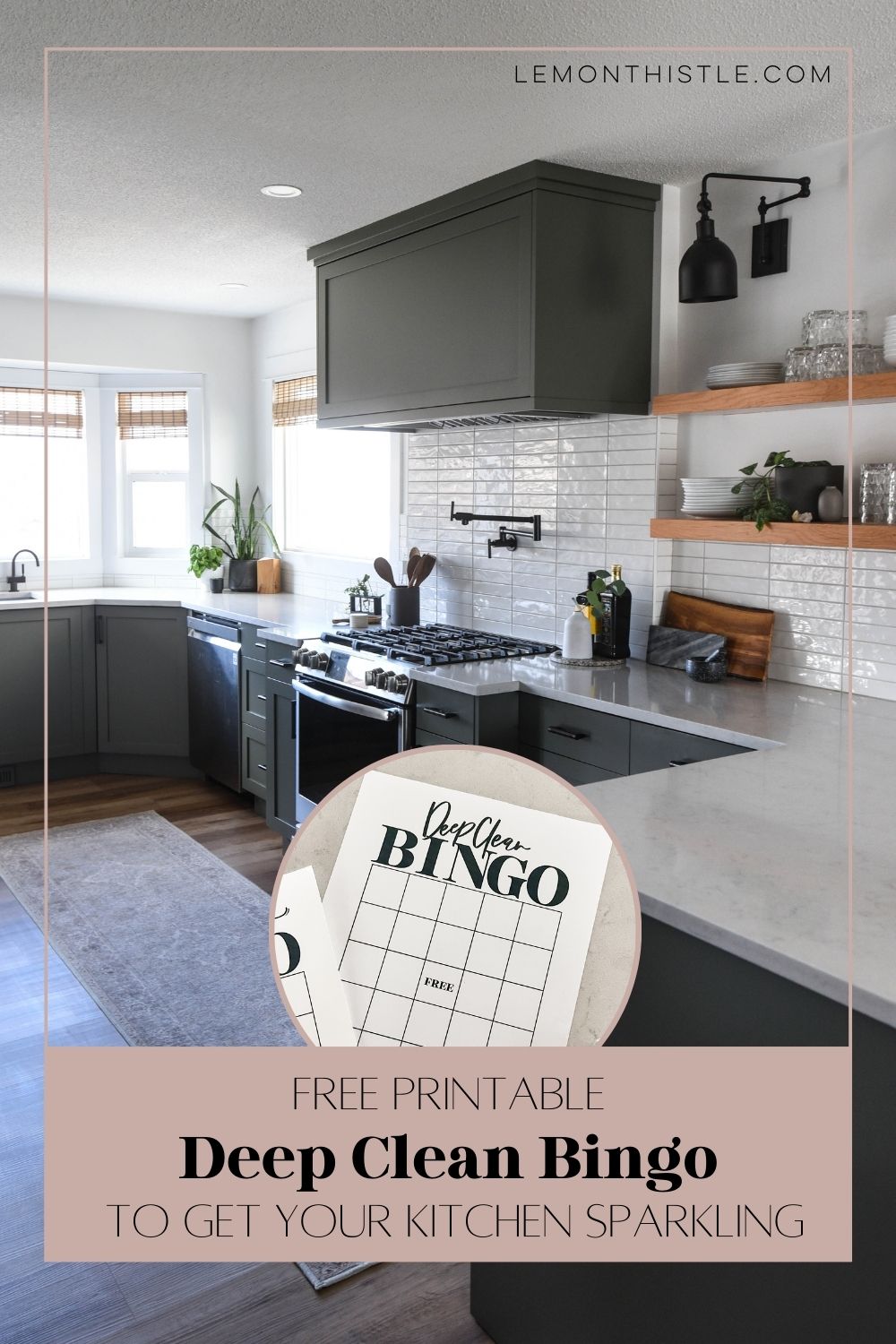 Kitchen Deep Clean Tasks
Declutter + clean fridge
Declutter + clean freezer (melt ice build up in bin)
Clean stove top + inside oven
Wipe down outside of appliances
Wipe down dishwasher seal + empty filter
Clean inside your microwave
Clean your coffee maker + kettle (descale is magic!)
Wipe cabinets
Wipe backsplash
Clean hood fan
Clean countertops
Wipe inside drawers
Scrub + shine that sink
Clean your garbage bins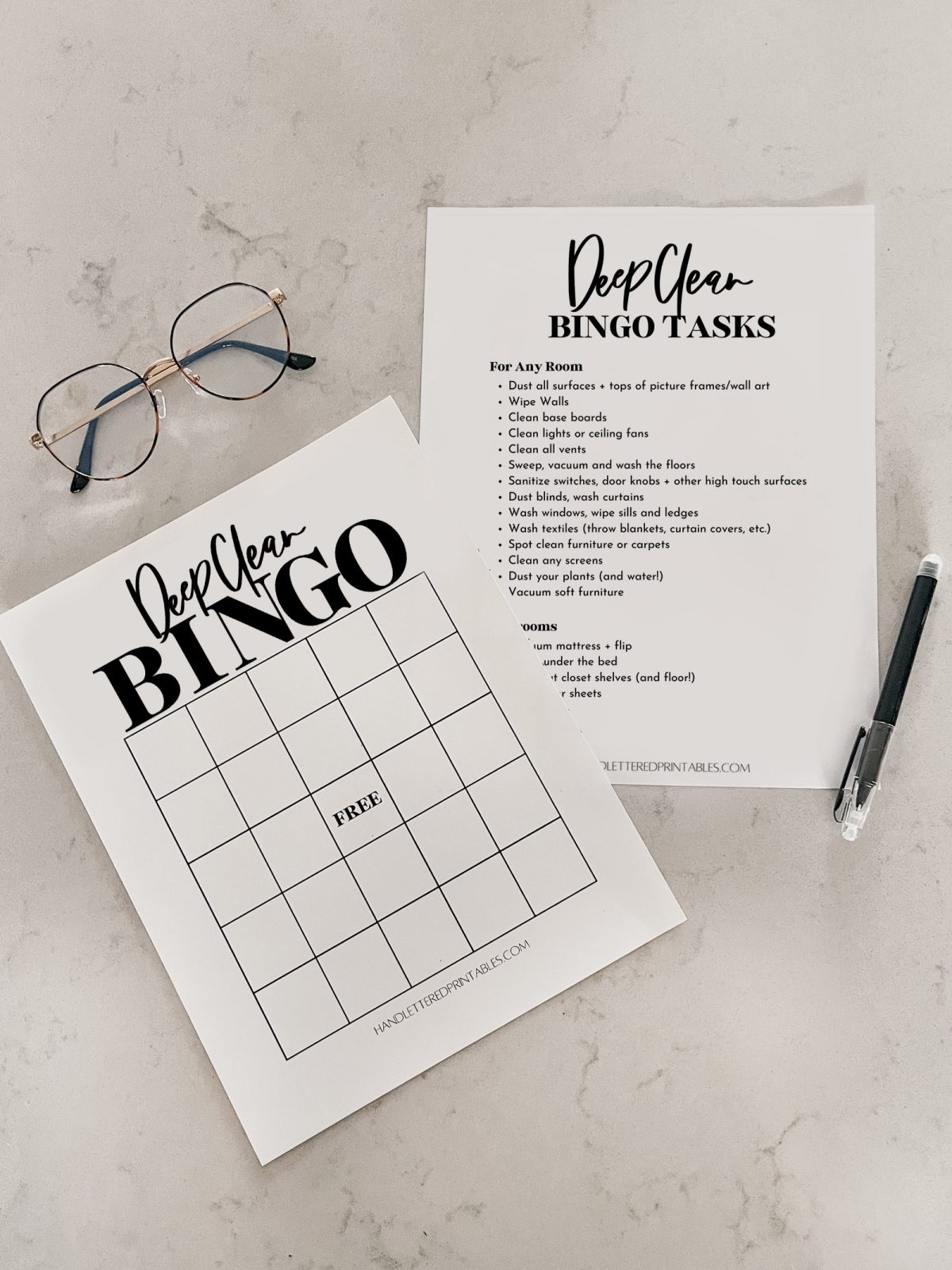 Bathroom Deep Clean Tasks
Clean countertops
Scrub hard water build up with vinegar
Clean shower surround
Clean all faucets
Clean under/around vanity and toilet
Sanitize it all!
Wipe inside drawers/cabinets
Wash the shower curtain + bath mat
Clean any glass
Clean out the trash bin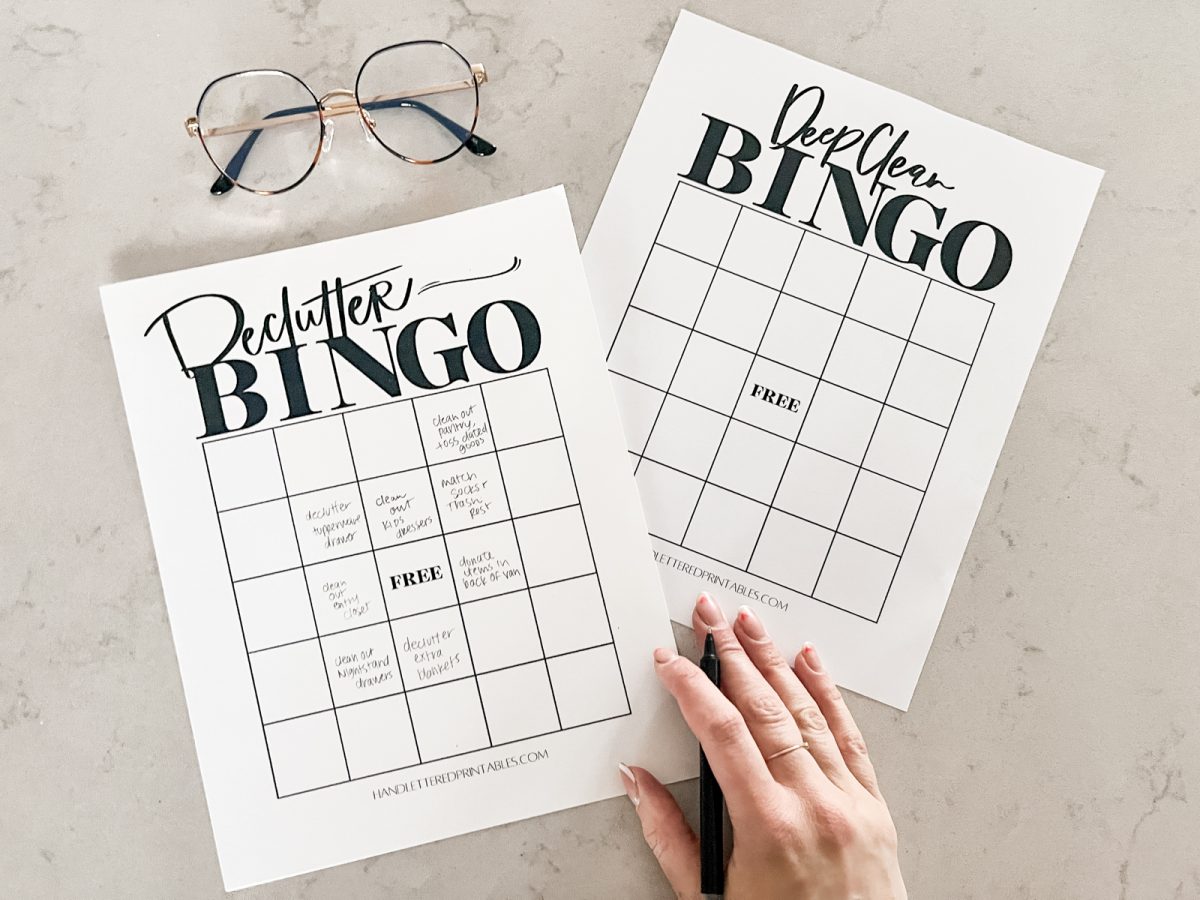 Tips for Deep Clean Bingo and Declutter Bingo
I'd recommend you print off all of the pages to this bundle: the deep clean bingo and declutter bingo cards along with the deep clean checklist and declutter checklist. I'd highlight all the tasks you'd like to take on and then start filling in your declutter bingo with the tasks that feel most easy to accomplish.
Prioritize tasks that will have the biggest impact with the least effort. Have more that won't fit on the bingo card? It's okay to do a second round once you have momentum from the first round!
I'd avoid tackling any sentimental items on your first bingo. It's a good idea to leave any items with sentimental value until you're in the habit of decluttering, don't slow your momentum on these. You could even create a list of things you'd like to come back to when you're feeling ready.
As you are decluttering, you can choose to trash, donate or sell. I like to be heavy on the trash and donate because selling things can easily become another clutter pile for me (so overwhelming!) but if something is in good condition and is worth selling, set it aside but make sure to get to it quickly so it doesn't end up back in rotation! It really is a great way to earn some extra cash for all your hard work.
​I'd also save the deep clean bingo for after you get through your decluttering bingo card. Once you have less clutter, it's so much easier to clean the entire house well!
Rewards! I definitely recommend adding some rewards for yourself. Do you want to give yourself a reward for your first bingo line? Every bingo line? A blackout? Maybe a line, an X and a blackout? Rewards are the best thing to keep me motivated.
Try to make them experiences or, you know… not more stuff. I love to put a manicure or an ice cream date or something fun like that in there. An exception? If you've been eying something new for your home decor, decluttering home decor to make room for it comes first, so maybe that's a great reward! Same with a new clothing item or book.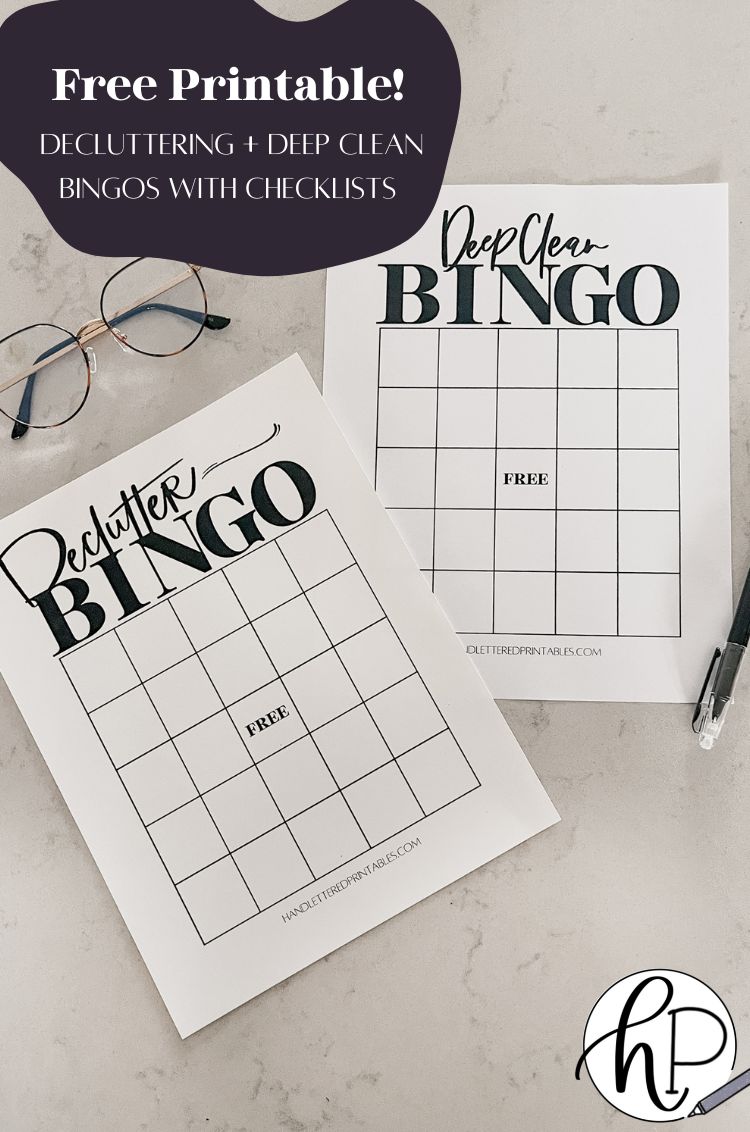 How to download free printable PDF checklist with Declutter Bingo + Deep Clean Bingo
To download these free printable bingo cards and declutter checklists is so simple. To get these directly delivered to your inbox, just enter your email in the box below and I'll send you a confirmation email. Clicking the button in the email will open the PDF file up directly.
These two designs are in one PDF format document on separate pages along with the three page minimalist declutter checklist and deep clean checklist. Some browsers will automatically start a download and in others you will need to right click and select 'save' once you're viewing the document. It should save to your download folder to make them easy to find for printing.
As always, free printables are for personal use only (print for you and all your friends, but don't sell them, offer them as a download or modify them).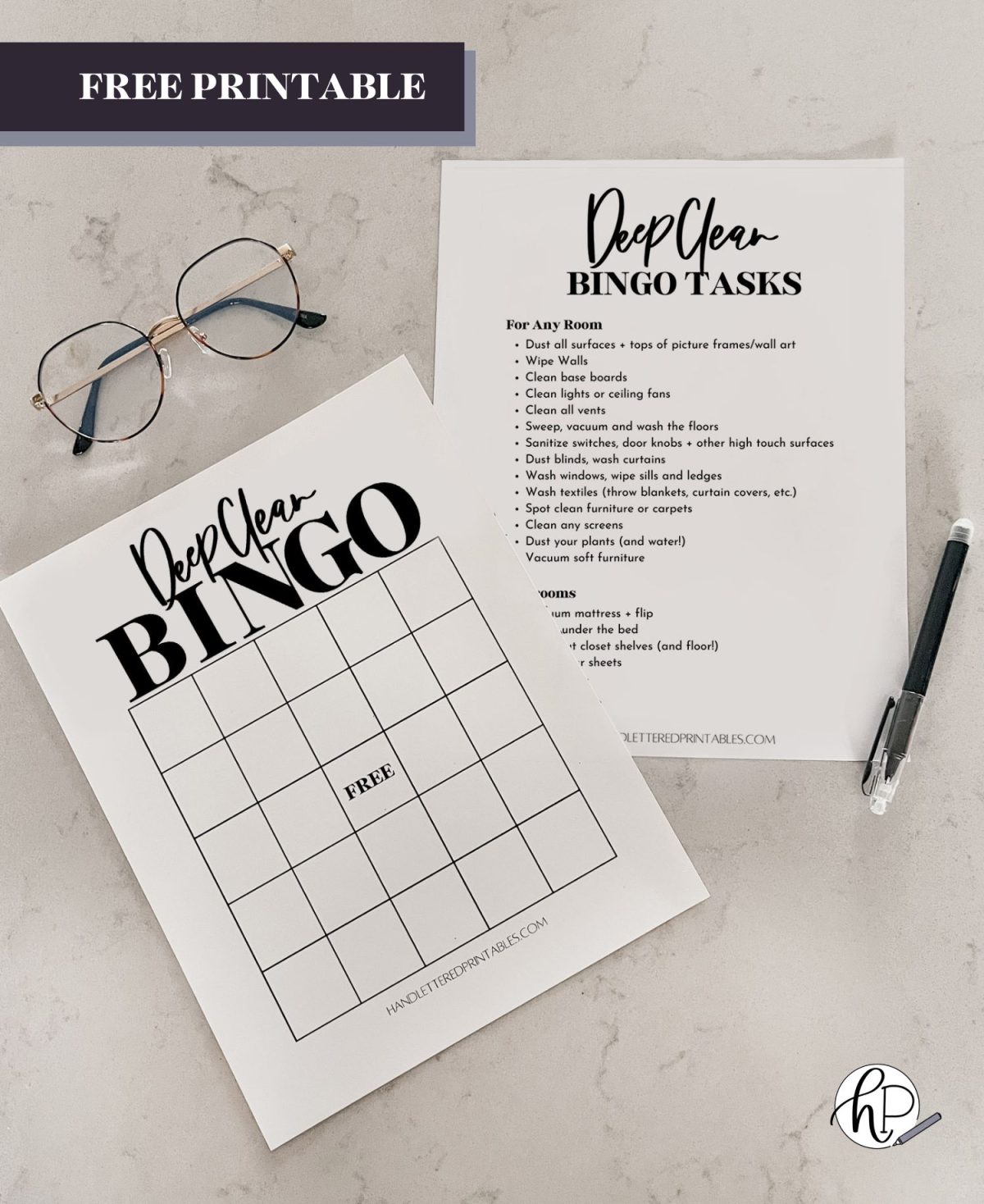 What's the best way to print free printables
You can print free printables any way you like, but I have a couple suggestions to make the most of them! While every free printable is different, these ones are black and white (we love a minimalist vibe) PDF documents which makes them incredibly easy to print at home or at your local print shop. They will print just like a document, without special settings like a photo.
While you can print these on regular paper and display them on the fridge, I find printing on cardstock looks nicer and allows you to keep your printables in better condition as you use them (it doesn't crinkle nearly as easy). This also lets you color your bingo spaces in with more pigmented markers without bleeding through to the surface below.
You can see all my suggestions for printing free printables here.
---
If you do download and use these free printable deep clean bingo and declutter bingo… you know I would love to see them in action! Tag me @handletteredprintables or shoot me an email [email protected]! Happy Decluttering!
LIKE IT? PIN IT FOR LATER!
Don't need these files today? Pin it for later! Plus, pinning or sharing to FB helps more people find my work which helps me continue to put out free content for you here at Hand Lettered Printables. Thank you!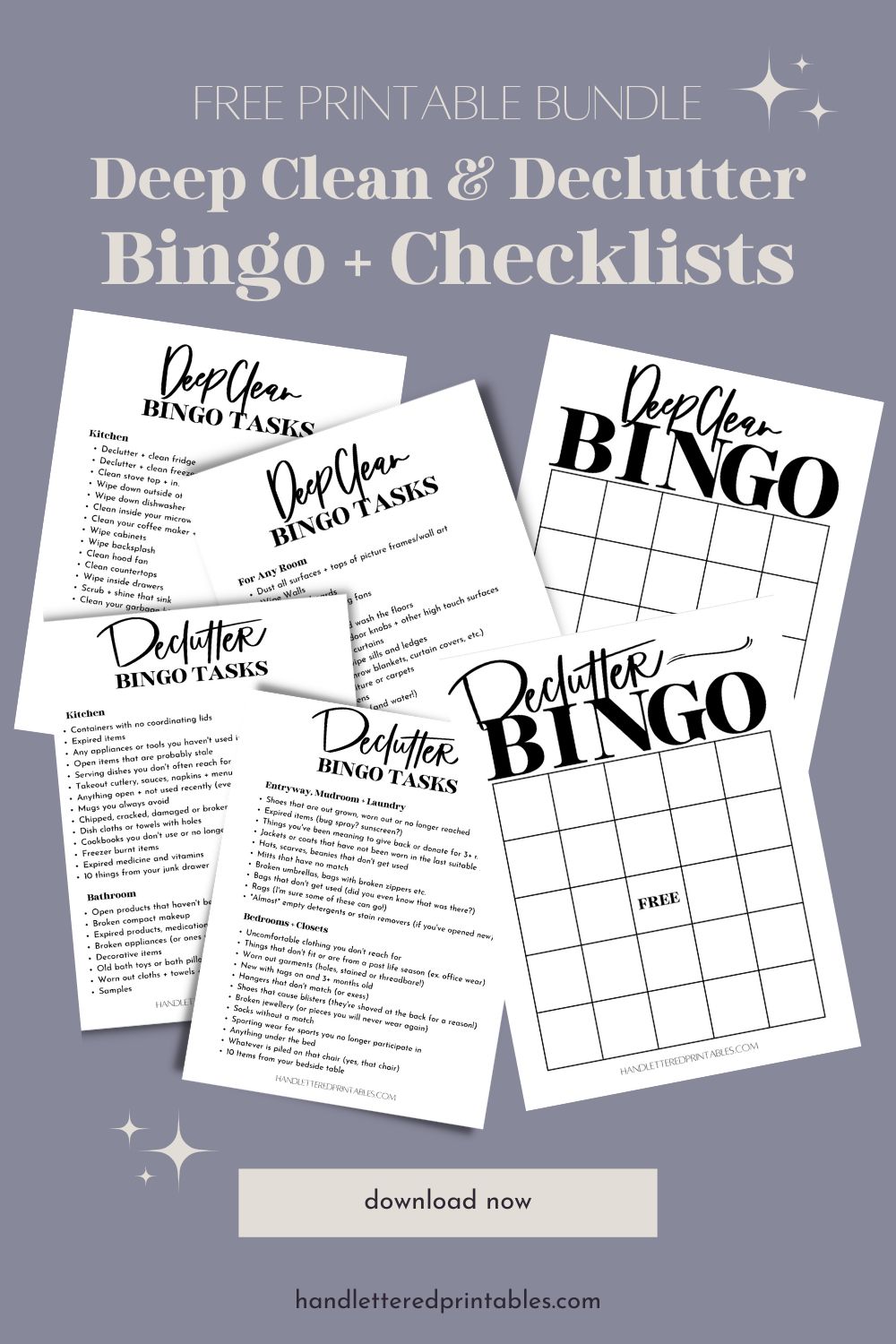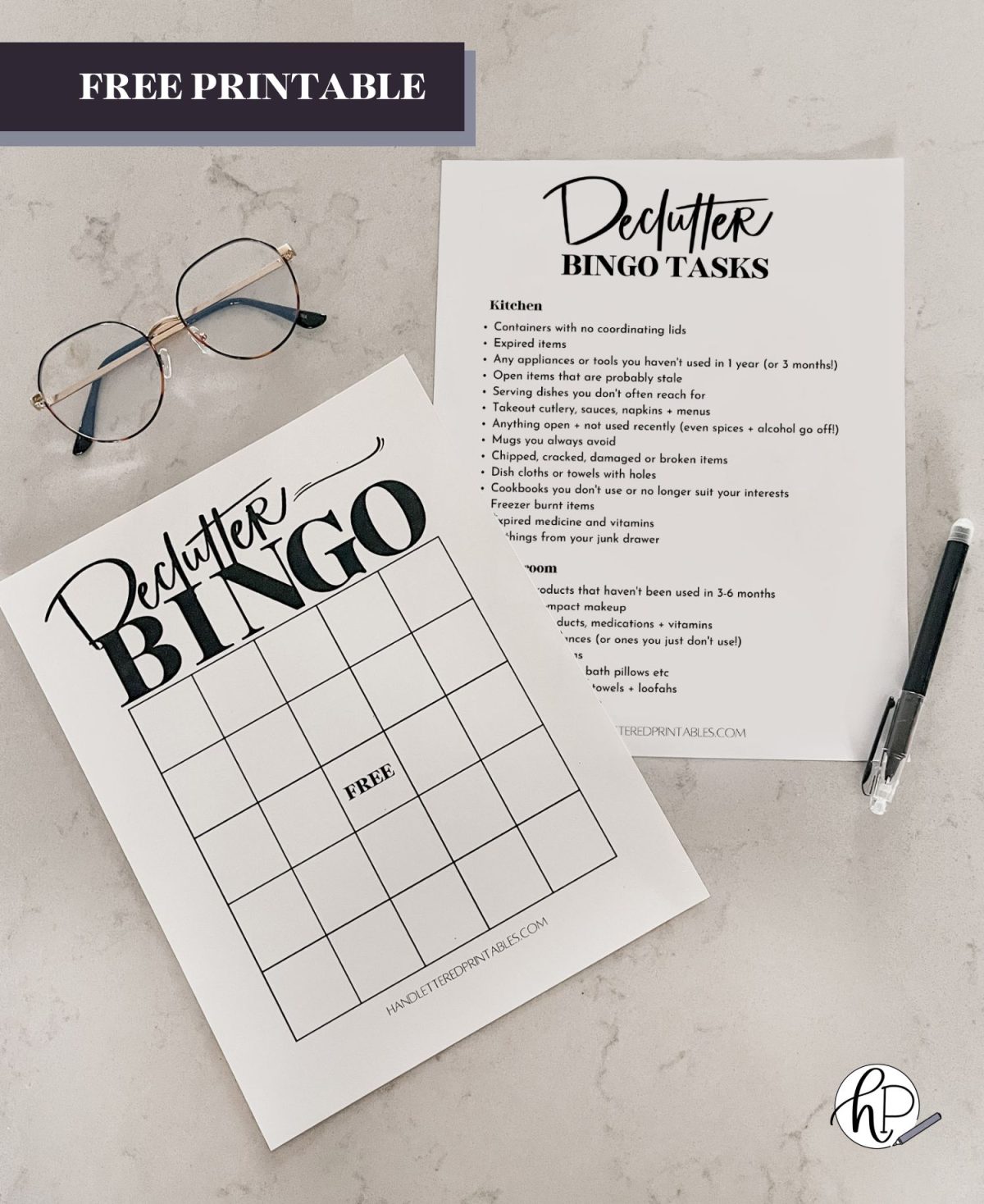 More free checklists + tracker printables
Ready to have some fun tracking other areas of your life? I love the momentum I get from visually seeing my progress and it's the easiest way for me to get started on something I've been procrastinating. Here's some other free printable trackers and checklists I've shared here on Hand Lettered Printables and over on my other home site!